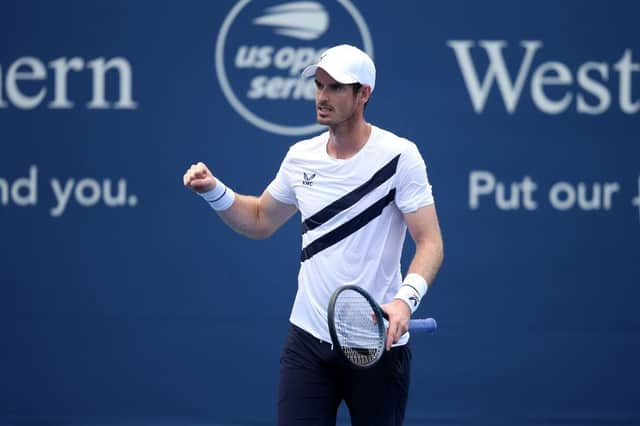 Andy Murray is through to round four after defeating the No.7 in the world. Picture: Getty
Andy Murray took a massive step forward in his comeback from injury, defeating Germany's Alexander Zverev at the Western and Southern Open in the US.
The Scot did so in three sets, winning 6-3, 3-6, 7-5, progressing to the third round of the tournament.
It was a significant milestone for Murray in his first notable tournament since injury back in November, while Zverev, No.7 in the world, represents his biggest scalp in three years.
After a confident opening set, Murray hit a lull in the second but it was the third set which was a rollercoaster. The Scottish legend displayed fortitude and no shortage of quality to put a difficult period behind him to win the final three games, just as it appeared 23-year-old Zverev would win.
"Obviously it was a big one to get through," Murray told ATP Tour. "If I had lost the match from being 4-1 up in the third, having opportunities and the way that I played to go down from 4-1 to 4-5 was obviously not very good. Made some bad mistakes. Stopped moving my feet. Probably a bit of nerves in there, a bit of fatigue. Just a bit of rustiness, as well, I think from not playing and having to close matches out against top players for a long time.
"It would have been a tough one to lose. I was satisfied obviously to get through it, get a win against a top player after having not played for such a long time."
He added: "Sometimes I think outwardly if you looked at me, if you're watching me on the court and you're watching from the stands, you might think that I get really down on myself and that I'm very negative.
"Outwardly I definitely am. But I think inside me I have a very, very strong self-belief and know that I can win matches like that. Although it doesn't always appear that way when you're watching me on the court, I always believe, even when outwardly it seems like I might be flagging or being negative."
"I have played him a lot. Huge serve,' Murray said. "I saw a bit of his match today against Dan Evans. He is serving well, playing aggressive, which is when he plays his best.
"We have played each other in some big matches. We played at the US Open, Cincinnati, Wimbledon final, the Australian Open. He has had his injury struggles as well, so it is nice to see him back."
Murray finds himself ranked 129th in the world having previously been No.1. It has been a long road back from injury, one which he is still travelling having had a second major op on a troublesome hip problem in January 2019.
In turn it has impacted his energy levels during games but he believes he is on the right path.
"I was moving pretty well at the end of the match," he said. "Definitely had some lulls in there, like drop-offs in intensity, a bit of energy at times. It was ridiculously hot at the beginning of the match, unbelievably hot and humid.
"I think I would have gotten through a five-setter. It would have been tough, for sure."