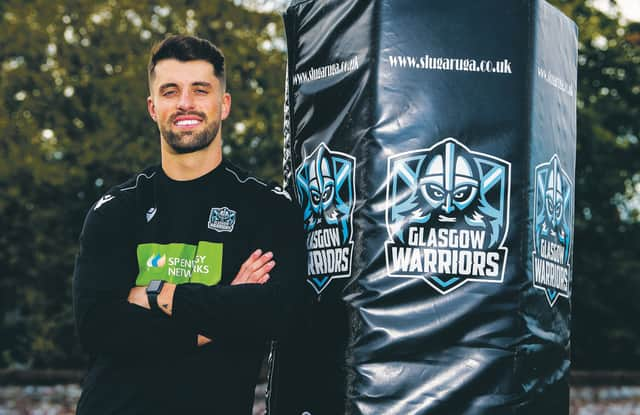 Adam Hastings says he has 'matured' and is more confident now than when he first took over the No.10 role at Glasgow. Photograph: Ross Parker/SNS
Glasgow failed to make the Guinness Pro14 play-offs last season for just the third time in 11 years. Never mind the fact that they finished third in Conference A, which in a normal year would have taken them into the quarter-finals. The reality is that they underachieved, especially compared to the previous two years, when they won the conference.
On the eve of a new campaign, then, the Warriors' aim could not be clearer: first to ensure that they get into the play-offs, and then to go full tilt for the title itself. "Winning some silverware is always the goal," stand-off Adam Hastings said when asked what would constitute success for his team. "The season before last we got to the final, and last season I think we would have made the knockouts if the season had ended normally.
"So I think winning some silverware is the goal, and we've got the team to win it. Leone [Nakarawa] staying is a big boost for us, as is Richie [Gray] coming in. So we've got a couple of good new signings and we're raring to go."
The backroom team boasts a couple of new signings too, in head coach Danny Wilson, inset, and attack coach Jonny Bell. Since taking over from Dave Rennie, Wilson has emphasised the need to defend more sensibly and indulge in fewer high-risk counter-attacks from deep. But he has also insisted that, while some improvements are required, a lot of the team's parts are still in perfect working order.
"I don't think there's too much of a change in style," Hastings continued. "Danny has brought in a few new things, but there's still a very exciting group of players – a lot of flair in there, a lot of speed. There's a lot of very, very skilful players, especially in the backs."
Many of those players, Hastings among them, will be absent on international duty for much of the season. But when the business end approaches, the Scotland stand-off will be back in the saddle, trusting that the second string have done enough to keep the Warriors in contention – and trusting, too, in his own increasingly sound game management.
"I've matured a bit," Hastings added when asked how he had changed since taking over at No.10 when Finn Russell left for France. "Yeah, just probably more confident. When Finn left I hadn't played a lot of games professionally, let alone for Glasgow. Over the past couple of seasons I've had however many games in a Glasgow shirt and a few more in a Scotland shirt as well, so yeah, I think [I'm] just a lot more experienced in bigger games and tighter situations, which helps.
"I think as a fly-half you've always got to be in that leadership role, because you're effectively running the team with the nine. As a young player you're thrust into that role early and you've got to take charge. I've probably been a bit more vocal in team huddles this year. I think we've got a good environment here: there's a lot of older heads as well to share their wisdom, so it's a good mix."
One added complication for Glasgow is the haphazard nature of their early fixture list, which sees them only once play back-to-back games on the same day of the week. But at least the campaign begins familiarly enough for them with a game against Connacht in Galway, where they have played – and won – their opening fixture in three of the past four years. In 2016 they got their season off to a particularly inspired start with a morale-boosting 41-5 victory, but the other two results were far closer and Hastings does not expect an easy afternoon.
"It's a great place to go. It's a shame the fans aren't going to be there. I always enjoy the Connacht crowd because they're good at getting into you and making you feel like you're not at home.
"It's a tough place to go – the first of my two times there was my debut and it was horrific, with horizontal rain, but the second time was like the Caribbean, so I'm hoping for that again."