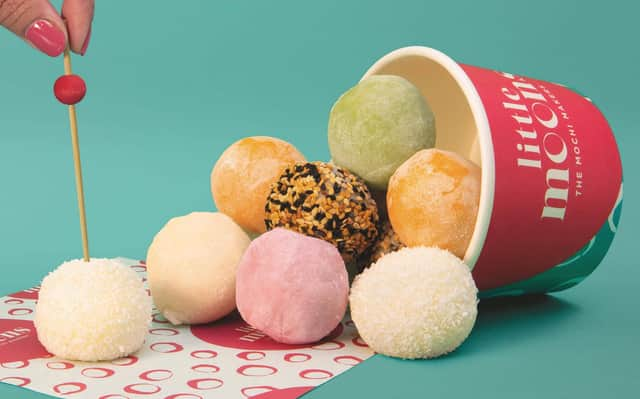 This article contains affiliate links. We may earn a small commission on items purchased through this article, but that does not affect our editorial judgement.
From the sea-shanty craze, to the 'wrap hack' (i.e. how to fold a tortilla correctly), to the 'Dreams' challenge, where people skateboard while lip-syncing Fleetwood Mac - TikTok sets the internet agenda each week with a new viral trend.
For months now though, a food trend borne of TikTok has been entertaining the UK. In it, people try a Japanese food called 'Little Moons.'
But what is it all about?
Simply, people are taking to TikTok to try - and then review - Little Moons, a sweet snack. At time of writing, 53.4 million viewers on TikTok have viewed the hashtag #littlemoon, with enthusiasm for the confectionery rapturous.
Responses are gleeful: "Not 2 be dramatic but I simply need those little moons all over TikTok right NOW."
"Is anyone else dying to try those little moons ice creams everyone keeps posting about on TikTok?" came another user's response.
What are Little Moons, and why are they so popular on TikTok?
A combination of traditional Japanese rice cake - mochi, and ice cream, they're tiny ice cream sandwiches. Mochi is made from short grain rice, 'mochigome', combined with sugar, water, and cornstarch.
The Little Moons mochi balls have proved so popular on the platform that sales have risen by 700 per cent since past December, with retailers working hard to keep them in stock.
As is often the case with internet viral trends, the enthusiasm has arisen seemingly out of nowhere: fascination for Little Moons has sparked despite the snack being in existence for over a decade.
Little Moons was launched by brother and sister, Howard & Vivien Wong in 2010, with a view to bring Japanese mochi to the world. They sought to increase the traditional sweet's popularity by combining it with ice cream.
The popularity of Little Moons within the UK grew steeply over the past ten years. Last year, the release of the 'Cookie Dough Ice Cream Bite' brought them further fandom, and the company opened a £3.5m, state of the art mochi-making factory to cope with increasing demand in the UK and internationally.
It helped steeply increase production, and has worked to diversify the company's product range to include gluten free and vegan options.
Now, if you're curious - where can you find them?
Little Moons come in a number of different flavours including chocolate, mango, salted caramel, coconut, green tea, cookie dough, vanilla, pistachio and passionfruit mango.
Currently, most UK supermarkets are reporting they are unable to keep Little Moons in stock in store. They are being stocked by Tesco, Ocado, Morrisons and Waitrose, though they are not always available in store.
If you're weary of attempting to find them at supermarkets, only to be disappointed, you can you can order them online.
Little Moons also retail at Tesco, but the range is limited to Coconut, and Passionfruit Mango, available here.
You can't go wrong with pistachio ice cream, and the addition of honey roasting elevates this to perfection. Sweet, chewy, light, and moreish. The perfect snack.