Love Island 2023: Bombshell Zachariah stirs up trouble as he pairs with Catherine leaving Andre vulnerable
The drama is well underway in the villa as Love Island bombshell splits up the first couple of the series.
Love Island bombshell Zachariah Noble has stirred up trouble in the Love Island villa after entering at the end of last night's episode. After a shock twist to the show, Love Islanders were paired up by public vote when they entered yesterday (June 5).
However, host Maya Jama gave the girls the option to step forward if they were not happy in their original pairings, before the 25 year-old personal trainer made an appearance. Maya then revealed that Zacharia would be given 24 hours to choose which girl he would like to pair with, leaving one of the boys vulnerable.
Tensions were high as the couples gathered round the fire pit, as Zachariah announced who he would like to couple up with. He told the group the conversations the person he had chosen to couple up with were very 'beautiful' and that the conversations between the two were 'very easy'. He then revealed he had chosen to couple up with Catherine, leaving Andre single and vulnerable.
Ahead of the ceremony, Andre had started to feel insecure about his relationship with Catherine. He stole her from a conversation with Zachariah which Catherine joked was him getting 'territorial'. However, she later said it gave her the ick.
Love Island contestant Zachariah Noble
Zachariah Noble, 25 entered the villa as a bombshell at the end of the first episode of the summer series. According to Radio Times, Zachariah is a shooting guard from South East London who most recently played for Worcester Wolves in British Basketball.
Asked what he'll bring to the villa, Zachariah said: "I'm a very chilled out guy and I'm completely myself 100% of the time. I'm quite straightforward and never struggle making friends, I like to look after people."
Who is Catherine Agbaje
Catherine was the fifth Love Island contestant to be announced. Originally from Dublin,
Catherine is a real estate agent in London hoping to seal the perfect deal by coupling up on the show.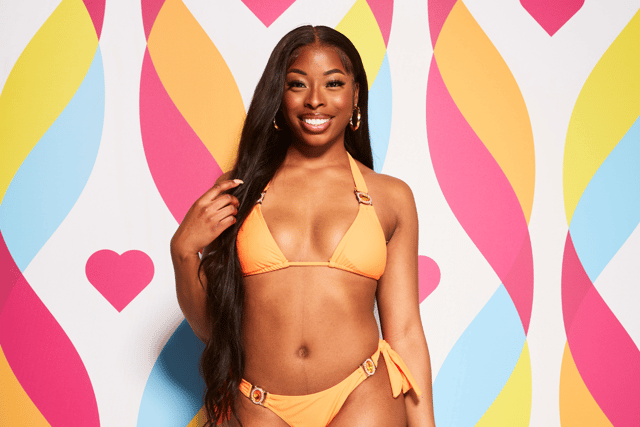 Catherine said her family and friends would describe her as "Someone who is fun and a loving character." She added: "They know I have so much love to give. I'm always smiling, I'm always happy, I'm always laughing. You'll always see me with a smile on my face."
She went on to admit: "I'm fun, flirty, I'm just never boring. I can chat your ears off!"
Who is Andre Furtardo
Andre was the final contestant to be revealed as part of the starting line up of Love Island 2023. The 21-year-old business owner hails from Dudley in the West Midlands.When asked what he'll bring to the Villa, Andre said: "I'm charming, I'm going to bring good looks and some language lessons. I'm going to teach the other Islanders Portuguese, Spanish and a little bit of Creole. I think I've got every slice of the pie."
Comments
 0 comments
Want to join the conversation? Please or to comment on this article.