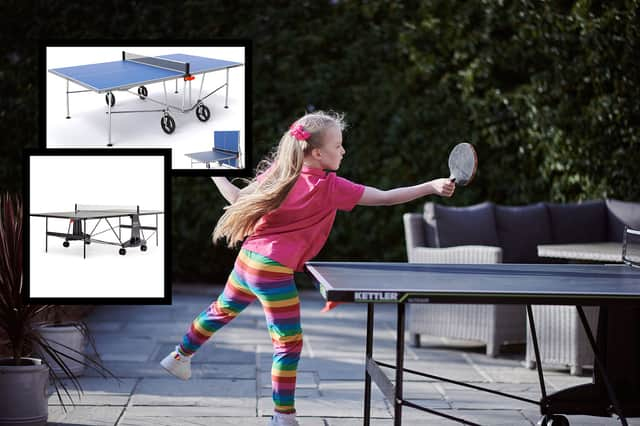 This article contains affiliate links. We may earn a small commission on items purchased through this article, but that does not affect our editorial judgement.
Now that summer is almost in full swing it's starting to look a lot like table tennis time. Table tennis is one of the most accessible of sports and great fun for all the family. You don't need to be super fit to play it and the tables themselves can be easily stored away when not is use.
We've sourced a variety of both outdoor and indoor tables at different price bands and these, in our opinion, are the best models for most amateurs and casual players.
Best table tennis tables at a glance:
How to choose a table tennis table
Although a table tennis table is ultimately just a hard table top with a net across the centre, not all table tennis tables are the same. In fact you may wonder why some table tennis tables can be brought for around £150 while others cost as much as £800.
There are several valid reasons for this but the most important consideration is the thickness of the table top because this alone will determine the amount of bounce and accuracy of the ball.
Cheap table tennis tables have very thin tops that are prone to warping – if they're not already warped when you take them out of the box.
But more importantly, a thin table top will sap energy from the ball as if it was bouncing on a piece of cardboard.
In fact, you can actually hear the difference between a thin and thick table top – thin tables sound a little hollow while thick tables have a tight, sharp sound.
Cheap table tennis tables are also poorly constructed from inexpensive materials and they are often much harder to assemble because not everything fits together as well as it should. They will also likely wobble on their spindly legs when accidentally bumped.
By contrast, a more expensive table (and we're still talking a reasonable price of around £350) will have a thicker playing surface and therefore much better bounce properties. The table will also be perfectly flat and assembly should be much more straightforward.
Standard table tennis tables – both indoor and outdoor models – measure nine feet in length (274cm), five feet in width (152cm) and 2'6" (76cm) in height. You can buy slimmer and shorter models like the Butterfly model we review below but they are more difficult to play on, especially if you're a beginner.
Indoor or outdoor?
Most professionals would advise buying an indoor table since they usually have a more responsive playing surface and much better bounce properties.
However, indoor tables are made from wood, particleboard or fibreboard which will quickly warp if left out in the sun for even a short period of time.
Rain is also a common enemy that will badly damage any indoor table by possibly penetrating the playing surface and producing a lot of surface blisters that will make it impossible to play on. However, the main problem with indoor tables is finding somewhere to put them.
Unless you live in a huge house, chances are you simply won't have the room to accommodate a table tennis table and the space required around it to play without hindrance.
Most indoor table tennis tables have playing surface depths of between 12mm and 25mm. Invariably, the thicker the table top the better and the more expensive it will be – 19mm is a great starting point.
Given that the majority of ping pong fans play solely for leisure, we think an outdoor table tennis table is the best option for most people because it can be stored outside and it isn't affected by hot sunshine, rain or humidity.
This is because most outdoor table tops are coated in melamine, a type of resin coating known for its durability in all weathers. The table's other parts like legs, main frame, struts, screws and bolts will all be weatherproof, too. Outdoor tables are also coated in an anti-glare covering.
The melamine playing surface of an average outdoor table tennis table is usually much thinner than the indoor variety but it still plays supremely well because the surface is so rigid. You may not see many stats on table thickness with outdoor tables (the best models are around 5mm) so just go for the highest priced model you can afford. And also consider a model with bigger wheels if possible so it's easier to push onto a lawn.
The best bats for table tennis
You may be tempted to buy a pair of cheap bats to go with you new table tennis table but that would be a mistake because cheap bats have thin blades (the wooden part) and very poor rubber surfaces that don't provide nearly enough spin.
Since spin is one of the most important elements of table tennis, you will be much better served with a decent quality bat with a good sticky rubber surface.
Our top choice for beginners is the Palio Expert 3.0. This is a cracking bat that genuinely helps improve your game. It's also very forgiving, which is just what the beginner needs.
Now you know the basic ins and outs of table tennis, let's get ping ponging.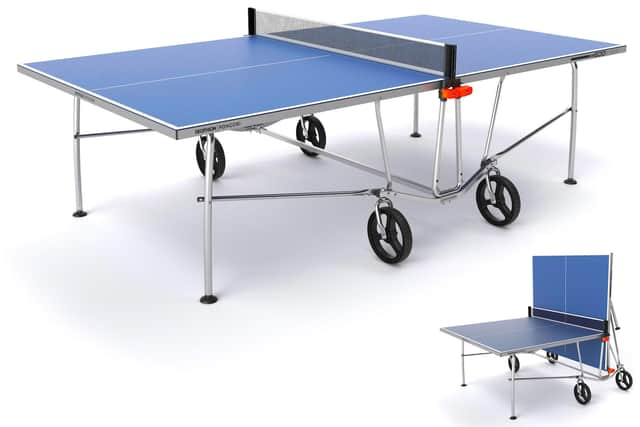 Weatherproof; Large wheels; Height adjustable legs
Assembly time; Some cheap materials
This model is about as cheap as you'd want to go for an outdoor table tennis table but against all odds the Pongori PPT 500 is a cracking contender for beginners and casual players.
With its blue weatherproof 4mm melamine tabletop, this model provides very decent bounce while the larger-than-average wheels make it really easy to move around the garden or patio.
It also comes with adjustable legs for use on uneven ground.
Like most foldable table tennis tables, the PPT 500 is easy to open and close, and it's also possible to have just one table side in a vertical position for solo play.
Yes, it will take you a few hours to assemble but once it's up and in position you'll be ping ponging till the cows come home.
Superb indoor playing surface; Great quality materials; 22mm indoor playing surface
Not weatherproof; Can't be used outdoors; Quite expensive
Founded in 1950, Butterfly is arguably the most popular table tennis brand in the world and one of the most highly regarded.
This full-size indoor model comes with a 22mm playing surface (just under professional spec of 25mm) so you can be sure the ball will have excellent bounce qualities and visiting pro-level players won't blench when they play on it.
The Slimline Match 22 features a robust steel frame, height adjusters on each leg, eight caster wheels for easy positioning and Butterfly's 'fold and store' mechanism for quick and easy storage (it is just 66cm in depth when folded).
You can also fold one side of the table into a vertical position so you can practice on your own using the upright section as a rebound surface. And don't worry if you suddenly discover you forgot to buy bats and balls because this one comes with a full set.
If you're looking for a high-end indoor-only table that's solidly constructed from top quality materials, put this one high on the shopping list.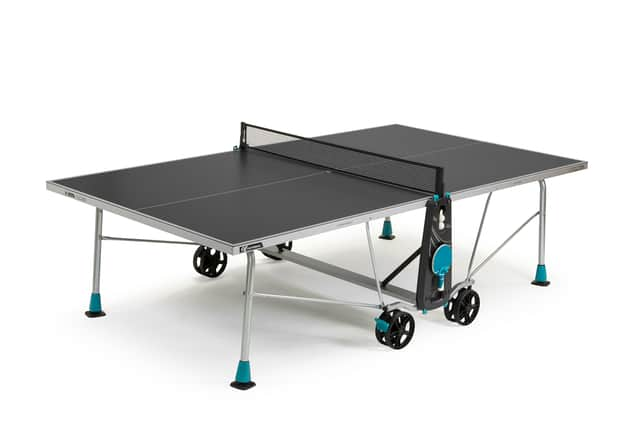 Excellent build quality; 5mm playing surface; Height adjustable legs; Weatherproof
Costs a bit more; Long assembly time
Like Butterfly and Kettler, Cornilleau is another brand that excels in the arena of table tennis.
This mid-priced outdoor model is equipped with a 5mm weather-proof resin laminate playing surface which is about as good as it gets for a beginner-to-intermediate outdoor table.
It also has adjustable height legs which is a massive bonus when used on an uneven lawn.
Like the Kettler, this is an exceedingly well-engineered table with robust weather-resistant frame, chunky wheels for easy transport across the lawn and a place to store your bats and balls.
Although it's fully weatherproof, we would still advise getting a suitable cover for it so it remains in tip-top condition for a string of fun-filled summers.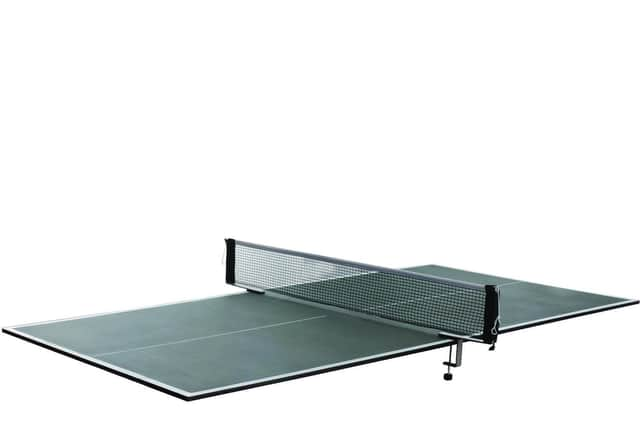 Easy to set up; Easy to store
Much smaller table size; Thin 12mm tabletop
If you fancy playing table tennis at home but simply don't have the space, consider this smaller-bodied option that lays flat on top of a dining table or similar.
At 6 feet x 3 feet this Butterfly Table Top model is several feet shorter and narrower than a standard table so it will take a little longer to adapt to the smaller playing surface. Also, the playing surface is just 12mm in depth which is about as shallow as it gets.
The Butterfly Table Top divides into two halves for simple storage and ships with a screw-clamp net, two bats and three balls. In the arena of budget-priced table tennis tables, this one is extremely practical and easy to store when not in use.
Just be aware that it's still no substitute for the real thing.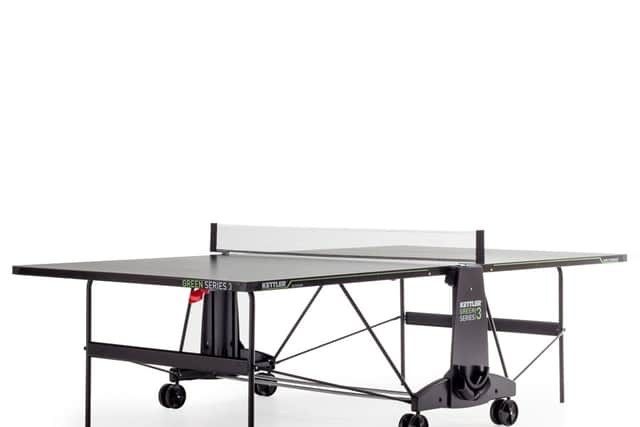 Very well made; Weatherproof; Great playing surface; Easy to move and store
It takes time to assemble; Some instructions not clear enough
Kettler is a German brand that's synonymous with high-quality outdoor furniture and barbecues.
Nevertheless, the company's table tennis tables also come highly regarded – and this sterling outdoor model is a case in point.
You will come to appreciate the Series 3's Teutonic origins when you assemble it because, despite taking about four hours to complete, everything screws together perfectly.
Just be sure to carefully follow the sometimes confusing pictorial instructions and you won't go wrong.
The Green Series 3 is a full size outdoor table with a 4mm melamine resin top for great bounce properties, weatherproof durability and heat resistance.
It's a joy to play on (you can even practice against yourself by folding down just one side of the table), a doddle to fold and unfold and, despite the smallish wheels, it can be easily moved around the garden, even over lumpy ground.
However, you may have to adjust the position of the table until it's perfectly flat because it doesn't come with height-adjustable legs.
If you're in the market for an exceedingly well made mid-priced table that keeps on giving, the Kettler Outdoor Green Series 3 is brilliant choice.