Ms Cherry was the party's home affairs spokesperson, and an outspoken feminist, friend of Alex Salmond and one of 15 SNP politicians asking the First Minister to rethink the party's approach to gender recognition.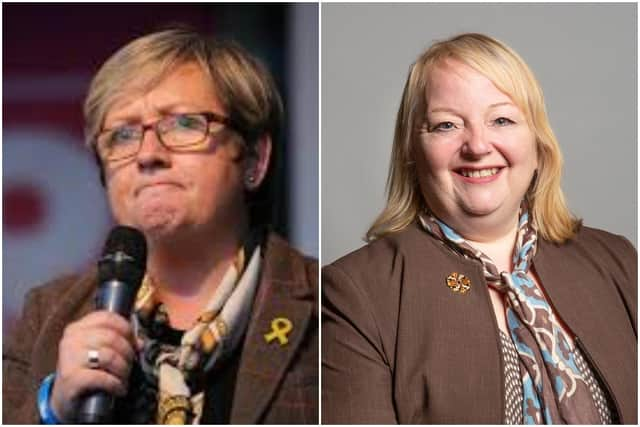 Why was Joanna Cherry sacked?
Cherry, a QC and the MP for Edinburgh South West since the 2015 election, was demoted from the SNP's leading team after an emergency meeting between the Westminster team on Monday morning.
The decision came following a week of internal turmoil and rising tensions between SNP politicians, regarding amendments to the Gender Recognition Act.
The SNP is seeking to change the act to enable self-identification of gender, rather than being clinically diagnosed with gender dysphoria. This would enable people as young as 16 to legally change their gender identity without medical justification or proof they had lived as the proposed gender for a minimum of two years.
Ms Cherry was one of 15 MPs who wrote an open letter to Nicola Sturgeon, asking her to reconsider the party's position. Cherry was concerned for the conflict of broadening trans rights, as she felt there could be repercussions for women's rights.
The trans rights argument has heated significantly in the last week, with a mass exodus of predominantly young members from the SNP. Sturgeon responded with a Twitter video, in which she explained her understanding that there were divisions within the party regarding the issue, but that debate should not be a cover for transphobic views held by members.
It is not known what the last straw was for Mr Blackford, but Ms Cherry has shared her views of her demotion.
Announcing her departure from the frontbench on Twitter, she said: "Despite hard work, results & a strong reputation I've been sacked today from @theSNP frontbench. My constituents & fellow party members who gave me a resounding mandate in recent NEC elections should rest assured that I will continue to work hard for them.
"Westminster is increasingly irrelevant to Scotland's constitutional future and @theSNP would do well to radically rethink our strategy."
Cherry had thrown her hat into the ring to contest Ruth Davidson's Scottish Parliamentary seat in the upcoming Scottish elections, but stepped down from the running. This was due to a new rule within the SNP which meant she would have to resign from Westminster before she could be elected to the Scottish Parliament.
She has been considered by many as the potential next leader of the SNP, and is a supporter of former leader, Alex Salmond.
Cherry will now be replaced by Stuart McDonald and Anne McLaughlin, with her role as Shadow Secretary of State for the Home Department and Justice being divided into two briefs.
McDonald will be the new party spokesperson for Home Affairs, while McLaughlin will pick up the Justice brief.
McDonald was previously an immigration lawyer before being elected to the UK parliament in 2015. He also has experience as the party's spokesperson for Immigration, Asylum and Border Control.
McLaughlin had previously served as an MSP in the Scottish Parliament before losing her seat in 2011. She then served as an MP from 2015 to 2017, before again losing her seat.
In 2019, she was reelected as an SNP MP, she was appointed the Shadow Spokesperson for Women and Equalities in January 2020.
Blackford did not address his dismissal of Ms Cherry when he announced the new leaders of the SNP Westminster team, only stating he felt the new team had a "wealth of talent and experience."
Who else has been promoted to the SNP frontbench?
Joining Cherry at the backbenches following a downgrade in status is Tommy Shepherd, previously the shadow Cabinet Office spokesman.
In their place, a handful of SNP MPs will now sit on the shadow cabinet, these are Patricia Gibson MP, Angela Crawley MP, Richard Thomson MP and Stephen Flynn MP.
Blackford released a press statement, in which he defined their new roles.
He said: "We have a wealth of talent and experience and this reshuffle of SNP MPs ensures we are in the best possible position to hold the UK Government to account during this global pandemic and the aftermath of Brexit, to support colleagues ahead of the Scottish elections, and to deliver independence.
"Team working and cooperation are key to ensure results and this reshuffle will give us a strong team to take us forward. We have an incredibly hard-working group of MPs - I thank them all for their commitment and congratulate those in new positions.
"I was pleased to welcome four MPs to the front bench; Patricia Gibson MP, Angela Crawley MP, Richard Thomson MP and Stephen Flynn MP.
"I would like to thank Tommy Sheppard for his work as shadow spokesperson for the Cabinet Office and I congratulate him on his new role as the SNP's shadow spokesperson for constitutional affairs.
"Neil Gray MP will coordinate our inclusion and wellbeing team before he steps down as a MP and seeks election to the Scottish Parliament. I thank him for all his work and wish him the very best.
"We are at a crucial time in politics. Never before have we faced a challenge as great as the global pandemic, and Scotland is acutely feeling the ramifications of leaving the European Union. With the Scottish elections on the horizon and independence in touching distance, our new team is ready to work hard for Scotland.
Have other SNP MPs responded to the reshuffle?
While Blackford failed to address the elephant in the room, other SNP colleagues came out in support of Cherry.
Joan McAlphine, an SNP MSP posted on Twitter: "@joannaccherry has been a fantastic justice and home affairs lead & a credit to Scotland. When I campaigned with her in Edinburgh in 2019 strangers stopped & asked to shake her hand. Here's a reminder of the day she made history," followed by a link to an article about the QC's triumph in a court case to revoke the poroging on parliament.
Kenny McAskill, an SNP MP and former shadow Justice secretary also shot to Cherry's defence.
He wrote on Twitter: "I know how highly rated Joanna Cherry is in UK justice circles as well the party grassroots in Scotland. She remains head and shoulders above most others and I for one stand by her. This is the leadership's call but many of us find this inexplicable and harmful to our cause."
Meanwhile, others in the legal community shared their support. Dean of the Faculty of Advocates, Roddy Dunlop QC, tweeted: "I don't care about the politics of this. I do care about justice. @joannaccherry has been an important voice in holding UKGov to account on justice, & on attacks on the legal profession. I hope her replacement is as strong."