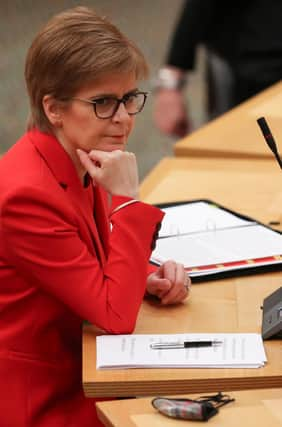 Nicola Sturgeon refused to accept there had been any "slippage" in the vaccination timetable, as she was pressed on the issue at First Minister's Questions.
Scottish Conservative Holyrood leader Ruth Davidson also criticised Ms Sturgeon for describing a UK government request to remove sensitive information about the vaccine rollout from its website as a "hissy fit".
"Yesterday she was asked a series of serious questions about why hundreds of thousands of doses of vaccine were not reaching GPs quickly enough," said Ms Davidson. "The questions were based on the evidence of the testimony of GPs, of the GP chair of BMA Scotland and of the over 80s who've heard nothing about when they'll be called. In response we got a bizarre rant that the UK government was throwing a so-called hissy fit about the publication of sensitive future vaccine supply figures.
"It was quite the change of tone from the health secretary's profusive apology on Friday. The First Minister got what she wanted which was a cheap headline but the country didn't get what it needed which was answers. Will the First Minister finally explain why the vaccine roll out is lagging behind in Scotland and why are hundreds of thousands of doses not reaching GPs quickly enough?"
Ms Sturgeon denied the programme was "lagging behind" and said the government had "deliberately focused first on elderly residents in care homes because these are the people most vulnerable to becoming ill and dying from Covid".
As a result, she said more than 90 per cent of residents in care homes had received their first dose of vaccine "and that is what we think will have the biggest and most immediate impact of reducing the death toll".
She added: "The reason why the overall numbers are therefore lower is because it takes longer and is more labour intensive to vaccinate in care homes than the community. The daily rate in England has fallen over the last three days and the explanation given is that they have decided to focus more on catching up in care homes and it takes longer – we're all grappling with same issues."
On GPs receiving doses, Ms Sturgeon said she goes "to sleep with these numbers in my head and wake up with them in the morning".
Saying Ruth Davidson was "wrong" in her claims and that the government was not sitting on vaccine supplies, she added: "Right now 75 per cent have supply or are in the process of getting supply. That figure will never be 100 per cent as not all GPs are participating in giving the vaccine. In terms of the over 80s we estimate around 20 per cent have been vaccinated and our community vaccination programme is ramping up.
"On Monday the number was 19,600 that's an increase of 56 per cent on the previous Monday. We are on an increasing trajectory of vaccination and working to our target of vaccinating all over 80s by the first week of February."
Ms Sturgeon said that a difference in whether over 80s would be vaccinated by end of January and first week of February was just a "refinement" of the target dates based on developing understanding of supply.
Interim Scottish Labour leader Jackie Baillie also raised the issue of vaccines with Nicola Sturgeon asking why five per cent of the vaccines was allowed to be wasted, according to the government's programme.
Ms Sturgeon said the figure was "a planning assumption" and added: "It's factoring in some large scale break down in the supply chain, a cushion in case that happens so we can still vaccinate people. There's not five per cent wastage in practice, it's around one per cent and there are efforts to get that lower. But there will be human error... that's unavoidable to some extent."
Jackie Baillie said she welcomed the fact that the programme was "doing better than worse case scenario" but that wastage of 1.8 per cent was the equivalent to 5000 doses. She asked if GP surgeries and mass vaccination centres had guidance on how to avoid wastage, including having a list of high risk people.
Ms Sturgeon said it was "in no-one's interest" to waste vaccine, and raised the issue that the Scottish Ambulance Service used leftover vaccine for call handling staff rather than frontline workers. This, she said, was "pragmatic".
Ms Baillie said there had been reports in some health boards of vaccines "being binned" because of a change in how the AstraZeneca vaccine should be delivered to people, and that "every drop of vaccine should go to saving lives".
A message from the Editor:Thank you for reading this article. We're more reliant on your support than ever as the shift in consumer habits brought about by Coronavirus impacts our advertisers.
If you haven't already, please consider supporting our trusted, fact-checked journalism by taking out a digital subscription.