Addressing the Scottish Parliament today (Tuesday 19 January), the First Minister said community transmission of the virus was still too high to ease the tight restrictions.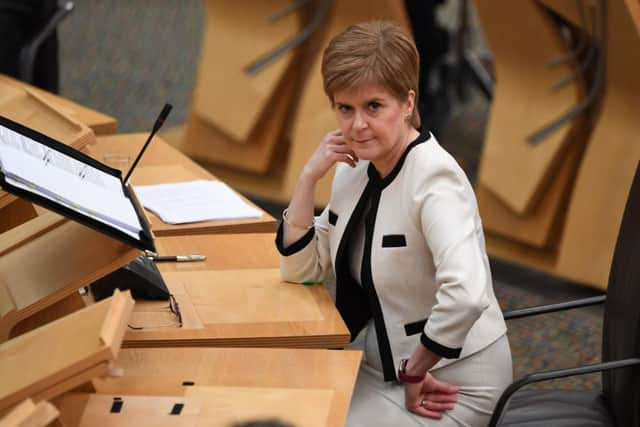 It comes as she announced there were more than 200 coronavirus cases per 100,000 people in Scotland, with just under 2000 patients in hospital.
Here's everything you need to know about Nicola Sturgeon's update, including what she said about schools reopening.
What did the First Minister announce?
Nicola Sturgeon said although the current lockdown restrictions seem to be working to contain the new, more transmissible strain of the virus, with case numbers stabilising, the country is still in a "precarious position".
She said we "cannot afford" to see the rate of infections rise, which is why the Cabinet decided on Tuesday morning that the restrictions would not be eased yet.
The "stay at home" order will stay in place across mainland Scotland, and some island communities, until at least the middle of February.
These restrictions will then be reviewed again on 2 February, the FM said.
Ms Sturgeon announced one local change to the current lockdown restrictions for the island of Barra in the Western Isles, which has seen a "significant" Covid-19 outbreak in recent days.
There are concerns that the outbreak could spread widely across the island communities, she said.
For that reason, Barra, and the connecting island of Vatersay, will enter a Level 4 lockdown at midnight tonight.
This means the restrictions that already apply on mainland Scotland, including the stay at home rule, will be imposed on the islands.
The decision will be kept under review, Ms Sturgeon said.
Most school and nursery pupils will not return to classrooms on 1 February, the First Minister announced.
The only exception is for vulnerable children and children of key workers, who will still be able to attend school.
Institutions will remain closed until at least the middle of February, with all other pupils expected to continue to learn remotely for now.
This decision will be reviewed again on 2 February, with Ms Sturgeon saying a firmer timetable for getting pupils back to classrooms will be published after that date.
She said she hoped a phased return to school could be possible from mid February.
The FM said: "I understand how difficult, distressing and damaging it is for children and young people to have their education and their normal interactions with friends so disrupted.
However, our reluctant judgment is that community transmission of the virus is too high - and is likely to remain so for the next period - to allow a safe return to school on 1 February.
"The Cabinet decided today that - except for vulnerable and key worker children - school and nursery premises will remain closed until mid-February."
Ms Sturgeon originally announced on 4 January that schools would remain shut until at least 29 January.
The Scottish Government has repeatedly said that reopening schools is a "top priority", and one of the reasons for bringing in tighter restrictions was to ensure pupils could return sooner.
The public is likely to support the decision to keep schools closed.
According to a poll undertaken by Savanta ComRes for The Scotsman, almost three quarters of Scots believe it was the right decision to close schools in an attempt to stop the spread of the virus.