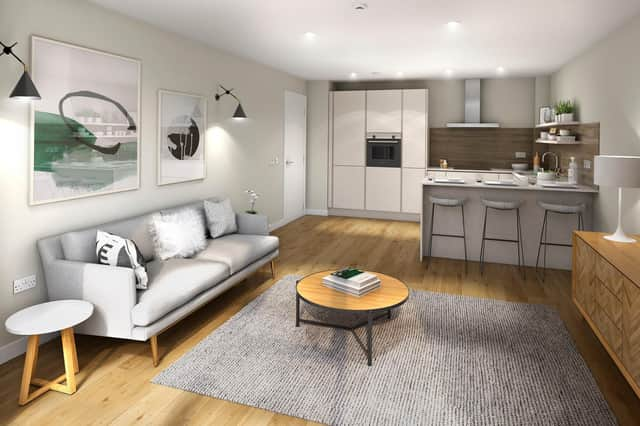 Almost two-thirds of apartments are now sold, and with consumer confidence returning following the easing of lockdown, prices and value are also increasing, with the average cost of apartments growing by seven per-cent since the development's marketing launch in 2019.
The niche development is a spectacular mix of 180 one, two and three-bedroom apartments and colony-style properties, overlooking the Water of Leith in Canonmills to the north of Edinburgh city centre.
The current sales success – which includes two first-phase blocks sold out with only one colony property remaining – is particularly remarkable considering the challenging sales environment imposed by the coronavirus lockdown.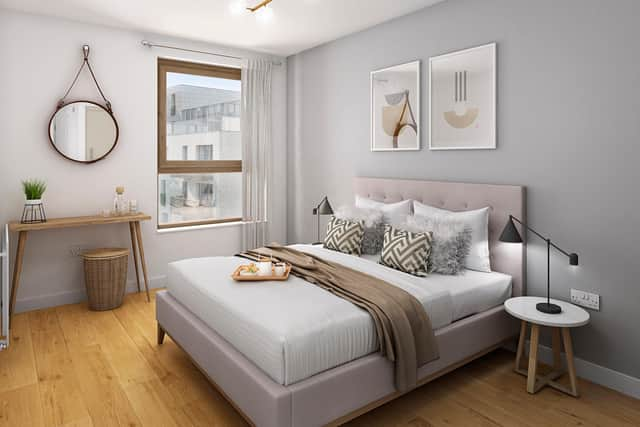 Charlotte Swanson, Artisan's regional development manager, believes prices will increase even more following increasing consumer interest post-lockdown: "Canonmills Garden is fast becoming a desired destination for post-lockdown living – meaning that now is the perfect time to buy a new home before as values increase even further."
She added: "The secret behind Canonmills Garden recent success can, perhaps, be explained by the latest consumer research revealing how the lockdown experience is changing home-buying habits. Not surprisingly personal outdoor space, broadband strength, natural light and access to private workspace are now the dominant purchasing factors. Proximity to local parks and greenspace and energy efficiency also score highly.
"Canonmills Garden ticks all these boxes - and with plenty to spare. Generous and airy internal dimensions combine with large balconies and terraces overlooking private gardens and the Water of Leith, all underpinned with the latest in smart design and energy efficient technology."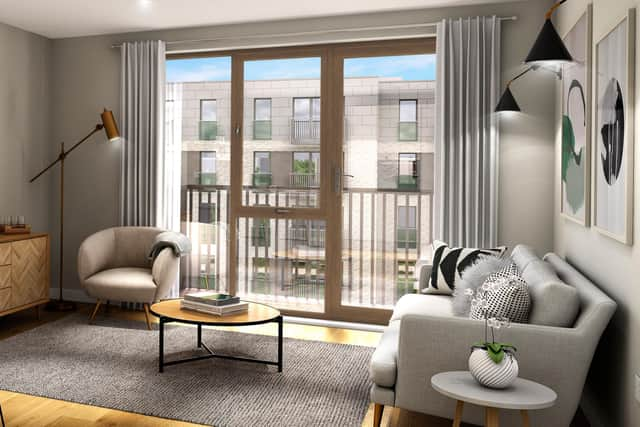 Artisan is best known in Scotland for large-scale city regeneration projects like New Waverley currently transforming Edinburgh's historic Old Town. The developer is applying the same values, resource and philosophy to its residential developments which is quickly setting it apart from other major homebuilders in Scotland
"Straight away you can see that Artisan is not your typical house-builder," continues Charlotte. "The specification of Canonmills Garden is amongst the highest in Scotland, with premium Kitchens International kitchens and Victor Paris bathrooms throughout. Savvy buyers are getting tremendous value for money in a much sought-after corner of the city."
Homebuyers will be able to get a clearer sense of Canonmills Garden living experience with the opening of the new show home and marketing suite on August 27th - a sure-fire sign to show the world that things are on the road back to normality in the housing market.
The new show home has been designed by well-known Scottish Interior Designer Carol Yates, with post-lockdown living very much in mind.
The experience of the last few months, says Carol, has made us all revaluate what we want from our living space and access to the outdoors. "If lockdown has shown us anything, it has been the importance to all of us of simply 'being at home'.
Carol added: "Having access to a lovely outside space is key and the large balconies and terraces overlooking the gardens – which are all accessible by all residents – offer a wonderful sense of tranquillity whilst being on the edge of a vibrant city centre lifestyle.
"Inside, the generous room dimensions provide lots of light and airy spaces which is a perfect canvas for a Scandinavian-inspired design. The shape of the rooms maximises light and space through large windows, open plan living, dining and eating spaces all connected seamlessly to spacious outdoor balconies and terraces."
Carol's show home design combines Scandinavian influences with solid oak flooring adding a natural texture to the rooms. And while it is a minimalist layout, accents of colour and vibrancy have been introduced with soft-layered fabrics and cushions to bring depth, warmth and vibrancy to the show home.
Carol said: "Scandic influences are very popular right now, with light airy living combined with natural finishes and soft colour interiors. Think natural wood, wool and textures in soft furnishings, combined with white features alongside pale greys.
"After lockdown and beyond, as we find a new way of living, home will remain the most important place in the world to us. There is nothing quite like walking through a show home and visualising yourself living there. It's aspirational and exciting - and we all need a little bit of that, especially right now."
There's been a huge amount of interest in the show home so far, so an online booking system is now operating to allow tours to be carried out safely and in a controlled environment. The Canonmills Garden sales team will be on hand to show you around and to give you all the information and help you need. To book an exclusive VIP tour of the new show home, click here.
A range of apartments - including the new Sophora homes' phase - is now available at Canonmills Garden with prices starting at £335,000. For more information, visit: www.canonmillsgarden.com