It was more than 20 years ago that Stuart Hepburn - multi-talented Scottish actor, writer, director and academic - found his attention caught by a radio programme about veteran Scottish soldiers and their families travelling to St Valery-en-Caux, in northern France, for a gathering at the memorial stone raised there to the 51st Highland Division of the British army, which made a last stand near St Valery in the summer of 1940. Despite a lifelong interest in Scottish history - theatregoers who were around in the 1980s may remember Hepburn as the original Bothwell, in Liz Lochhead's ground-breaking play Mary Queen Of Scots Got Her Head Chopped Off - Hepburn had never heard of this episode; and he began to research the story, which involves the harsh reality behind Winston Churchill's claim, in June 1940, that every single member of the British Expeditionary Force had been safely evacuated from Dunkirk.
In fact, some tens of thousands of British soldiers had been left behind to cover the British retreat, ordered to fight "to the last bullet"; and among them were soldiers of the 51st Highland Division, based in Inverness, many of whom died, or became prisoners of war. But some 200 men managed to escape; and as Hepburn researched the history, he met one of those men, a country lad from near Inverness who spent months living hidden in the attic of a friendly family in St Valery - a former British First World War soldier, his French wife, and their daughter. The soldier and the daughter fell in love; and after the war he returned to St Valery - liberated in 1944 by a British force which included some of his old 51st Division comrades - to marry her. They called their daughter Valerie, after the war-torn town where they had met.
Hepburn was convinced that a slightly fictionalised version of this powerful story - with names changed to protect the family's privacy - would make a fine film script, although thanks to the vagaries of film industry funding, the movie has yet to be made. Hepburn began to study for a Ph.D at Glasgow University's School of Critical Studies, reflecting on this story and his version of it, and was awarded his doctorate in 2015; and when the producers at A Play, Pie And A Pint lunchtime theatre in Glasgow asked if he could somehow create a version of the story for three actors, Hepburn responded with The Beaches Of St Valery, a beautiful one-hour play first performed at Oran Mor in March 2017, with James Rottger and Ashley Smith as the lovers, and Ron Donachie as the sergeant-major.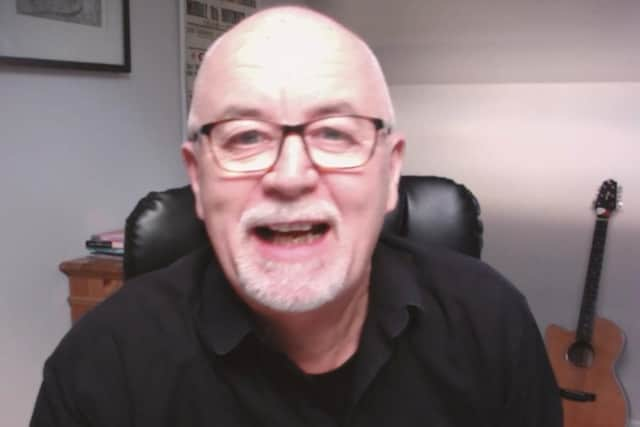 The play is structured around a series of letters home, written by the soldier Callum to his younger brother, and became one of the most successful shows ever staged at Oran Mor. Last week, Hepburn's revived production - returning by popular demand - was cancelled because of the coronavirus crisis after just one performance.
Here, Hepburn recalls one of Callum's letters from his attic in France; part of a play that highlights both Scottish theatre's key role in making space for previously untold stories about our own history, and the huge public enthusiasm for such stories, told with humanity, passion and skill.