They would be replaced by passengers buying two single journeys for round trips, as east coast operator London North Eastern Railway trialled in 2020.
Transport minister Jenny Gilruth said it was "rather disappointing though not surprising" that the UK Government had failed to discuss the plans with Scottish ministers.
It is understood they were briefed to London-based Sunday papers by No 10 Downing Street rather than the UK Department for Transport.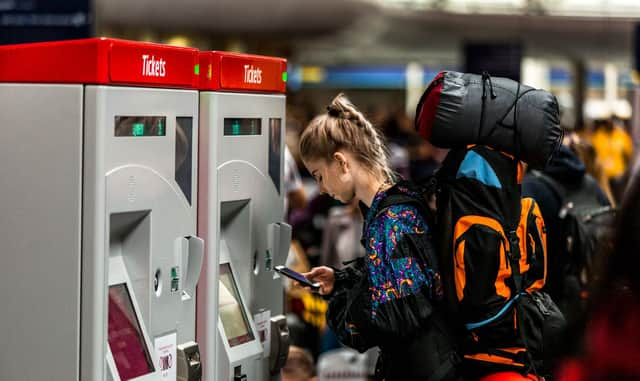 There could also be a renewed effort on shifting passengers from paper tickets to fares being stored on their phones and other mobile devices, which the industry has been attempting for years.
The moves are expected to be confirmed by UK transport secretary Mark Harper, who reports suggest will also commit to the creation of a new body to run the network south of the Border, known as Great British Railways (GBR), which was envisaged would become its "single controlling mind".
However, it is unclear whether any of the changes he will outline will take effect in Scotland, where control over much of the industry is devolved to the Scottish Government.
Mr Harper's move may therefore be more significant in attempting to restore industry faith in the planned creation of GBR, which some believed had stalled or even been shelved following its announcement by then prime minister Boris Johnson and former transport secretary Grant Shapps in 2021.
It followed a major two-year review of the rail system on behalf of the UK Government by former British Airways chief executive Keith Williams following a series of disastrous new timetable introductions south of the Border.
However, reports suggest Mr Harper is understood to have "moved away from his predecessor's 'state heavy' approach, which some have likened to the return of British Rail".
Bill Reeve, Transport Scotland's head of rail, told MSPs last March: "Are we clear as to how this will be applied in Scotland? The answer is no."
He said it was "not yet clear" how GBR's role as the "single controlling mind for the railways of Great Britain" could be reconciled with the new body "continuing to respect the devolved responsibilities of the devolved administrations".
Transport minister Jenny Gilruth said: "It's rather disappointing, though not surprising, that UK Ministers have not sought to discuss these proposals with their Scottish counterparts.
"We will, of course, review any forthcoming announcement made by the UK Government on rail ticketing when it is made, to consider the potential implications for Scotland's railway and it's passengers.
"More broadly, the UK Government's proposals in relation to Great British Railways have been on pause for many months now.
"This hasn't been good for passengers and it has not been good for the rail industry.
"The Scottish Government has consistently presented a clear case for the full devolution of rail powers.
"So far, the UK Government's plans for rail will not deliver this.
"We will not accept a position where the devolved position with rail in Scotland is in any way eroded or undermined.
"Full control of rail powers for Scotland becomes more important now that ScotRail in public ownership and our key aim in bringing ScotRail into public sector control is to put the passenger first."