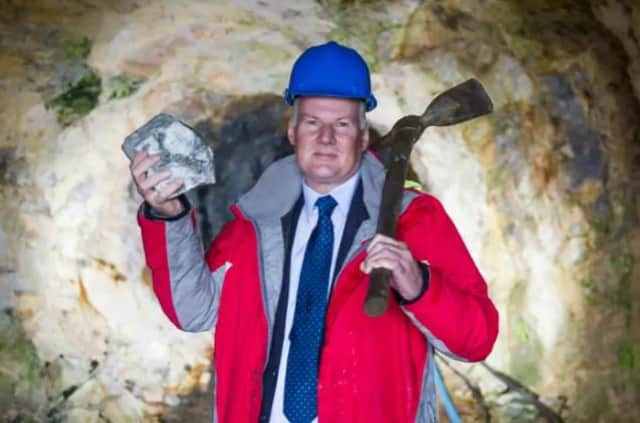 Gold production has the potential to become a "significant industrial sector and generator of employment in Scotland", says mining industry veteran Richard Gray.
The chief executive of Scotgold Resources, the firm developing Scotland's first commercial gold mine, has seen the company make significant strides towards that ambition in recent months, including the auction in November of the first ten coins minted from precious metal produced at its Cononish site near Tyndrum.
The company, which is quoted on London's Alternative Investment Market, has received a boost from higher prices – thanks in no small part to the weaker pound, as gold is priced in dollars – and lower running costs as its facility in the Loch Lomond and the Trossachs National Park.
It told investors recently that the mine is now expected to deliver underlying earnings of £100 million over its nine-year lifespan – well above an earlier estimate of £67m.
And Gray, the former head of mining and expansion at West Africa-focused gold miner Avocet who became chief executive of Scotgold in October 2014, believes buyers will pay a premium for Scottish gold, saying that the jewellery trade would "appreciate the value that can be added to their products by the proven provenance of the stag's head Scottish gold mark".
Scotgold has secured a £1m loan from chairman Nat le Roux – the Scots-born former chief executive of spread­betting group IG – to provide working capital while it awaits permission to start underground work from the park's authorities, a process that is expected to complete before the end of this year.
The highest price paid at last year's auction for a gold "round" – stamped with a stag's head and unique serial number, accompanied by a certificate of authenticity from the Edinburgh Assay Office – was more than £21,000, with the lowest successful bid coming in at £2,300. The average price accepted was £4,557.90 an ounce.
Major shareholder Graham Donaldson and his wife Christine presented an 11th round, minted by Baird & Co Bullion Merchants, to the University of Glasgow's Hunterian museum, which houses some 70,000 coins and medals in its collection. Hunterian director Professor David Gaimster described the coin as being of "historical interest".
Gray says: "We believe that gold mining has the potential to be a significant industrial sector and generator of employment in Scotland and this unique piece marks a significant milestone on this journey."