What does cronyism mean? Definition and origins of the word – and why Boris Johnson has been accused of it
The Prime Minister has been accused of cronyism after it emerged that he exchanged text messages with billionaire Sir James Dyson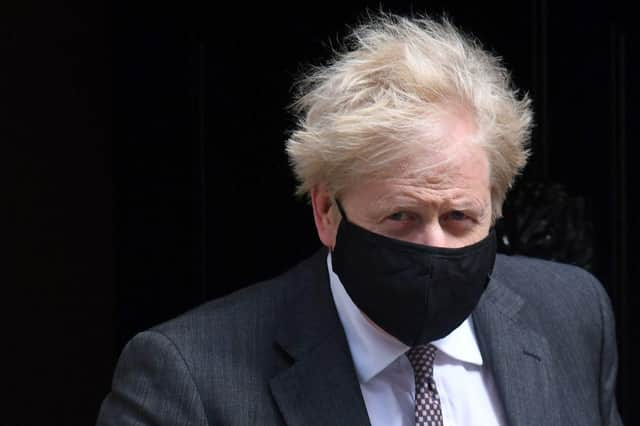 Johnson has made 'absolutely no apology at all' for text message exchanges about businessman Sir James Dyson's tax concerns (Photo: DANIEL LEAL-OLIVAS/AFP via Getty Images)
No 10 had initially said there would not be a probe into how the exchange was made public, but a change of course was announced on Thursday (22 April) as it said an internal inquiry will be led by the Cabinet Office.
Labour Party campaigners pose outside Downing Street during a stunt in which they carried envelopes labelled "Taxpayer's Money" while dressed as Chancellor of the Exchequer Rishi Sunak, Prime Minister Boris Johnson, Health Secretary Matt Hancock, and former Prime Minister David Cameron (Photo: Rob Pinney/Getty Images)
The Prime Minister's official spokesperson told a Westminster briefing: "I can confirm that, yes, we have instructed the Cabinet Office to look into this."
The spokesperson confirmed the inquiry will examine the source of leaks of Johnson's private communication "as related to this issue of Dyson".
It is the latest revelation in an ongoing political row over cronyism. But what exactly does that mean? And where did the term come from?
Here is everything you need to know about it.
Dyson personally lobbied the Prime Minister as he sought to build ventilators at the height of the coronavirus crisis (Photo: CHRISTOPHE ARCHAMBAULT/AFP via Getty Images)
What is cronyism?
Cronyism is the practice of awarding jobs and other advantages to friends or trusted colleagues, especially in politics.
This includes appointing "cronies" to positions of authority, regardless of their qualifications; cronyism is the opposite of meritocracy, in which appointments are made based on qualifications.
According to the Oxford English Dictionary, the word "crony" first appeared in 17th-century London, and is believed to be derived from the Greek word chronios, meaning "long term".
An alternative theory to the origin of the term comes from the Irish phrase "Comh-Roghna", which translates as "close pals", or mutual friends.
Why is cronyism bad?
Cronyism exists when an appointer needs support in their proposals, and so appoints individuals who will not try to weaken their proposals by voting against issues, or expressing views contrary to those of the appointer.
There is no clear delineation of when an appointment to government office is "cronyism", but government officials are particularly susceptible to accusations of cronyism as they spend taxpayers' money.
The economic and social costs of cronyism are paid by society in a number of ways, including reduced business opportunities for the majority of the population, reduced competition in the marketplace, inflated consumer goods prices, and decreased economic performance.
Cronyism is usually easier to perceive than to demonstrate and prove, and it is not unusual for a politician to surround themselves with highly qualified subordinates, and to develop social, business, or political friendships leading to the appointment to office of friends.
Why has Boris Johnson been accused of cronyism?
The Prime Minister has been accused of cronyism after it emerged that he exchanged text messages with billionaire Sir James Dyson over the tax status of his employees.
Johnson promised the entrepreneur he would "fix" an issue after he was directly lobbied by the entrepreneur as he sought to build ventilators early in the coronavirus crisis, when the Government was appealing to firms to supply ventilators amid fears the NHS could run out.
Sir James, whose firm is now based in Singapore, wrote to the Treasury asking for an assurance that his staff would not have to pay additional tax if they came to the UK to work on the project.
But when he failed to receive a reply, the BBC said he took up the matter directly with the Prime Minister, saying in a text that the firm was ready but that "sadly" it seemed no-one wanted them to proceed.
"I will fix it tomo! We need you. It looks fantastic," Johnson replied, before texting him again saying: "[Chancellor] Rishi [Sunak] says it is fixed!! We need you here."
When Sir James then sought a further assurance, Johnson replied: "James, I am First Lord of the Treasury and you can take it that we are backing you to do what you need."
Two weeks later, Sunak told the Commons Treasury Committee that the tax status of people who came to the UK to provide specific help during the pandemic would not be affected.
In a further development, the Times reported that Johnson rejected his Cabinet Secretary's advice to change his phone number because of concerns over the ease with which lobbyists and others from the business world were able to contact him.
What has Johnson said about the row?
On top of that, a report from Transparency International UK has said coronavirus contracts awarded by the UK Government worth more than £3.7 billion raise at least one red flag for possible corruption.
The independent anti-corruption organisation said that how the Government handled bids for supplying personal protective equipment (PPE) and other pandemic contracts appeared to favour those with political access, and identified 73 contracts worth more than £3.7 billion whose award "merits further investigation".
Johnson has made "absolutely no apology at all" for text message exchanges about businessman Sir James' concerns about the tax status of his employees, saying he was "happy to share all the details" of the exchanges as there was "nothing to conceal".