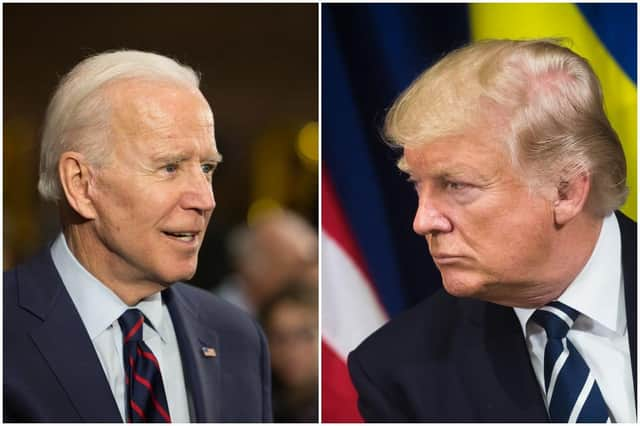 US presidential debate 2020: schedule of next Joe Biden and Donald Trump debates - and when vice presidential candidates go head to head (Photo: Shutterstock)
Following an acrimonious first debate and the president testing positive for coronavirus, plans which were put in place to host the second presidential debate virtually have been disrupted, with Mr Trump saying he won't take part.
The body responsible for presidential debates announced that the second debate will take place online due to concerns about the spread of coronavirus after the president tested positive and a number of White House staffers have also contracted the virus.
But just hours after the announcement Mr Trump told Fox News, ""I'm not going to waste my time on a virtual debate, that's not what debating is all about".
What will happen if it doesn't go ahead?
Democratic nominee Joe Biden's team released a statement following the President's comments, saying Trump "clearly does not want to face questions from the voters about his failures on COVID and the economy".
The statement continued: "As a result, Joe Biden will find an appropriate place to take questions from voters directly on 15 October, as he has done on several occasions in recent weeks.
"Given the president's refusal to participate on 15 October, we hope the Debate Commission will move the Biden-Trump town hall to 22 October, so that the president is not able to evade accountability.
"The voters should have a chance to ask questions of both candidates, directly."
When are the next debates?
The remaining debates are scheduled for 15 October and 22 October, with the first originally slated to take place in Miami and the second planned to be in Nashville.
The debates are both scheduled to begin at 9pm EST and run for approximately 90 minutes without ad-breaks.
The vice-presidential debate, between current VP Mike Pence and Joe Biden's Democratic running mate, Kamala Harris, took place on 7 October.
Each debate will be shown across all major US television networks, and will be available to stream online through various channels.
The Commission on Presidential Debates (CPD), an independent body responsible for organising them, will look to amend the rules going into the last phase of the election, due to the rampant disruption which characterised the first debate.
It has been reported that the major priority for the CPD is cutting down the number of interruptions, and making sure each candidate is allowed more-or-less equal time to speak.
One of the main options being considered is a cut-off on each candidate's microphone which would prevent them from being heard when it is not their turn to speak.
When incumbent president Donald Trump faced off against Democratic nominee Joe Biden earlier this week, the resulting exchange left many commentators wondering whether it had been of any use to voters, as so much time was lost due to interruptions and cross-talk.
Americans and viewers all around the world expressed their frustration at the way the debate played out, with the moderator unable to prevent the conversation from degrading into backbiting and squabbling.
Both men talked over and interrupted each other at various points, although Donald Trump did cut off his rival considerably more than the other way around.
Chris Wallace, the Fox News anchor who hosted the debate, has said he "never dreamed it would go off the track the way it did" and that the debate was a "terrible missed opportunity".
More than 65 million people watched the first debate, with similar viewing figures expected for the follow-ups.
Snap polling following the first debate showed Joe Biden with a slight edge over his incumbent rival, although some have suggested that the debates are likely to have very little impact on which way viewers vote.
Some polls suggest that as many as 90% of Americans have already decided who they'll vote for.