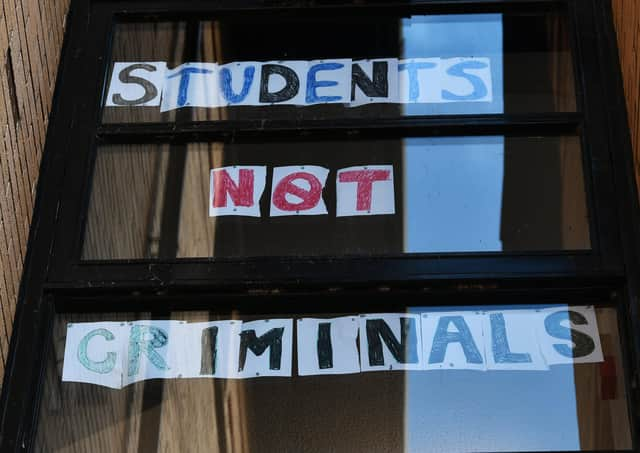 A message left at Glasgow University's Murano Street residences.
Scottish Labour described the guidance, issued by Universities Scotland and banning students from visiting pubs and restaurants this weekend or going home, as "clear as mud" because those with jobs in hospitality venues are still being allowed to go to work.
Amid calls for more widespread testing of the student population, the Scottish Conservatives hit out at the SNP for leaving students "in limbo".
The First Minister defended the restrictions, amid concerns about virus spreading among the student population and into wider society, as simple common sense. .
Students get tested for Covid-19.
The move followed another day of record positive Covid-19 cases, with the number of confirmed cases totalling 558 yesterday.
Criticising Ms Sturgeon for the "mess of the Scottish Government's creation", Scottish Labour leader Richard ­Leonard called for action to "rectify their mistakes", insisting that outbreaks in student halls should have been foreseen.
He said: "It is becoming clearer with every passing hour that Scotland's students are being punished for the SNP government's incompetence and lack of foresight.
"Hundreds of students are being forced to remain in cramped student accommodation and the guidance is as clear as mud. The Scottish Government has serious questions to answer."
Scottish Liberal Democrat leader Willie Rennie urged the Scottish Government to implement a five-point plan, including mass testing and increased support services for students.
He said: "Students have been treated shabbily and as second-class citizens. Last-minute panicked changes to the rules and laws has left students feeling cheated, trapped in expensive accommodation, unable to go home and with no in-person teaching for months.
"The Scottish Government must act today to tackle the problem."
Douglas Ross, leader of the Scottish Tories, called on the government to release the scientific advice behind the new restrictions.
He said: "SNP ministers are going round in circles about what's allowed and what's not. In the same breath, [higher education minister] Richard Lochhead has told students they can go home if they're struggling, then reminded them they can't go home.
"This is a shambles and students deserve better. They shouldn't be left in limbo while the SNP fumble for an answer."
However, the First Minister defended the new restrictions imposed on students this weekend as "common-sense measures" designed to curb the spread of accelerating outbreaks in universities.
Ms Sturgeon said mass testing of students was not done to avoid false security over the infectiousness of students.
She also denied the suggestion that universities pressured the government to allow a return to campus for students to help avoid the financial black hole in university finances if high student accommodation rents were not paid.
Speaking at her daily coronavirus briefing, Ms Sturgeon said she expected to see the number of students testing positive for Covid-19 rise and clarified that while students will not be able to socialise within their households at pubs and bars, those who have jobs in hospitality or retail would be expected to go to work.
"This is about socialising," said the First Minister, "and the evidence. Look, we are trying to make some common sense judgments here. If we have outbreaks among student populations, what are the things we can do?
"We know that these outbreaks will have started in exposures that students have had in the previous days.
"What we need to do now is try to stem that by reducing the chances of students who might have the virus, but haven't been tested yet because they don't have symptoms, passing that on and going into settings where they might be taking it outside the student population.
"So it's kind of common sense that one way of doing that over the next few days is to stay out of pubs and restaurants."
Ms Sturgeon said this applied whether students were meeting their friends or their family, but not to those working in hospitality and retail.
She said: "We recognise if people have to go to work, they have to go to work. We are not stopping students going to work."
Deputy chief medical officer, Dr Nicola Steedman, said people were most infectious just as symptoms appear and in the two or three days before the symptoms appear.
She said it would make a difference for students potentially exposed to Covid-19 to not go to "crowded environments" during this period.
Dr Steedman said: "It might well just remove those people who are not yet symptomatic who could be transmitting the virus."
Ms Sturgeon said she didn't "underestimate" the challenge for students but added that she was "equally not sure it was the most difficult thing" she had asked people to do and for 
people to "keep it in perspective".
The First Minister also reiterated that universities had her backing if they were to decide to expel or exclude students who were found to have broken the rules.
Ms Sturgeon was also challenged on why students were not offered mass testing as they returned to universities over coming weeks.
The defence – that asymptomatic testing could give false positives or a false sense of security – was put to Ms Sturgeon as the same explanation used by the Scottish Government when patients were being discharged from hospitals into care homes in April.
"It is not a defence, it is an attempt at an explanation," said the First Minister, "I'm genuinely not trying to be defensive.
"It is absolutely not the same to be talking about vulnerable elderly people going from hospitals to care homes and talking about students in a campus mixing with other people.
"These are two fundamentally different things. We would be in danger of giving the message that if you test negative, you can just run your life normally and go to the pub."
The First Minister also insisted the communication of the new regulations "didn't seem unclear", but the Scottish Government would take on board the criticism.