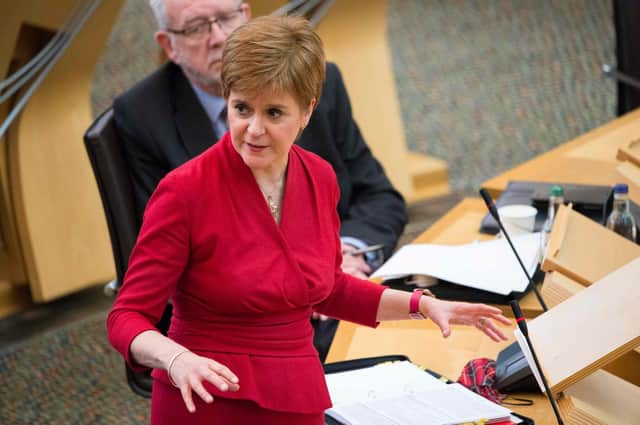 Amid the wreckage caused by the Covid-19 pandemic, Nicola Sturgeon will announce her government's plans for how best to recover at the Scottish Parliament.
The programme for government is expected to announce plans to boost jobs in Scotland and battle the most acute recession in generations.
The Programme for Government will set out the various bills which the government intends to introduce and push through at Holyrood this year ahead of the elections in May 2021.
The plans are likely to include investment in plans for a youth guarantee for unemployed young people, a programme for retraining people into new areas of the economy, and specific investment announced in green jobs and skills.
Keep fully up to date with all of the latest with The Scotsman's live blog below.
Scotland's Programme for Government 2020 LIVE
Key Events
First Minister Nicola Sturgeon has announced her Programme for Government for the upcoming parliamentary year
Draft independence bill to be published ahead of the Holyrood 2021 elections
Opposition parties have called for a greater focus on economic recovery.
Show new updates
Presiding officer Ken Macintosh brings questions from the backbenches to an end and suspends parliament.
Discussion around the Programme for Government will continue with a debate in Holyrood tomorrow.
John Blackwood, Chief Executive of the Scottish Association of Landlords (SAL), said: "We have consistently supported measures to help tenants to pay their rent and prevent arrears and urged landlords to continue to be flexible and understanding, reducing rent and writing off arrears where possible for those affected by the pandemic.
"We welcome the Tenants Hardship Loan Fund but are concerned tenants will rightly be cautious of accessing a loan that would add to their debt, a concern we also expressed with the Landlord Loan Scheme.
"We hope the Scottish Government will consider additional support in grant form to help tenants pay their rent and prevent us facing a greatly amplified problem for a key part of the housing sector down the line."
Scottish Conservative MSP Liam Kerr calls on the First Minister to "withdraw" the controversial Hate Crime Bill.
Nicola Sturgeon responds by saying there are "really good reasons" for hate crime laws, particularly in regards to disability hate crimes.
She says the bill aims to balance the "legitimate freedom of expression" with laws that are "capable of tackling hate crimes".
Following the announcement of a draft independence referendum bill which will be debated and voted on by MSPs ahead of the election in May next year, unionist campaigners Scotland in Union has said the First Minister is choosing to "divide communities".
Pamela Nash, chief executive of Scotland in Union, said: "This is the very last thing Scotland needs.
"The entire focus of the Government should be on the coronavirus crisis; it is beyond belief that Nicola Sturgeon is choosing now to divide communities once again when she should be working to bring the country together.
"This is a scandalous waste of civil service resources during one of the biggest challenges we have ever faced, and tells you everything you need to know about the SNP.
"We are stronger together as part of the UK, and it's time for the First Minister to drop her plans for a divisive second referendum."
In response to a question from SNP MSP Angela Constance, Nicola Sturgeon says the review will give a "swift and critical" analysis of the issues and options available.
She adds: "This is an opportunity to get this right and at pace".
More details will come from Jeane Freeman in a statement this afternoon.
"It's the got done list that's the problem, it's always so much shorter", Willie Rennie begins.
Highlights the increasing waiting list for children in need for mental health and asks why there is no plan to respond to the issues around child access to mental health support.
He highlights the inclusion of the independence referendum draft bill and says it got the "loudest cheer" of the day.
Nicola Sturgeon says she has invested "record" amounts in mental health generally.
Alison Johnstone says the loan fund is "inadequate" and repeats Green warnings that the country faces a "tidal wave of elections".
She repeats calls for a rent freeze and other measures to protect tenants.
Nicola Sturgeon says she has "signalled an open-mindedness" towards those suggestions.
The First Minister says the fund is a response to requests from Green colleagues and is similar to the Welsh Government's scheme.
She adds she is happy to listen to good ideas and respond to them.