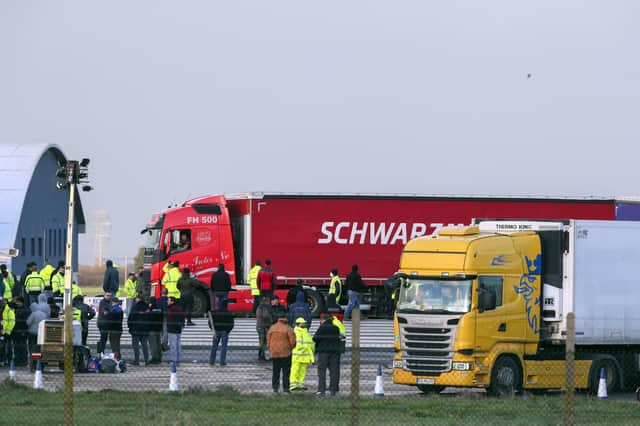 Freight lorries and drivers at Manston airfield, Kent, after French authorities announced that journeys from the UK will be allowed to resume after the coronavirus ban was lifted, but those seeking to travel must have a negative test result.
The members of humanitarian relief charity Khalsa Aid International have been working with police and coastguard teams to take food to the drivers who have been stuck at the UK border for about three days.
A member of the organisation videos himself distributing the pizzas saying Dominos workers in Kent have also volunteered to help.
Speaking in a live video he said: "Nobody goes hungry when the Sikhs are around."
"We are working with police to make sure we reach all the drivers with some hot food. They have been stuck for days."
Members of Ramsgate Football Club also joined in the effort by handing out 200 pizzas to lorry drivers stranded drivers in Manston.
UK and French governments reached a deal late on Tuesday to reopen the border - but lorry drivers must test negative for Covid-19 before they can travel.