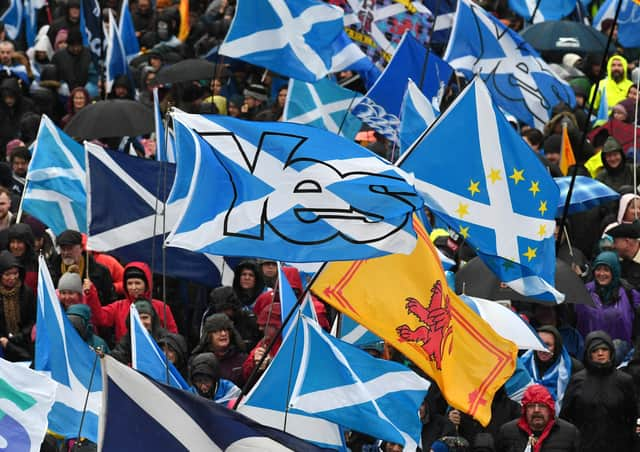 It found that 54 per cent would vote to leave the rest of the UK, while 46 per cent would want to stay, in the event of another referendum.
The survey's findings have been welcomed by Nationalists, who claim Nicola Sturgeon's handling of the coronavirus crisis has been a factor in the views of Scots on the constitutional issues. But pro-Union chiefs urged Nationalists to focus on the public health crisis instead of "dividing Scotland".
The Panelbase survey for the Business for Scotland organisation surveyed 1,070 Scottish residents over the age of 16.
The undecided voters amounted to 7 per cent, but when they are factored in support for independence stands at 50 per cent, while 43 per cent want to remain in the UK.
It is the fifth Panelbase poll in succession which shows a lead for independence, with the most recent one putting support at 52 per cent. Surveys by other pollsters suggest Scots are more evenly split in the issue.
SNP depute leader Keith Brown said: "Poll after poll now puts support for independence above 50 per cent. This is no longer a trend – majority support for independence is now the established position.
"All efforts of the Scottish Government have rightly been focused on combating the current Covid crisis but, where Nicola Sturgeon has shown exemplary leadership, the Westminster Government has lurched from blunder to blunder and the clear gulf in class is clearly not lost on Scottish voters.
"It's no surprise the majority of Scots want shot of Boris Johnson and his cabinet of incompetents."
The poll also found that support among Labour voters for independence has risen slightly despite Richard Leonard recently toughening his stance against a second referendum.
Pamela Nash, chief executive of Scotland in Union, said: "Only around a third of people in Scotland support the First Minister's timetable for another divisive referendum on leaving the UK.
"The SNP has rightly paused its campaign but these comments from Keith Brown show that senior Nationalists are willing to risk Scotland's economic recovery by pushing for a second contest.
"Instead of dividing Scotland once again, the Scottish Government's entire focus should remain on recovering from the coronavirus crisis and working together in the interests of everyone in Scotland."
Business for Scotland chair Rob Aberdein said: "This and other recent polls are showing that independence support is gaining momentum.
"With the end-of-June deadline for the UK Government to agree an extension to the Brexit transition period approaching, it may be that those who considered independence more favourably immediately following the Brexit vote may come back and help maintain that independence momentum as a hard Brexit becomes more of a realistic prospect."