Isla Bryson, previously known as Adam Graham, was on Tuesday found guilty of raping one woman in Clydebank in 2016 and another in Drumchapel, Glasgow, in 2019, following a trial at the High Court in Glasgow. It is thought to be the first time a trans woman has been convicted of rape in Scotland.
Bryson was remanded to HMP Cornton Vale women's prison, near Stirling, to await sentencing next month. However, following a huge backlash, it is understood Bryson has now been moved to a new facility, which is believed to be Saughton Prison in Edinburgh.
The Scottish Courts and Tribunals Service said Bryson's warrant had selected HMP Barlinnie. However, the Scottish Prison Service (SPS) is not bound by this and instead took Bryson to be held in Cornton Vale to await sentencing.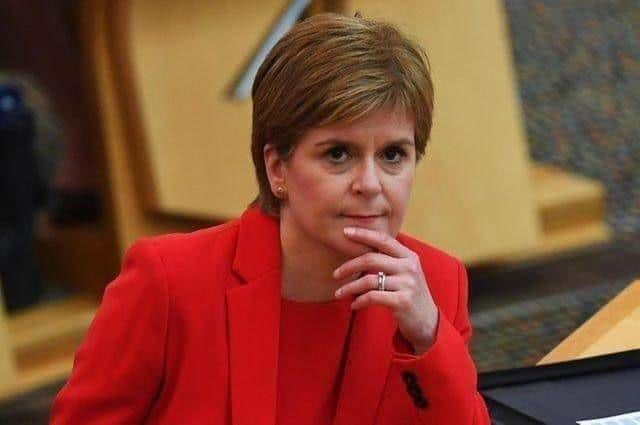 Scottish Conservative leader Douglas Ross said there should be a ban on any rapist being incarcerated in a women's jail. He said: "We think it's wrong that a rapist is sent to a women's prison, full stop. We believe that a rapist having access to a women's single-sex space is a threat."
Speaking at First Minister's Questions, Ms Sturgeon said she agreed with comments from a charity boss that it was wrong for a rapist to be held in a female prison.
She said: "In general, any prisoner who poses a risk of sexual offending is segregated from other prisoners, including during any period of risk assessment.
"Secondly, there is no automatic right for a trans woman convicted of a crime to serve their sentence in a female prison, even if they have a gender recognition certificate. Every case is subject to rigorous individual risk assessment and as part of that, the safety of other prisoners is paramount.
"Finally, in general terms and perhaps most importantly, I heard the chief executive of Rape Crisis Scotland say this yesterday – 'I don't see how it's possible to have a rapist within a female prison'. And so let me be very clear, I agree with that statement. Bearing in mind what I've just said about the importance of individualised risk assessment, as a general principle and presumption I think that statement is correct."
Ms Sturgeon added: "That risk assessment [of Bryson] is underway and as in all cases, the Scottish Prison Service won't wait until an assessment is completed if they think action is required more quickly.
"It would not be appropriate for me in respect of any prisoner to give details of where they are being incarcerated. But given the understandable parliamentary and public concern in this case, I can confirm to Parliament that this prisoner will not be incarcerated at Cornton Vale women's prison, and I hope that provides assurance to the public, not least to the victims in this particular case."
The First Minister later added: "This prisoner is not going to be incarcerated in Cornton Vale, either short term or long term."
Mr Ross said he appreciated the response, but stressed Bryson was still at Cornton Vale at the time he was speaking. "The reality is this double rapist, this beast is in a women's prison right now," he said. "We think it's wrong that a rapist is sent to a women's prison."
SNP justice secretary Keith Brown previously said he trusted the SPS to make the best decision in the Bryson case, and insisted the service's track record was "exemplary". He told MSPs on Wednesday: "The SPS is a fantastic organisation, which deals with managing risk every day of the week. They have a great track record in relation to trans prisoners, and I have faith in their ability to evolve their policy to continue that track record."
Speaking to journalists after FMQs, Ms Sturgeon was asked if she directed the SPS to remove Bryson from Cornton Vale. She said: "The SPS has arrived at a decision. It's an operational matter. I think it has arrived at the right decision here.
"It's important that every prisoner is individually risk assessed, that's important in principle. But as I've just said in the chamber, notwithstanding that, as a general presumption in principle, the comments that I read out from the chief executive of Rape Crisis Scotland that it can't be right for a rapist to be in a female prison is a statement that I agree with."
She said "no formal direction" was given to the SPS. Asked if she made her views clear, Ms Sturgeon said: "I've just made my views clear in the chamber."
Asked if she considered Bryson to be a man or a woman, the First Minister said: "In this individual case, it's not about whether they are trans or not. In this individual case, this is a person who has been convicted of rape, so this individual is a rapist and a sex offender and that is what is important."
A spokesman for the First Minister later said the SPS was aware of Ms Sturgeon's views on the matter.
Asked if it was now policy that rapists should not go to women's prisons, the spokesman said the First Minister had given her own "very clear views".
Asked if ministers would use their powers in this area, he said: "Ministers will always consider using powers where it's appropriate to do so."
MSPs passed legislation last month aimed at making it easier for trans people to change their legal gender in Scotland. Ministers say this would not have had an impact on the Bryson case. The legislation itself has since been blocked by the UK Government.
A SPS spokesman said: "Decisions by the SPS as to the most appropriate location to accommodate transgender people are made on an individualised basis, informed by a multi-disciplinary assessment of both risk and need."