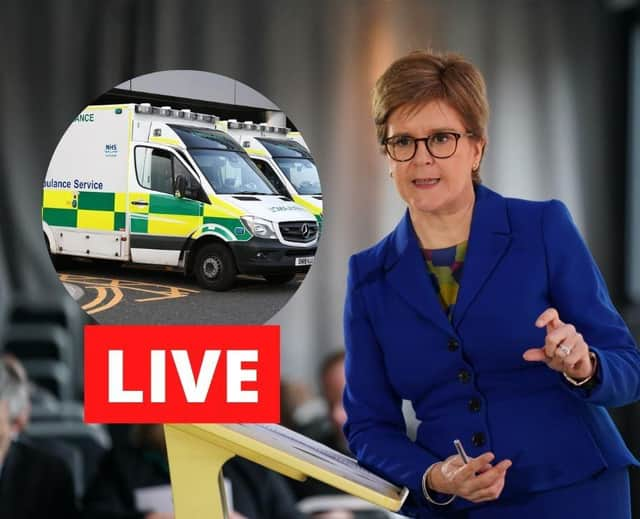 The briefing comes following a meeting of the Scottish Government resilience committee (SGoRR) which took place on Friday to discuss the response to ongoing winter pressures on the health and social care system.
Last week, Nicola Sturgeon pledged the Scottish Government would "leave no stone unturned" when examining measures that could relieve pressure on the NHS.
With details of how to watch the briefing emerging, we'll also be running a live blog to follow the latest news and developments from the media briefing.
Updates as Nicola Sturgeon to deliver briefing on NHS winter pressures
Show new updates
The First Minister says that the Covid has added pressures on the NHS - she adds that there are more than 1200 patients in Scotland currently have Covid, double the amount than 4 weeks ago.
Nicola Sturgeon says that in some key areas the NHS is not providing levels of care that the government wishes to see, and outlines a number of steps that have been taken to try and improve the service.
The First Minister says the draft budget and the tax proposals means that more money will be available for the NHS and winter bugs and viruses will abait.
In order to reduce the pressure in hospitals, Nicola Sturgeon says more must be done to avoid unnecessary visits to hospitals, and to speed up discharges. The First Minister adds that hospitals across Scotland are "almost completely full", with bed occupancy last week running at 95%.
Nicola Sturgeon outlines improvements to NHS 24 with more staff and a new app planned for the service.
Covid and flu are contributing to current pressures on the NHS Nicola Sturgeon says. She urges those eligible for a flu or Covid vaccine to do so.
She reminds members of the public that many basic principles used during the pandemic are still applicable now.
Nicola Sturgeon says that it is important than any powers used by the government are thought through carefully - and that it is right to give health boards the powers and flexibility to pause some treatments to prioritise life-saving care.
Nicola Sturgeon says that this is about making sure people get the most appropriate care at the right place, with the First Minister saying that for many people NHS 24 will give people the advice they need.
She adds that it is not about making sure one part of the system is working but all are operating well.