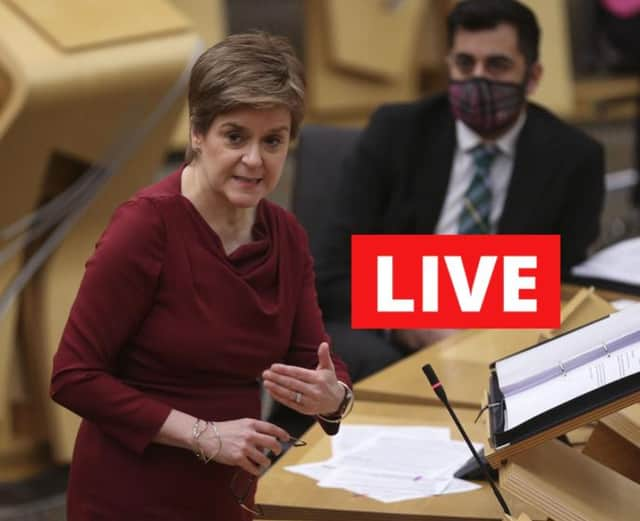 Nicola Sturgeon will update the Scottish Parliament
The First Minister will address Parliament virtually on Wednesday at 2pm to give an update on the Covid-19 situation as the Omicron variant sweeps across the country.
You can follow updates in our live blog.
Nicola Sturgeon Omicron update LIVE: First Minister to update MSPs amid calls to change Covid-19 self-isolation period
Last updated: Wednesday, 05 January, 2022, 14:23
Nicola Sturgeon tells MSPs that tomorrow's figures will almost certainly see us pass 1 million reported cases since the start of the pandemic adding that the recorded tally of cases has always been an underestimate of the true level of infection.
She says that the results of the most recent ONS survey suggests that in the week to 31 December that had risen to 1 in 20.
The First Minister confirms the Scottish Government are not proposing any new protective measures today.
She adds: "With the virus so prevalent, we do consider it important to continue to apply some brake on transmission, particularly in settings posing the highest risk.
Nicola Sturgeon also confirms that restrictions will remain in place.
"Accordingly, I can confirm that the restrictions on large gatherings, the requirement for distancing between groups in public indoor places and for table service in hospitality venues serving alcohol on the premises will remain in force for now and, I expect, until 17 January. "
The First Minister urges members of the public to continue to get their vaccinations but adds that there is evidence that Omicron causes less severe illness than previous variants.
Nicola Sturgeon confirms that the number of people in hospital with Covid has increased from 679 to 1,223 in the last week. An increase of 80% which is placing additional pressure on the NHS.
She confirms many NHS staff are absent and self-isolating because they have Covid, or are close contacts of people with it.
The First Minister tells MSPs "Omicron is unlikely to be the last new variant we encounter, we need to continue to adapt our thinking about how to manage the virus and become more resilient to it in future. "
She confirms a new road map for dealing with Covid-19 will be published by the Scottish Government in the next few weeks.
The First Minister said the country will have to "adapt our thinking about how to manage the virus and become more resilient to it in future".
She added: "There are no easy answers here, but adapting to the ongoing challenge of Covid is inescapable.
Nicola Sturgeon confirms the Scottish Government are proposing two changes to the self isolation rules which will take effect from midnight tonight.
When someone tests positive they will still be to self-isolate for 10 days, there will now be an option to end isolation after 7 days as long as there is no fever and you record two negative lateral flow tests, one no earlier than day 6 after testing positive and another at least 24 hours later.
Nicola Sturgeon says anyone identified as a close contact who is over 18 years and four month and not fully vaccinated will still be asked to self-isolate for ten days and take a PCR test.
From tomorrow, if your lateral flow test is positive there will no longer be any need to take a PCR test to confirm the result.
Nicola Sturgeon says last wek she confirmed more than £200 million of the £375 million in business support and announced the allocation of a further £55 million.
She says: "Up to £28 million will be allocated to taxi and private hire drivers and operators. £19 million will support services such as beauticians and hairdressers. £5 million will be provided for sport, and an additional £3 million for tourism."
Nicola Sturgeon adds rules are in place for education, and says that the Scottish Government's priority is to keep schools open.
She says: "All secondary school children are being asked to take a lateral flow test on the night before or morning of their first day back, and thereafter to test twice a week and also in advance mixing socially with people from other households.
"University and college students should also take a lateral flow test immediately before travelling from home to term-time accommodation, and thereafter test twice a week and before socialising with people from other households.
"And staff in all educational and early years settings should take a lateral flow just before starting back at work, and regularly after that."
The First Minister concludes her update saying: "This phase of the pandemic is possibly the most challenging so far.
"The most infectious variant so far is creating a volume of cases that, notwithstanding its possibly reduced severity, still has the potential to overwhelm us."
And two years in, the kind of measures that have helped us control transmission in past phases are becoming less tolerable and causing more harm."