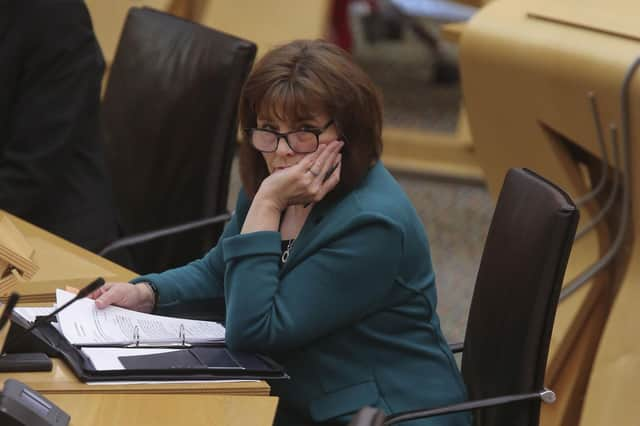 Health secretary Jeane Freeman
At Topical Questions in the Scottish Parliament, Ms Freeman was repeatedly questioned about correspondence between NHS Scotland and health bosses urging them to discharge hospital patients prior to lockdown.
The letters set out an expectation for hospitals to include a call for a "material reduction in the delayed discharge figures across Scotland", despite an acknowledgement that it would put pressure on care homes.
Delayed discharge, also known as bed blocking, happens when patients are clinically well enough to leave hospital but are unable to be discharged, for reasons such as waiting for a care home place.
Ms Freeman wrote to councils later in the month telling them there was an "immediate and urgent requirement" to increase support and staff capacity in care homes.
She said the letters, released over the weekend following a Freedom of Information request, were "simply Government enacting the policy decision" to free up capacity in Scottish hospitals during the coronavirus pandemic.
Asked about the letters, she said: "What we saw in that period was additional focus by the health and social care partnerships, supported by the [health] boards, to work through the obstacles in the way of discharge.
"But that in itself does not contradict the fact that it is always a clinical decision that determines whether someone is ready to discharge, and a multidisciplinary risk assessment that agrees where they should be discharged to."
Ms Freeman repeated a section of a statement she made to Parliament in March saying the Government was aiming for a "rapid reduction in delayed discharges", with a target of at least 900 patients sent home or to care homes by the end of April.
She added that it was "nonsense" to suggest the Scottish Government had a "secret target" for numbers of patients discharged from hospital, and insisted the decision whether to take a hospital patient has always been made by care homes.
The pressure on the Scottish Government over hospital discharges follows confirmation that 1,431 untested patients were moved to care homes between March 1 and April 21, before testing of new care home admissions became mandatory.
A Sunday Post investigation also alleged at least 37 patients who tested positive for coronavirus were discharged into care homes.
Ms Freeman said the latest figures from June indicate 357 patients stuck in hospital were due to enter care homes – almost a third (32%) of all delayed discharges for that month.
She told MSPs the Government is also looking at ways to increase capacity for the social care sector in the coming months, including offering care at home in situations where it is clinically safe.