Lord Charles Falconer, who served in the Cabinet during Tony Blair's premiership between 2003 and 2007, also argues the threshold for the use of Section 35 by Scottish secretary Alister Jack "does not appear to be met".
His intervention follows other senior legal figures such as former deputy president of the Supreme Court, Lord Hope, labelling the UK Government's case "devastating" and former Supreme Court judge Lord Sumption calling it "powerful".
The Gender Recognition Reform (Scotland) Bill was blocked by Mr Jack last week using section 35, meaning reforms which would make it easier for trans people to obtain a gender recognition certificate (GRC) in Scotland will not be enacted.
Critics of the Bill have raised concerns the process could be abused by predatory men, with the UK Government's official statement of reasons justifying the use of section 35 outlining the alleged impact on UK-wide Equality Act legislation.
The Scottish Government is expected to apply for a judicial review of the use of the order, sparking a legal battle over the legislation.
Lord Falconer, writing in today's Scotsman, said the move to a legal fight and the courts was a result of "indy politics".
He writes: "Wherever the Conservatives and SNP may have started on the GRC issue, their positions are now determined not by an earnest desire to solve the policy issue, but by a desire in the SNP's case to characterise the UK Government as undermining the Scottish Parliament's power. And in the Conservatives' case to characterise the SNP as overwoke and insensitive to the interests of women and girls.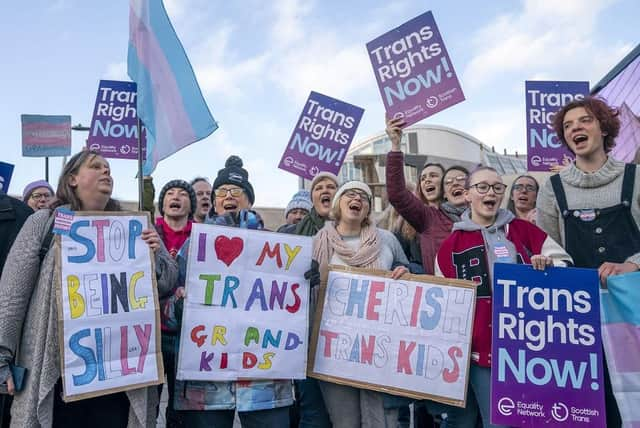 "Instead of detailed negotiations between Holyrood and Whitehall, the whole Bill is under threat. When s35 was going though the House of Lords in 1998, the minister said the existence of the power should be sufficient to ensure consultation between Whitehall and Edinburgh so that there may be no need for them to be used.
"The judges should not be resolving the issue of the arguments about safe spaces versus fair treatment of transgender people. The politicians should. In the UK, we don't do judges deciding policy. The elected politicians decide policy."
The former justice secretary also highlights the fact that judges blocking the Bill from receiving royal assent would see legal minds overturn a "solution that a Conservative government had previously accepted".
Lord Falconer argues the approach of the government under former prime minister Theresa May, which backed similar reforms, meant the "UK Government were not forced to block" the Gender Recognition Reform Bill.
The former Labour politician states the threshold required to demonstrate the Bill has modified the law as it applies to equality law – a key tenet of a section 35 challenge – has not been met, adding there is "considerable doubt" the UK Government has the legal power to block the bill.
He writes: "The law on GRCs as it applies to this aspect of Equality Law is not changed by the Bill. This threshold requirement is not a question of reasonable belief by Alister Jack. It is a question of hard law, and it does not appear to be met."