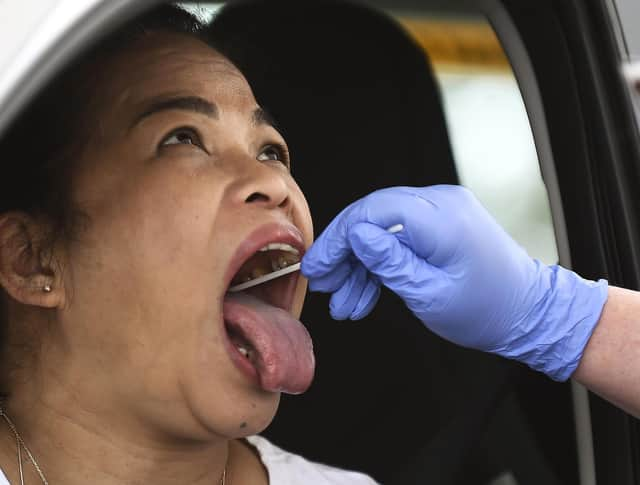 At First Minister's Questions, he said statistics for the last four weeks appeared to show Scotland had fewer tests per 100,000 people than anywhere else in the UK and quoted Scottish Government Covid advisor, Professor Mark Woolhouse, who said "we are currently only finding half, or even less than half of the cases – this is like fighting the epidemic with one arm behind our back".
Mr Leonard said figures showed that in the week ending January 11, England had completed 6065 Covid tests while Scotland had just 2966, and asked when a roll out of community mass testing would start.
Nicola Sturgeon said the figures were likely from "demand-led" testing schemes.
"These are people with symptoms going to a drive through centre or a mobile testing unit or ordering a home test, and the reason the numbers going through that are lower in Scotland than other parts of the UK is that in Scotland, though prevalence of the virus is higher than we want it to be and rising, it's lower than it is in other parts of the UK," she said.
"So in very simple terms that means there are fewer people with symptoms putting the demand on those tests and that's why those figures show what Richard Leonard has set out and that's an important point of detail to grasp."
She said pilot schemes on asymptomatic testing had been carried out before Christmas, and the government was "looking at plans from local authorities to roll them out on a bigger scale" as well as taking a similar approach to industrial sites "to help with workforce containment".
She added: "I don't want to send any message of complacency, as I could stand here next week and it could be very different, but right now prevalence of the virus is too high, increasing and not acceptable, but it is lower than England, Wales and Northern Ireland, and that suggests not that we're getting everything right but that we're not getting everything wrong."
Mr Leonard also said that there had been confirmation by Public Health Scotland that "contact tracing of contacts has been primarily focused on SMS messages" in spite of a promise by Nicola Sturgeon two months ago to ensure more contacts were spoken to directly, after thousands of the text messages had been "ghosted" by their recipients.
"Is the First Minister satisfied that a tracing system based on text messages is sufficient – sufficient to ensure people understand what is required of them and critically how they can access support? And how confident is the First Minister that if mass testing is rolled out and cases rise, that the Test and Protect system will be able to cope?"
Ms Sturgeon replied: "Test and Protect is not just coping but it's doing extremely well which is a tribute to those across the country working hard to make sure that's the case… it's a well-functioning system. It uses a mixture of telephone call and SMS and the proportion of contacts contacted within the target time is high."
A message from the Editor:Thank you for reading this article. We're more reliant on your support than ever as the shift in consumer habits brought about by Coronavirus impacts our advertisers.
If you haven't already, please consider supporting our trusted, fact-checked journalism by taking out a digital subscription.