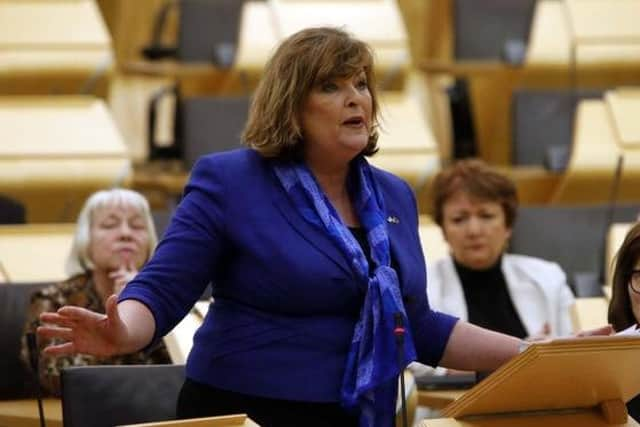 Fiona Hyslop says "people will remember" firms which didn't stand by their workers
Labour's Jackie Baillie said some employers have treated staff "appallingly" during the crisis and hit out at the prospect of them receiving Government support while getting rid of staff.
Economy Secretary Fiona Hyslop told MSPs on Holyrood's Economy committee that she would like to see such firms "penalised" but admitted this may not be possible within the confines of emergency support being rushed through.
But Ms Hyslop warned such firms may get their comeuppance on the other side of the crisis, adding: "People will remember."
A scheme has opened today for small businesses in Scotland to claim up to £10,000 in support grants, while rates relief will also be automatically applied for all eligible companies to help them weather the economic impact of the virus, as many face enforced shutdowns.
Loan guarantees are also being offered by the UK Government which is also implementing a scheme to pay 80% of all workers' wages during the crisis to prop up the economy.
Ms Baillie raised concerns that some of the firms receiving such support are not engaging in "fair work practices."
She said: "I can think of universities like Stirling University where some of their casualised workforce will be paid off.
"I can think of other employers where they've insisted that their staff take unpaid leave, rather than sick leave or get paid. I am aware some are just penalised in all sorts of other ways."
She asked Ms Hyslop: "I am wondering whether at the end of the day you have power to take back some of this assistance if they aren't observing fair work principles?"
"If they take the grant and sack all their staff, are we really giving them all that money?"
Ms Baillie said not all firms have heeded Government advice on fair work.
"The treatment of their staff has been appalling," she said.
"I wonder whether she (Ms Hyslop) will keep a list of those employers that have followed Government advice and values and principles and those that patently have not?
Ms Hyslop insisted firms should be paying workers who are sick or self-isolating and supporting those with caring responsibilities.
She added: "In terms of clawback, in an ideal world, I absolutely strongly believe that those that are not strongly adhering to such measures, if they are receiving public support over this period, should I suppose be penalised in some shape or form.
"I just don't know practically whether that is at all possible."
The Economy Secretary said if support had been made conditional, it would have resulted in a "bureaucracy that would have delayed payment and mean people didn't have money in their pockets."
Ms Hyslop warned that Scotland will be in a "different landscape when we come through this."
She added: "Those organisations that abide by the public health rules that support their staff through this, that abide by fair work principles are the ones that are going to be in the best place to recover, and importantly will be the ones that will be in the best place to recover with support from the public purse."