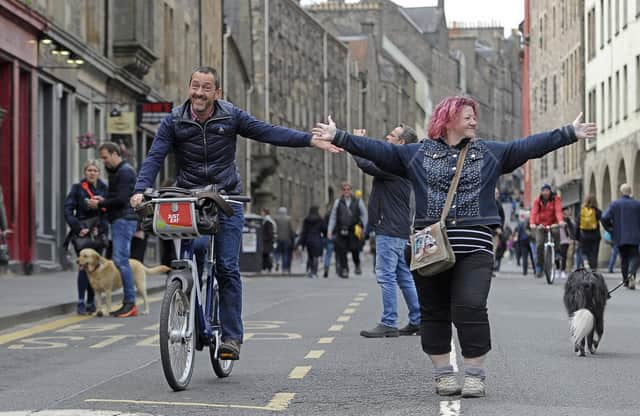 Edinburgh will close some streets as part of an action plan to improve active travel provision in the city.
Wide-ranging changes to famous streets in Edinburgh to improve active travel and help residents social distance are set to be approved by councillors.
A criteria for which roads in the city could be transformed in cycling and walking-friendly is to be discussed by councillors at a meeting of the Policy and Sustainability committee of Edinburgh City Council.
If approved, plans for several of Edinburgh's most famous streets will then be brought forward by officers, including the closure of Waverley Bridge and the widening of pavements on George IV Bridge.
Victoria Street could be closed to traffic
As restrictions start to be eased, the council has said it will also look at further changes including pedestrian priority at signalised road crossings, extended bus lane hours, widened pavements and a speed limit review.
The implementation of a 30mph speed limit on 40mph roads will be brought forward, as well as an "urgent review" of streets with a 30mph limits where a 20mph limit would "complement other measures being introduced".
Several of the projects due to be brought forward are already part of the council's approved Edinburgh City Centre Transformation plan, with temporary measures to be for through previously allocated funding in the council's budget.
Others will be dependent on a bid for part of the Scottish Government's pledge for £10m in funding for active travel provision in cities and towns in Scotland, recently announced by transport secretary Michael Matheson.
Councillors will be asked to approve a set criteria for temporary changes, before delegating authority to the council's chief executive to implement the final decision, following discussions with the leader, deputy leader, and ward councillors.
Some changes could be in place by the end of May (short term), some by the end of June (medium term), while others will take until the end of July or later (longer term).
Among the proposed changes are:
- Closure of East Fettes Avenue
- Installation of bus gates on Dundee St at Fountainbridge and closure of Viewforth, plus temporary cycle segregation on Dundee Street
- Closure of part of Braid Hills Road/Drive and a reduced speed limit
- Complete closure of Victoria Street and Cockburn Street to traffic with reduced parking provision
- Closure of Bank Street, North Bridge, East Market Street and East Princes Street to car traffic- Closure of Waverley Bridge to traffic
- Temporary pavement widening on Morrison Street, Morningside Road and Easter Road. Potentially also Great Junction Street and The Shore.
- Temporary pavement widening and cycle segregation on George IV Bridge
- Extra space for pedestrians on South Bridge and Minto Street
- 24 hour bus gate with parking and loading restrictions on Liberton Road, Craigmillar Park and Minto Street
- Introduction of bus lanes on Queensferry Road and the A90
The proposals are not set in stone and will be subject to a design and risk assessment which could lead to an alternative approach, the council said.
Any changes to the roads will be done via temporary traffic regulation orders (TTROs), and follow an increase of between 15 and 20 per cent in walking as well as a reduction in car usage during the COVID-19 crisis.
Council leader Adam McVey said: "We're leading the way with our approach to safer, more accessible streets and we've received a huge amount of support for our plans to create more room for pedestrians and cyclists. It's clear that people want and need to make essential journeys and take daily exercise by foot or bike safely and we need to give them the space to do so.
"It's no secret that we face many months of upheaval as we work to emerge from this crisis, and this will no doubt impact on the way we move around the city. As we return to a 'new normal', our citywide strategy will support people to make journeys by foot, bike or public transport while continuing to observe physical distancing.
"We've been working closely with the Scottish Government and Sustrans to make improvements such as these easier in the long term. By bringing forward more permanent plans to prioritise these modes of transport, we're also looking to a cleaner, greener and more sustainable future for Edinburgh."
Depute leader Cammy Day added: "We're already seeing the benefits in areas where we've implemented changes and we're working to introduce improvements to other pinch points across the city, helping people to reach nearby open spaces, essential services and to get to and from work safely. We've already identified several streets but we'd also welcome any suggestions from the public.
"But it's crucial that these measures work for everyone living on or near the streets concerned. We've been engaging closely with local communities to make sure access is maintained for deliveries, those with mobility issues and emergency services, and these conversations will help us as we continue to roll out changes."
Green councillor and transport spokesman Claire Miller said "I'm pleased to see the next batch of proposals come forward to make sure there is more safe space for people walking and cycling in the city. I understand that dozens of suggestions have been put forward so it's been fantastic to see how positively and constructively people in Edinburgh have been.
"There's still a bit of detailed work to do and I also want to see the Scottish Government use next week's second emergency Coronavirus Bill to allow councils to deliver safer streets as easily as possible."