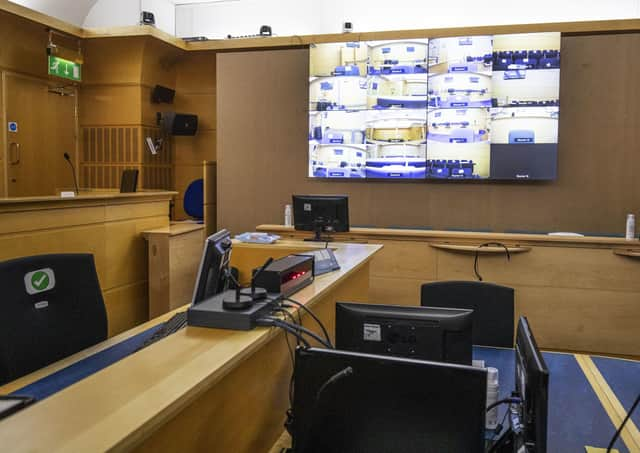 Social distancing and safety measures inside Court 1 at the High Court in Edinburgh
The changes to rules about previous convictions, which people need to disclose to prospective employers, will finally be enacted in November, despite Holyrood passing the Management of Offenders (Scotland) Act in June last year, and it receiving Royal Assent the following month.
Campaigners had been calling for the reforms, which will reduce the length of time many convictions still need to be disclosed by most job applicants, to be introduced quickly and described the delay as "vindictive". However Scotland's justice minister, Humza Yousaf, blamed the delay on Disclosure Scotland's IT systems.
However, yesterday Mr Yousaf announced that the reforms would come into force this November, bringing the reduction in time for convictions to be "spent" in Scotland into line with England and Wales.
The changes will mean that people who receive a fine will only have the conviction on record for 12 months rather than five years, while those who receive community orders will also see the "disclosure time" reduced to just a year. Those with sentences of four years or longer will continue to have to disclose the conviction.
Scottish Labour's justice spokesperson James Kelly, who had been calling for the disclosure changes to come in to force, said: "Whilst this announcement is welcome, it is extremely unsatisfactory that it will be 16 months from Royal Assent before the disclosure regulations are enforced.
"It is unacceptable that people have been prevented from employment opportunities due to spent convictions still flagging up to employers."
Reforms will also see those aged 18 or older at time of conviction, and who receive a six month custodial sentence, only need to disclose it for two-and-a-half years.
More than a third of adult men in Scotland have been estimated to have a criminal record and the reforms were supported across the Parliament when the Act was passed last year. Disclosure rules for sensitive occupations such as teaching or medicine will not change, but an admonishment or absolute discharge will no longer need to be disclosed.
Mr Yousaf said: "Parliament agreed that current disclosure periods are too long. These important reforms balance the requirement for safeguards to understand a person's recent offending behaviour with the need to allow people to move on with their lives – to seek gainful employment, support their families and contribute positively to their communities."