Budget announcement RECAP: Jeremy Hunt's Spring Budget as it happened with pension, fuel duty, and energy bill changes
Jeremy Hunt has announced the UK Spring Budget.
As part of a package aimed at helping with the cost of living, the Chancellor said the energy price guarantee, which caps average household bills at £2,500, will be extended at its current level from April to June.
It had been due to rise to £3,000 in April and the cost of scrapping the planned 20% increase will amount to about £3 billion.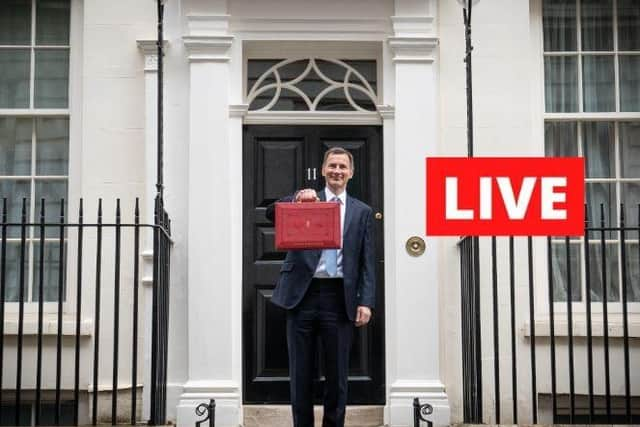 The fuel duty freeze and the 5p cut will be maintained for another year, saving the average driver around £100.
Jeremy Hunt confirmed nuclear power would be classed as "environmentally sustainable" to drive investment in the energy sector, and said he would launch "Great British Nuclear" to bring down costs
You can follow updates in our live blog.
Budget announcement RECAP: Jeremy Hunt announces Spring Budget with pension, fuel duty, and energy bill changes
Show new updates
Sir Keir Starmer has said "snowflake" Tory MPs are waging war over Gary Lineker and the row that saw Match of the Day and other shows impacted by the BBC.
Rishi Sunak says that Sir Keir Starmer saw the opportunity to jump on a bandwagon.
Sir Keir Starmer says the Prime Minister doesn't understand you can disagree with what someone says, but defend their right to say it.
During PMQs Stephen Flynn asks about PM's swimming pool amid the cost of living crisis
The Prime Minister hits back saying that there are a host of issues in Scotland such as long waiting times in the NHS and trains not running on time, adding "that's what we learnt in the SNP's leadership debate last week"
PMQS
After opening on the Gary Lineker fiasco, the Labour leader turned his questions towards BBC chairman Richard Sharp.
Sir Keir Starmer asked: "Does he accept that people's concerns about the BBC have been made worse because the Government chose to put a Tory donor with no broadcasting experience in charge of the BBC?"
The Prime Minister replied: "As he well knows, the BBC chairman was appointed before I became Prime Minister."
He added: "There was a rigorous independent and well-established process. That appointment was supported by expert panel members as well as the cross-party DCMS select committee.
"That process is being independently reviewed by the Office for Commissioner of Public Appointments and we should allow that review to conclude."
Attention turning to The Budget
Addressing Cabinet on Wednesday, Downing Street said the Chancellor promised a "growth Budget".
A No 10 spokesman said: "He set out the improved economic picture following his autumn statement, explaining it paved the way for this growth Budget.
"He referenced plans for deregulation with Brexit freedoms, plans to invest billions in carbon capture and storage and develop nuclear energy, a boost to levelling up through 12 investment zones across the UK and a significant package to help people get into work, ranging from support for the over-50s, those on benefits, parents, and those with long-term health conditions."
Rishi Sunak has been questioned on why he didn't stand up to his "snowflake" Tory MPs over their behaviour surrounding the temporary suspension of BBC host Gary Lineker.
Jeremy Hunt is on his feet to begin the Spring Budget.
He says the British economy is "proving the doubters wrong"
BREAKING: Jeremy Hunt reveals that OBR now believes UK will not enter recession this year
Jeremy Hunt says that because of international factors and measures taken by the government "the UK will not enter a recession this year"
He adds that the UK is "following a plan and the plan is working"