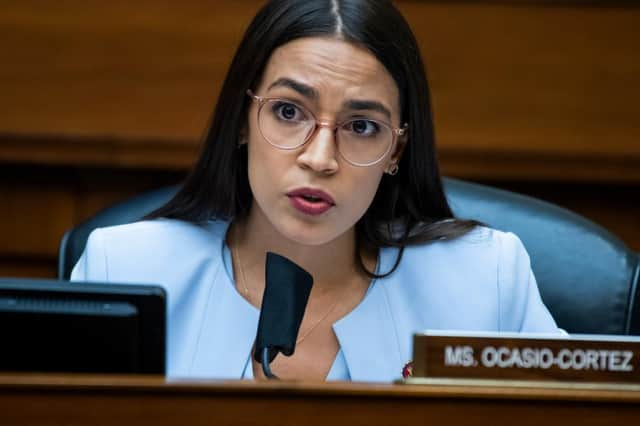 Democratic representative Alexandria Ocasio-Cortez has accused Senator Ted Cruz on Twitter of "trying to get me killed".
Here's everything you need to know about AOC, what she said on Twitter and her involvement in the Robinhood and GameStop controversy.
Rep. Alexandria Ocasio-Cortez, also known as AOC, is the New York congresswoman known for her progressive socialist politics and support of working-class people.
The 31-year-old politician was born in the Bronx in New York to a Puerto-Rican family.
In the city, she experienced the reality of the rising income inequality which later inspired her to run for office.
She attended Boston University where she graduated with a degree in Economics and International Relations, and she also worked in the office of the late Senator Ted Kennedy.
However, when her father passed away in 2008, her family was forced to sell their home and Ms Ocasio-Cortez worked as a waitress and bartender to support them.
During the 2016 presidential election, Ms Ocasio-Cortez worked as a volunteer organiser for Bernie Sanders' campaign.
She then launched her campaign for Congress in 2018 and won the Democratic Party's primary election for New York's 14th congressional district.
That made her the youngest woman to ever be elected to Congress.
Since then, she has advocated for social, racial, economic and environmental justice.
Ms Ocasio-Cortez was re-elected to Congress in the 2020 election.
What did she say about Ted Cruz on Twitter?
The Democratic representative took to Twitter to criticise Robinhood for deciding to lock down trading on shares of GameStop and other companies.
It came as investors from Reddit's WallStreetBets board bet against major Wall Street firms' positions in the companies, and caused them over $1billion in losses.
Ms Ocasio-Cortez tweeted: "This is unacceptable. We now need to know more about @RobinhoodApp's decision to block retail investors from purchasing stock while hedge funds are freely able to trade the stock as they see fit.
"As a member of the Financial Services Cmte, I'd support a hearing if necessary."
Sen. Ted Cruz then agreed with her call for an investigation, but Ms Ocasio-Cortez angrily responded, writing that the Texas senator almost "had me murdered three weeks ago".
She then called for his resignation from the Senate.
The Democratic representative wrote: "I am happy to work with Republicans on this issue where there's common ground, but you almost had me murdered 3 weeks ago so you can sit this one out.
"Happy to work w/ almost any other GOP that aren't trying to get me killed. In the meantime if you want to help, you can resign."
Her tweet was a reference to Cruz's role in the deadly attack on the US Capitol building by pro-Trump rioters on 6 January.
Cruz was among 147 Republican representatives and senators that voted against certifying Joe Biden's election results, even after the Capitol attack had happened.
Speaking about Cruz's role in the attack, Ms Ocasio-Cortez added: "While you conveniently talk about 'moving on', a second Capitol police officer lost their life yesterday in the still-raging aftermath of the attacks you had a role in.
"This isn't a joke. We need accountability, and that includes a new senator from Texas."
Cruz has not responded to the tweets.
What has AOC said about the GameStop controversy?
GameStop, an American video game retailer, found itself at the centre of a market battle this week.
Major hedge funds had bet billions of dollars that GameStop's shares would fall, but they faced huge losses after amateur investors, who coordinated on social media sites such as Reddit, exponentially drove up the share price.
Other firms, like BlackBerry and AMC Entertainment, also saw sharp gains.
But Robinhood, a trading app that amateur investors were using to buy shares in these companies, decided to restrict trading in GameStop stocks, along with other companies.
Since Robinhood's decision, Ms Ocasio-Cortez has publicly criticised the app and Wall Street traders.
On Thursday 28 January, she took to Twitch to livestream her thoughts on the stock trading chaos, drawing in 300,000 viewers.
Before that, she had tweeted: "Gotta admit it's really something to see Wall Streeters with a long history of treating our economy as a casino complain about a message board of posters also treating the market as a casino."
Several other lawmakers also expressed their concerns over Robinhood's decision to restrict stock trading.