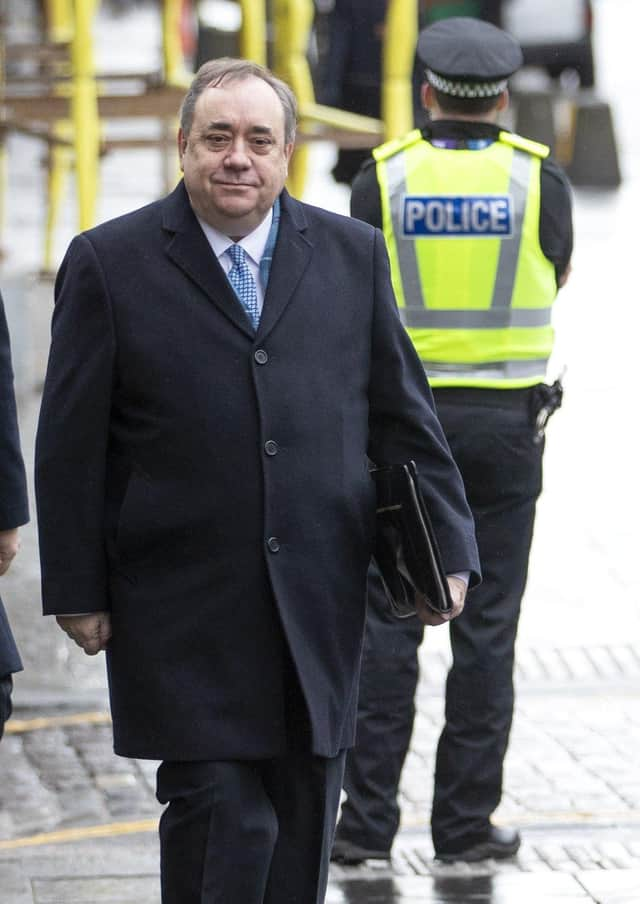 The woman, who also declared she felt she was not anonymous despite her name not being made public, said she had decided to go to the police after revelations about Mr Salmond had been reported in a newspaper, and the Me Too movement gave her confidence she would be believed.
In the second day of the trial in which Mr Salmond is pleading not guilty to 14 charges of sexual assault against ten women, the witness, known as Woman H, took the stand again, to resume giving evidence.
Yesterday she told how she had felt "hunted" by Mr Salmond after a dinner in Bute House in May 2014, and that he had sexually assaulted her. She also alleged how in a second incident, Mr Salmond went further and stripped her of her clothes before lying naked on top of her.
Today prosecution counsel Alex Prentice QC revealed an email which she had sent to colleagues the night after the second incident, where she said she could not attend work because she was unwell.
She said: "I had spent the night before trying to stop the First Minister. I was humiliated and was in shock as well. I didn't process what had happened for a long time."
The former Scottish Government worker, said that the First Minister called her on the same day to convince her to go to work. "He was quite nervy… he was urging me to change my mind. I said I was in no shape to go anywhere."
She said she spent the rest of the day in bed, and "tried to pretend it didn't happen."
She said that it took until October 2017 when she felt able to tell her boyfriend that she was considering reporting that "bad things had happened" to SNP party headquarters.
She said she had tried to "figure out" if there was a process for reporting sexual assault, and she was "still very scared I wanted to feel secure about speaking to someone before I said anything. I was very cautious. The First Minister is a very powerful man and I didn't want to get on the wrong side of him."
The prosecution showed a series of text messages between the witness and a senior SNP governance official, in which she was told she could report allegations anonymously, either to the party or through the party's lawyer.
In one, the official responded: "I appreciate how difficult that must have been. Will sit on that and hope we never need to deploy it".
By 2018, the Me Too movement and the allegations of Harvey Weinstein, she explained, had made her consider again going to the police as she had suffered "flashbacks". After other allegations about Mr Salmond had appeared in the paper, she said she was aware the SNP was conducting "due diligence" to discover if there were any cases in which they needed "to take action", and she made the decision to speak to the police.
Leading Mr Salmond's defence Shelagh McCall QC, quizzed the witness on why in 2017 she didn't take it further with the SNP lawyer. The woman said: "To be honest I felt too distraught talking about it. I find it really difficult and I was scared of it coming out."
Asked why when the process was anonymous, the witness added: "My name as a witness here is not anonymous. There should be a note of caution about that."
The defence also challenged the witness on who else she had told about her allegations, and revealed a text exchange between her and another leading SNP official in which she had talked of "mulling over" the 2018 newspaper revelations against Mr Salmond. The text read: "I have a plan. And it means we can be anonymous but see strong repercussions".
Asked what those repercussions would be and if it was to block Mr Salmond from being able to stand again, the witness said: "It was to ensure there was a record of what he had done and he would have to answer for it. And I wanted to make sure what happened to me would not happen to anyone else."
Challenged about being encouraged by others within the SNP and Scottish Government, to come forward with her story, she added: "Nobody has cheeerleaded me to be here.I have done this off my own back. I think you know how hard this is. It's not fun. I'd rather not be here."