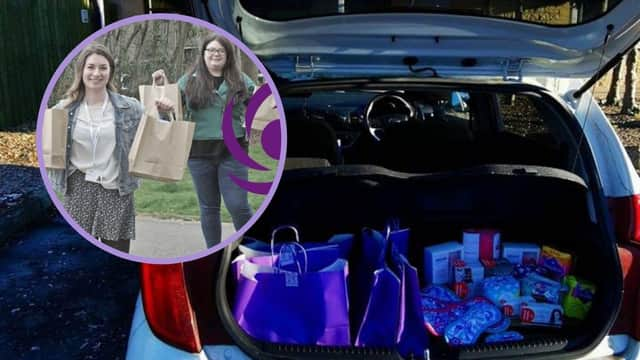 Part of the Perth and Kinross Association of Voluntary service (PKAVS), the 'PKAVS tampon taxi' which operates in the area is providing a free period product delivery service to many women in lockdown who are struggling to access sanitary products.
Supplies can be ordered by click and collect or dropped off on doorsteps by tampon taxis to those in need who live in more remote areas of the council area.
The service which is delivered by volunteers in their own personal cars began the week before the first lockdown in March when the charity realised that those who came one of their hubs to collect sanitary products would no longer be able to do so.
PKAVS initially ran a 'pick and mix' of period products from their hub just before lockdown which was incredibly popular.
Jenni Keenan, project leader of the tampon taxis who was awarded a British empire medal as part of the Queen's Birthday Honours for her work on the service said: "We were completely overwhelmed by the number of people who came to the pick and mix as there's people who can't get into Perth at the drop of a hat and during working hours so we thought what if we took products to people and it just grew from there."
The taxi service has supplied period products to 250 households across Perth and Kinross since March 2020, and, in just this month, 60 of those 250 have been delivered.
"Demand has been incredibly huge and part of this is to do with the fact that a lot of folk who didn't see a second stricter lockdown coming and their is also a concern from people who are missing out on income due to self isolating and shielding." said Jenni.
The service now also offers a free monthly subscription to users which people can sign up over PKAVS taxi social media sites.
Talking about the benefits of the monthly subscription, Jenni said: "It means that people don't have to ask every time for products and they just know that in the first week of the month someone will drop supplies off just to preserve that dignity."
The service is focused on 'period dignity' ethos which has apparently been aided by social distancing.
Jenni said: "The ethos of period dignity is about shame-free access and also about choice so the products people want without having to justify why they need them.
"We really focus on the dignity element and the service is open to absolutely everyone- we don't ask people to meet a threshold or tell us why they are getting in touch with us so they don't feel the need to explain themselves.
"The contactless delivery service was a safety measure because of covid but actually it's proven really popular that we just leave it on their doorstep and walk away as people don't have to have a conversation with us and get on with their day. "
A 'product guide' which is filled with a variety of different period brands and products such as standard sanitary pads, tampons, cups and other reusable items is available to browse on PKAVS tampon taxi's social media sites.
Jenni said: "We didn't want it to be a service where we were providing the lowest common denominator of products but actually people had as much choice as if they were going into the shops and choosing the products themselves."
What initially began as a "passion project", PKAVS taxis currently has four members of staff doing tampon delivery drives however they hope to recruit a further 12 volunteers to keep up with demand.
Keen volunteers include 16 year-old Eilidh Graham, a student at Crieff High School, who has been working with the local primary schools to advocate for free period products to be made available.
"She's a phenomenal young woman," said Jenni, "She's really helped us out in spreading the word working as a period dignity advocate across primary schools."
So far, through their social media pages, PKAVS Tampon Taxi has engaged with around 8,000 people across the community and hope to see this number rise in order to ensure more accessibility.
Jenni also noted that the introduction of the Period Product Free Provision Act in Scotland spearheaded by Monica Lennon should help to ensure their service is more widely accessed and they have already been in talks with the Labour MSP.
"In an ideal world, we wouldn't be needed at all but we are excited to see how the act looks when it comes about," said Jenni.
The taxi service has seen a lot of demand across all demographics.
Jenni who works during the day as a team leader for the minorities communities hub for PKAVS said: "Demand has been pretty diverse.
"We have had a healthy demand from the minority ethnic communities but I wouldn't say it's any higher than others.
"Covid has hit all communities in terms of access to resources."
Tampon taxi volunteers in Perth and Kinross are keen to see their sort of delivery service replicated across Scotland.
Aberdeenshire and Dundee Council's are currently replicating the Perth and Kinross tampon taxi drive.
A message from the Editor:Thank you for reading this article. We're more reliant on your support than ever as the shift in consumer habits brought about by Coronavirus impacts our advertisers.
If you haven't already, please consider supporting our trusted, fact-checked journalism by taking out a digital subscription.