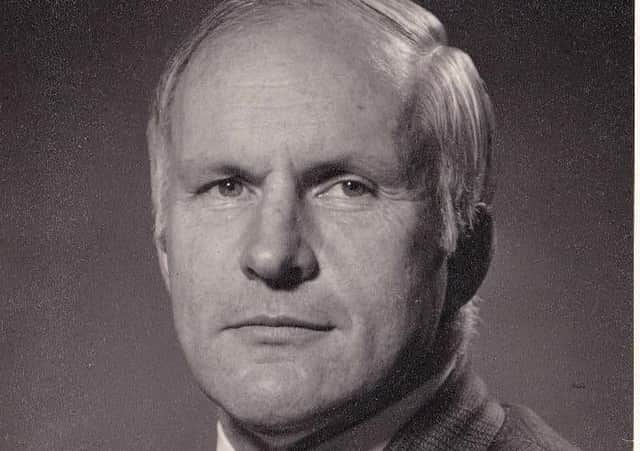 Professor Alan Gibb died has died at the age of 101. When Alan Gibb was a small boy his father, a general practitioner, removed his adenoids. His mother – the first female GP in Aberdeen – administered the anaesthetic. Whether this early experience influenced his future career choice remains a matter of conjecture, but he went on to become an Otolaryngologist (ENT Surgeon) of international acclaim. He established an outstanding department at Dundee Royal Infirmary and then Ninewells Hospital.
He was educated at Aberdeen Grammar School and Aberdeen University where he graduated MBChB in 1941. He worked in a number of training posts in Aberdeen and at Stracathro Hospital before doing National Service with the RAMC in West Africa where he was a Specialist Otologist with the rank of Major.
Returning to Britain he trained further in Otolaryngolgy in Carlisle and Aberdeen before his appointment to DRI in 1950.
Although he was a well qualified all-round ENT Surgeon, his abiding interest was in diseases of the ear and hearing loss. Chronic middle ear and mastoid disease in both adults and children was common and associated with years of misery for the sufferer.
The surgical options in the 1950s were revolutionised by the introduction of the operating microscope and Professor Gibb was quick to realise the opportunities that opened up for the eradication of disease and reconstruction of the hearing mechanism. He once said : "Every ear was an exciting Alladin's cave to me as I gazed at the magnified structures."
He valued this friendship with some of the great American and European surgeons, in particular Jack Hough of Oklahoma and Wm Brinkman of Nijmegen.
Such was his surgical skill and enthusiasm for sharing this passion with others that he soon became recognised as outstanding teacher and spawned many trainees that went on to achieve great things in the speciality both in the UK and abroad.
He was Senior Lecturer in Otolaryngology to the University of St Andrews with responsibility for undergraduate and postgraduate teaching
A short time after his appointment, an independent Department of Otolaryngology was established in the university, which, in 1965, was transferred from St Andrews to the newly founded University of Dundee.
He was closely involved in the subsequent establishment of a Department of Medical Education in the University of Dundee – the first to be set up in Europe. He was instrumental in introducing the Objective Structured Clinical Examination (OSCE) into the standard exam format.
He served the speciality well and the speciality recognised his contributions. He was President of the Section of Otology of the Royal Society of Medicine delivering a detailed account of the condition of tympanosclerosis, his main research interest. He was President of the Scottish Otolaryngolgical Society, President of the British Association of Otolaryngolgists (now ENTUK). He was part of the Hearing Research Committee that advised the Medical Research. Council.
His membership of the Specialist Advisory Committee in Otolaryngology to the Joint Committee for Higher Surgical Training gave him immense satisfaction.
On retiring from the NHS in 1984 he took up teaching appointments in the Far East. Over a period of 12 years as Visiting Professor he taught medical students and postgraduates in Malaysia, Hong Kong and Singapore.
As part of the restructuring of the training programmes in these departments he introduced the OSCEs. On occasions when there was a shortage of patients for the students to examine, he would offer his own iatrogenic nasal septal perforation for clinical examination. He advised the Australian College of Surgeons on the introduction of the OSCE.
There was much more to Alan Gibb than surgery. He had many other skills and interests.
He loved a ceilidh or a Burns Supper and his finely tuned singing voice was hard to silence. His party piece was The Tourie on the Bonnet often to mystification of foreign visitors. He was delighted when Jimmy Shand composed Alan Gibb FRCS Kirkton of Balmerino in his honour.
He also sang in the church choirs in Dundee, Balmerino, Aboyne and at Crathie Kirk where he was an elder for 10 years.
He was a skilled golfer and had played off 3. He achieved some fame when on his 90th birthday he played 90 holes in 24 hours on the Braemar course. Every hole was putted out and no ball was lost. He skied into his nineties, once persevering all week with a shoulder broken on the first day ("it was impacted and didn't hurt much"). He was a skilled fly fisherman and during the course of his life landed over 50 salmon.
He loved friends and travel. He was a Founder and President of the ORL Travelling Association and there were few surgical centres of excellence that they failed to visit, enjoying the mixture of academia, shared ideas, and structured relaxation.
Alan Gibb lived his live to a high level of personal rigour and was intellectually scrupulous.
He was very modest about his own considerable achievements and without pretention. He handled patients, colleagues and trainees with kindness and respect. One of his principles was never to resort to sarcasm.
When asked a few years ago how he would like to remembered, replied that he always wanted to encourage anyone within his department with a problem to feel he was approachable and "accessible". He did not regard himself as someone special. He never lost the common touch.
He is survived by his wife Elisabeth (nee Addison) who had been his theatre sister at DRI, his children Andrew and Susan.