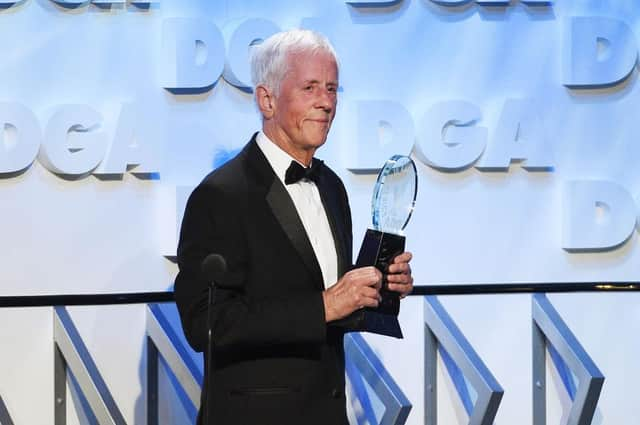 Few directors had quite such a diverse career in film and television as Michael Apted, who worked on Coronation Street in the 1960s and brought James Bond to Scotland in the 1990s, but made his greatest impact with a documentary series that has spanned 57 years so far.
Apted was a young research assistant with Granada Television when the original Seven Up! documentary was made as a one-off for the World in Action series in 1964. Producer Tim Hewat was inspired by the Jesuit idea of "Give me a child until he is seven and I will give you the man". And Apted was told to find a wide variety of seven-year-olds to talk about their backgrounds, hopes and expectations. They ranged from public schoolboys, who considered the other children "a bit too tough" and "rather dirty", to Tony, a cheeky, wee, working-class lad who wanted to be a jockey, and farmboy Nick, who when asked what he thought about girls replied, "I don't answer those kind of questions."
Apted was researcher rather than director on Seven Up!, but he directed the follow-up 7 Plus Seven and would direct further instalments every seven years right through to 63 Up in 2019. It was sociology, reflecting how attitudes and class have changed or not changed, and entertainment, playing like a soap opera with marriages, infidelity, divorces, achievements and failures. It has been eagerly anticipated once every seven years like some televisual version of Brigadoon.
There were sudden lurches in storyline – Suzy was set against marriage and parenthood at 21 and happily married with two children in the next episode. Cheeky wee Tony was in training as a jockey at 14, but by 21 his career was over, after just three races. He became a taxi-driver, while farmboy Nick became a nuclear physicist.
And then there was Neil, a lovely, lively seven-year-old, who dropped out of Aberdeen University and became homeless, adrift in adult society. A nervous adult, he seemed to get his life back together while living on Shetland and subsequently moved to Cumbria, where he became a Liberal Democrat councillor,
Of the 14 subjects, all continued their involvement over the decades, with only occasional absences, except Charles Furneaux, one of the posh schoolboys who ironically became a documentary-maker, fell out with Apted and wanted all reference to himself removed from the series. Another participant, Jackie, had moved with her sons to Scotland and died in her fifties.
One of the main focuses was on class and the advantages it brought. Many would argue little has changed in that department, but beyond the class system there have been changes in attitudes and opportunities and Apted regretted that of the 14 children, only four were girls. It was an omission he appeared determined to address in his choice of feature films, James Bond notwithstanding.
The son of an insurance broker, Michael David Apted was born in Aylesbury, Buckinghamshire, in 1941. He was a timid boy and his mother had to accompany him on the walk to school to ensure he was not bullied. He won a scholarship to the fee-paying City of London School, where he opened the batting in the first XI with Mike Brearley.
He studied History and Law at Cambridge University, joined Granada and Seven Up! was one of the first programmes he worked on. Within a few years he was directing Coronation Street, a good proving ground for later work with Hollywood stars. "Violet Carson and Pat Phoenix as Ena Sharples and Elsie Tanner were the biggest divas in Britain," he said.In the early 1970s he worked on the sitcom The Lovers and children's series Follyfoot, and began directing feature films. He directed the hit rock music tale Stardust, with David Essex, and Agatha, a fictionalised account of Agatha Christie's brief unexplained disappearance in the 1920s, with Vanessa Redgrave, at the height of her bankability, and Dustin Hoffman.
On the other side of the Atlantic Coal Miner's Daughter, his biopic of Loretta Lynn, was both a critical and commercial hit, with a slew of Academy Award nominations and a Best Actress Oscar for Sissy Spacek.
In Hollywood he worked with John Belushi and Richard Pryor, but many of his most notable films had female protagonists, including Gorillas in the Mist with Sigourney Weaver as primatologist Dian Fossey and Nell, starring Jodie Foster.
Every seven years he would break off from his career in Hollywood for another instalment of the 7 Up series, but he made other documentaries too. His 1992 documentary Incident at Oglala focused on tensions and violence on a Sioux reservation in South Dakota and was narrated by Robert Redford. Apted shot it at much the same time as Thunderheart, an underrated thriller with Val Kilmer as an FBI agent, with Sioux ancestry, investigating a murder on a reservation.
He came to Scotland for The World is Not Enough, with Pierce Brosnan as James Bond, Robert Carlyle as the villain Renard and Eilean Donan Castle as MI6's Scottish headquarters. Gadgets included a set of bagpipes that doubled as a flame-thrower.
More recently he directed the early episodes of the historical drama series Rome and the Chronicles of Narnia film The Voyage of the Dawn Treader. His last directorial credit was for 63 Up.
The 7 Up series was hugely influential, versions were made in many other countries and The Simpsons had their own take on it, with Homer as one of the subjects.
Divorced twice, Apted is survived by his third wife and three children from previous relationships.
If you would like to submit an obituary, or have a suggestion for a subject, contact [email protected]
A message from the Editor
Thank you for reading this article. We're more reliant on your support than ever as the shift in consumer habits brought about by coronavirus impacts our advertisers.
If you haven't already, please consider supporting our trusted, fact-checked journalism by taking out a digital subscription.