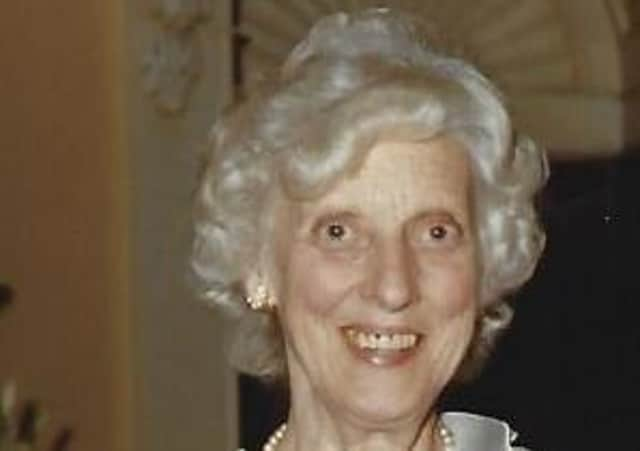 Mary Malcolm
Mary Malcolm died on 29 May 2020, aged 101, the last survivor of the pre-war Princess Louise nurses college in Edinburgh. Born in September 1918, the only child of strict Edinburgh parents, Mary Malcolm trained at the respected institution.
In 1946 she travelled to Hertfordshire to start what would be a 74-year connection with the family of the Earls of Verulam, initially looking after the newborn Romayne, then the present Earl, born in 1951, and finally Iona, now Marchioness Conyngham, whose husband Henry puts on the famous rock concerts at Slane Castle in Ireland.
In May 1964 Mary Malcolm went to be chaperone to Lady Verulam's niece, Iona Colquhoun, just 18 years of age and shortly to be married to Ian, Marquess of Lorne, later 12th Duke of Argyll. Ian was initially surprised to find that his dates with his fiancée included a chaperone – this was, after all, the Swinging Sixties – but he soon devised a solution, to sit the chaperone in a comfortable armchair by the fire and ply her with strong whisky, to which she was relatively unaccustomed. When Mary Malcolm obligingly dozed off, he could begin his courtship in earnest.
Later in 1964, Mary Malcolm moved to the home of actor and film director Bryan Forbes and his wife, actress Nanette Newman, to take care of their daughters Emma Forbes (who became a TV presenter, hosting BBC1's flagship Saturday children's show Live and Kicking) and Sarah Forbes, now Sarah Standing as wife of actor Sir John Standing. Mary Malcolm remained a constant in their family, fondly called "Malkey". She travelled to France and the USA with them, providing stability in a somewhat hectic household, meeting a stream of famous names including Katharine Hepburn, Sir Elton John, Sir Michael Caine and Sir Roger Moore, all of whom knew her as "The Amazing Malkey". Emma would describe her as "the rock in my life".
In 1976 Mary Malcolm went to the Massachusetts home of Lord Verulam's sister Romayne and her husband, Dr John Bockstoce, the notable Arctic traveller, historian and author, who traversed the Northwest Passage in an Inuit skin boat. Mary Malcolm looked after their young son, Johnny, and became a sought-after companion to US neighbours such as philanthropists Charlie and Posy Dana, whose son Nick she subsequently looked after as her last full-time job.
Mary Malcolm retired in 1981 to live for the next 39 years on Lord Verulam's estate, where her help and advice was sought by many of the next generation of mothers and child-carers.
Her remarkable gift for friendship meant that, although she had no family, she had a constant stream of visits and telephone calls from her admirers. No fewer than seven people flew over from the USA to attend her 100th birthday lunch.
A tall and elegant lady, Mary Malcolm combined wisdom, wit and compassion with admirable discretion. Her archive is a treasure trove.
She died peacefully in her own bed, having just finished a telephone call with a US admirer.