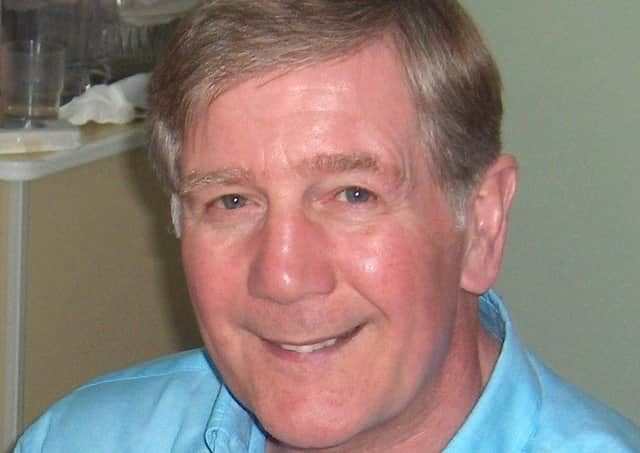 Lyall Houghton
A naturally gifted rugby player, Lyall Houghton played alongside, and against, some of Border rugby's all-time greats. What made him such a special teammate, however, was the fact that his good sportsmanship on the field was matched by his decency off it.
Lyall died peacefully with his wife Helen at his side on 23 April at the Waverley Nursing Home, Galashiels, following a long illness. He was 74.
It seemed predestined that George Lyall Houghton would excel at rugby football. Not only was his first home in Larchbank Street just a stone's throw from Netherdale, he was named after his uncle, George "Dod" Lyall, a fine hooker for Gala who won five caps for Scotland in season 1947-48.
Having captained the South of Scotland Schools team against Wales at Cardiff Arms Park in 1961, Lyall's first senior appearance for Gala came as a teenager against Glasgow Accies in September 1963. He captained Gala YM in season 1964-65.
Lyall was a member of the Maroons' high-flying sevens squad that swept all before them between 1963 and 1965, and he was particularly proud of his winners' medal from Hawick's 1967 Sports. Gala's star-studded line-up that day read Gill, Houghton, Turner, Paterson, Oliver, Carson and Gray.
This was the season Gala lifted the Border League trophy after a gap of 43 years, and skipper Johnny Gray was full of praise for Lyall's contribution. "He was a player who never let you down, who just got on with things and read the game well.
"His versatility also proved a great asset, and he could just as happily slot in at scrum-half as he could in his usual position at centre. Between 1963 and 1969, Lyall made 83 appearances for Gala, scoring a total of 21 tries.
Having moved house to Selkirk in 1968 for work purposes, Lyall decided to join Selkirk Rugby Club the following year, and soon became a regular in the Philiphaugh club's 1st XV.
His great Souter friend and team-mate, Allan Brownlee, said Lyall fitted in at Philiphaugh right away. "He wasn't flamboyant, never got flustered and was just a genuine bloke. A lot of people reckoned he was one of the best uncapped centres of his day."
Lyall Houghton was born in Galashiels on 2 August 1945, the middle child of Harry Houghton and his wife Nan (née Lyall).
An ex-soldier, Harry was the quality control manager at Laidlaw & Fairgrieve's Ladhope mill while Nan worked as a weaver.
After attending St Peter's Primary School, Lyall moved up to Galashiels Academy. It was here that he met the love of his life, Helen Todd, a fellow pupil two years below him.
The couple were married in Melrose Parish Church in 1968, and were blessed with three sons – Grant (born 1973), Ross (1975) and Greig (1981).
On leaving school, Lyall worked as an apprentice burgh surveyor/sanitary inspector with Selkirk Town Council from 1963-1968, serving as assistant burgh surveyor until 1975.
Following local government reorganisation, he became Ettrick & Lauderdale District Council's divisional environmental health officer from 1975-81, then its principal environmental health officer until the authority's powers were devolved to Scottish Borders Regional Council in 1996.
After 42 years of unbroken service without a day off sick, a heart attack in 2005 saw Lyall given a year's leave of absence. Unable to resume work after this period, he retired from his council post in 2006.
Sport continued to play a central part in Lyall's life, whether watching on television, match day trips to Philiphaugh or rounds of golf at The Woll and Lilliardsedge.
He was a lifelong Liverpool FC fan, following in the footsteps of his father, who was born and raised in the shadow of Anfield. He passed his love for the club on to both his sons and grandsons alike.
Diagnosed with Lewy Body Dementia in 2011, Lyall never lost his cheery outlook or twinkling smile, and received loving support at all times from his devoted wife Helen, and from his three sons and their families.
Former rugby team-mates and acquaintances continued to visit Lyall and Helen at their Selkirk home, and for the past two-and-a-half years at Waverley Care Home in Galashiels.
Helen and the family would like to express their thanks for the incredible level of care Lyall received at all times from the Waverley staff members.
Lyall is survived by his wife Helen, sons Grant, Ross and Greig, daughters-in-law Michelle, Caroline and Adrienne, eight grandchildren, and his brother Kenneth and sister Trish.