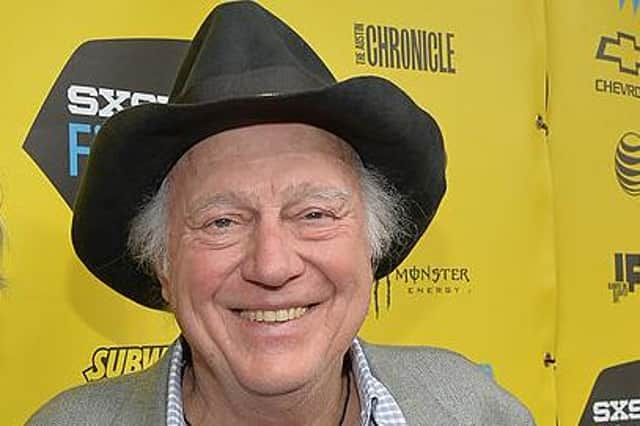 Jerry Jeff Walker at a festival in 2014
It was 1965, there had been a murder and the New Orleans police were edgy. Jerry Jeff Walker was drunk in the street, so they tossed him in a holding cell, with a bunch of others, including an old homeless man who had given his name simply as Mister Bojangles. He was a great story-teller, this Bojangles, and he entertained his fellow detainees with colourful tales of his life. But the mood dipped when he told them of his closeness to his dog, who had died, and years later he still grieved. Someone suggested they lighten things up again. Bojangles immediately obliged. He got up and he danced across the cell.
Walker had been singing for years in coffee houses in New York and on street corners in New Orleans and elsewhere and he thought this brief encounter with the mysterious Mister Bojangles might make for a decent song.
Nothing much happened when he recorded it. Nothing much happened for several more years and he was ready to pack it in. He was asleep in the back seat of a car on his way to Florida when a friend woke him up with the news that changed his life.
"Somewhere in South Carolina, he woke me up and asked me didn't I write that song Mr Bojangles? I said Yeah, and he said, 'I tell you what, for the last couple of hours it's been on this station and this one and this one.' He hit the button and there it was again."
The Nitty Gritty Dirt Band used it on an album in 1970. They then released it as a single and the following year it made it into the US Top Ten and the song started to take on a life of its own. It was recorded by singers as diverse as Bob Dylan and Dolly Parton, Neil Diamond and Nina Simone, Harry Belafonte, Whitney Houston, George Burns, John Denver and, more recently, Robbie Williams. John Holt recorded a reggae version.
But perhaps the definitive version was that of Sammy Davis Junior, who seemed to inhabit the song and become Mr Bojangles. As the song gained in popularity, so it acquired a new backstory, in which the original Mr Bojangles was black, taking his name from the legendary black dancer and singer Bill "Bojangles" Robinson.
But, as was fairly obvious, the Louisiana police were not exactly at the forefront of integration in the 1960s and kept black and white prisoners in different cells. Walker confirmed his cellmate was white.
Ultimately Bojangles was the making of Jerry Jeff Walker. He went on to become a major country music star.
He was born Ronald Clyde Crosby in Oneonta, New York State, in 1942. His father was a barman, who died when Walker was a boy. He and his mother lived with grandparents. The family were very musical and his grandparents played at square dances. It was a tough life and his grandfather died in a farming accident.
He had a spell in the National Guard, but was discharged after going AWOL, and drifted over to the Greenwich Village folk scene, where contemporaries included Dylan and Joan Baez. He used the names Jerry Ferris and Jeff Walker, before combining them into Jerry Jeff Walker.
He was drinking too much and earning too little and his career was going nowhere before that fateful night in New Orleans and a few years later the elevation of the song Mr Bojangles to chart hit and then standard. Following the success of Mr Bojangles, Walker recorded a series of albums and composed dozens of other songs, including Gypsy Songman, which became the title of his autobiography.
He was a key figure in the Outlaw Country scene, which rebelled against the Nashville "machine". His band was called the Lost Gonzo Band and attempted to capture the spirit of chaotic creativity of gonzo journalist Hunter S Thompson.
Their 1973 Viva Terlingua album influenced Steve Earle, Lyle Lovett and Lucinda Williams. Terlingua was a mining ghost town, near the Mexican border, though some properties are now occupied. It has a wonderful bar called the Starlight Theatre. The roof blew off a long time ago and the miners sat under the stars. I camped there, thinking I would get a feel of Texas, but it is advertised as "a community of artists, musicians and other free-thinkers", so possibly not typical.
They once elected a goat as mayor – this was long before Donald Trump. The goat died and is stuffed in the corner of the saloon with a bottle of beer in his mouth. This may say more about Walker and the Lost Gonzo Band than it does about Texas.
President Clinton was a fan and tweeted about seeing him at a gig in Austin, Texas, in 1972. Walker also played at a campaign rally the day before Clinton's 1992 election. Walker made his home in Austin, though he also had a house in Belize in Central America.
In his book I Never Met a Story I Didn't Like, the singer-songwriter Todd Snider recalled a night in New Mexico when he and Walker left a bar at closing time and came across an unkempt old man singing Mr Bojangles, with an empty hat on the ground in front of him. "The guy looked up at us. He didn't know Jerry Jeff Walker… And I could feel us both getting choked up." Snider wondered if Walker would tell the busker that he was the man who wrote the song. But all Walker said was "That sounded great." And he took all the money out of his pockets, put it in his hat and walked off down the street.
Walker's first marriage ended in divorce. He is survived by his second wife Susan, to whom he was married for 46 years and who was also his manager, and by their two children.