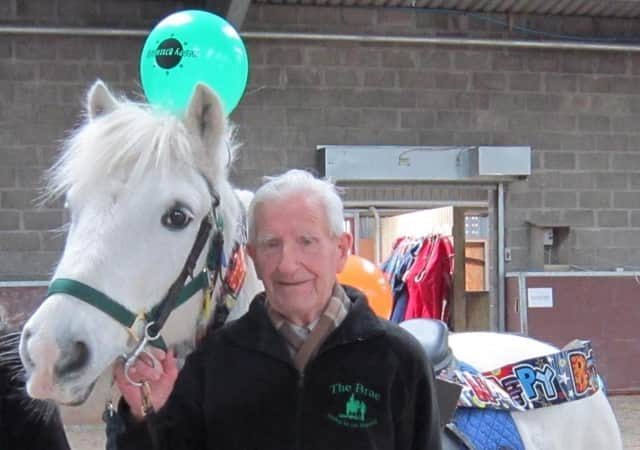 Harry Nunn
Serendipity thrust horseman Harry Nunn to the forefront of one of Britain's most memorable and solemn state occasions of the 20th century.
Operation Hope Not had been secretly in the planning for years and on a bleak, grey January morning in 1965 all the meticulous arrangements were finally in place. It was an event of such magnitude that it would be witnessed by 500,000 citizens on the streets of London and many millions more watching around the globe.
Britain's legendary wartime Prime Minister Winston Churchill had died six days earlier. After lying in state at Westminster Hall, the scene was set for his funeral at St Paul's Cathedral.
Nunn, a member of the Royal Household, was the carriage driver detailed to drive the horse-drawn coach carrying widowed Lady Churchill and her two daughters in the cortege.
He had been drafted in because of his relationship with one of the horses chosen to draw the carriage: it was to be the horse's first trip out in public but Nunn had known the animal since it was young and his experience and familiarity with the mount were deemed essential should it be adversely affected by the occasion.
Resplendent in his scarlet coat, Nunn safely guided his charges along the route thronged by tightly packed crowds, despite the horse's unease at the slow and solemn pace of the procession.
The mount did well, he told the BBC half a century later: "He got a bit frustrated with going so slow, as they were hardly walking, it was at crawling pace. A young horse, he just wanted to go… so I got down and walked beside him for a little while, and gave him a tap to say 'behave'."
Lady Churchill later wrote thanking Nunn and his colleagues for the role they played that day. "I was honoured and pleased that I'd done it as it's something you don't get to do twice in a lifetime," he acknowledged.
However, the equine world was a constant passion throughout Nunn's life, from his idyllic youth on a Suffolk farm until his remarkable achievement as the oldest volunteer for Riding for the Disabled in Dundee.
The son of farmworker Joseph Nunn and his wife Julia, he was the middle child of four brothers and five sisters. Growing up he helped on the farm and, aged seven, was responsible for fetching the horses from the fields each morning, preparing them for work and turning them out again in the evening.
Educated at Horringer Village School, he joined the Territorial Army as a teenager and was called up for active service soon after the outbreak of the Second World War. He served with the Royal Artillery and met his future wife, Hilda, in Dundee during a rest break from fighting on the continent. He also ended up playing briefly for Dundee United after the team sought army volunteers to boost the side depleted by players who had gone off to war.
The couple married in Dundee on 2 January 1943 and, after he was demobbed, set up home in Suffolk, where he became a groom. They returned to Dundee where he worked as a delivery driver for 11 years but another opportunity to work with horses proved irresistible and they moved to Bedfordshire, where he was once again a groom.
Life changed considerably in the mid-1960s after he spotted an advert in Horse & Hound magazine for a groom in the Royal Household. He applied, without telling Hilda or their daughter Norma, and only divulged the news after successfully getting through the gruelling interview process.
Based at the Royal Mews, Buckingham Palace, he was a postillion rider on Royal horse-drawn coaches at various state occasions, including Trooping the Colour, and played his most important role at Churchill's funeral. He went to Windsor for Ascot week, took a young Prince Andrew out riding around Windsor Great Park and worked at the Royal Stud at Hampton Court as a stud groom.
He was then offered a job with Sir Henry Moore, chairman of Hill Samuel, who was starting a stud.
There he was able to use all his skills, working with brood mares, foals and yearlings, through to the mounts that were to be trained as racehorses.
He stayed there until retirement at 65, when he and his wife moved back to Dundee.
Following Hilda's death in 2008 his doctor suggested he visit the Brae Riding Centre for the Disabled to help fill his spare time.
Never one to sit about, he spent three days a week at the centre, starting at 8am to prepare the stables before bringing the horses in and grooming them. He helped out during lessons, advised on various equine ailments and was also involved in maintenance duties.
The centre marked his 90th birthday with a surprise This Is Your Life-style presentation, complete with a big red book.
Still volunteering a couple of years later, in 2013, he was honoured with the Great Scot Community Champion Award.
He is survived by daughter Norma, granddaughter Ashley, his brother Albert and sister Daisy.