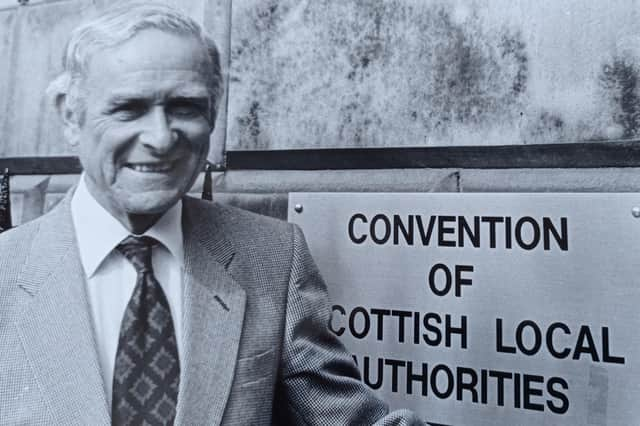 Graham Speirs
Graham Speirs was appointed the first chief official of the 'umbrella' body set up to represent the interests of the new regional, district and island councils in 1975 following a radical redrawing of the local government map of Scotland.
The Convention of Scottish Local Authorities (COSLA) was established as a single local government association, replacing four separate organisations. Graham's job title was secretary general, the equivalent of chief executive. It was a challenging role, requiring considerable administrative skills in overseeing the turbulent relations that developed between local and central government and in steering the organisation through a period of internal conflict between regions and districts over whether they were fairly represented.
Graham was an administrator, not a politician. "He was a pillar of the local government community – impartial, always calm in the middle of a political maelstrom that sometimes surrounded him," said one observer of Scottish local government. "He was very much the civil servant – he could have been equally effective as head of a Whitehall department. Always neutral in the midst of a dispute, always discreet, calm in a crisis and always providing wise counsel".
Similar sentiments have been expressed by former council officials and elected councillors. Robert Peggie, the first chief executive of the former Lothian Regional Council worked closely with Graham when COSLA was set up. "He was impressive and instrumental in bringing it all together. He had a talent for uniting different factions," Mr Peggie said.
Tom Clarke, former provost of Monklands, was vice-president and then president during Graham's 10-year spell in office. "He was completely trusted and a very personable man. Local government could not have been served better and with such loyalty and dedication."
Former staff who worked with Graham speak of a man who expected high standards but was kind and considerate and always interested in the welfare of his staff.
He essentially came across as serious and very formal in his manner, perhaps typical of a lawyer of the old school but he also had a dry sense of humour. During the height of a storm over rises in property tax rates in the early 1980s he was asked by a member of the audience at a meeting what he was going to do about the rates: "I'm going to ask my wife to pay them," he replied.
Graham Hamilton Speirs was born in Glasgow. At the age of 12 he and his sister were evacuated to Girvan. "These were grim days of war but I have nothing but happy memories
of the time I spent there," he recalled in a letter to the local newspaper later in his adult life. He never forgot the kindness and friendship of local people. It prompted him to write a moving account of his experiences headed: 'Finding peace in wartime Girvan.'
On returning to Glasgow, he completed his education at Glasgow High School and then went to Glasgow University to study law. He volunteered for the Royal Navy and served for more than three years on HMS Gambia, mainly in the Far East. Following naval service, he returned to Glasgow University where he graduated in 1950 and completed his law degree in 1952.
His first job was in the legal department of the former Dunbarton County Council where he worked for two years before taking up an appointment at Stirling County Council. In 1959 he joined the former Association of County Councils first as assistant secretary and then secretary.
When regions like Strathclyde and Lothian and district and islands councils were set up in 1975, controversy arose over whether there should be two separate local government organisations. It was decided to opt for a single body representing all councils.
The new organisation brought together councillors from across Scotland, meeting as a full convention. Some saw it as similar to a Scottish Assembly, the only all-Scotland elected body that existed in pre-devolution days.
It immediately became embroiled in a row over spending, first with a Labour government and then with the Thatcher government which introduced unprecedented powers to control rates rises. Graham resolutely maintained his impartiality. His job was to give advice to the politicians and implement their decisions.
One of his most challenging periods was dealing with an internal constitutional crisis in 1978 when a dispute over representation developed between leaders of regions and districts. It was a situation that demanded all of his diplomatic and administrative skills in finding a compromise. When he retired in 1985 after 10 years in office, he said: "We have lost no members and that must be a yardstick of our success."
His decision to retire was made ahead of COSLA merging with the then local government pay negotiating committee – the National Joint Councils.
During his stewardship of COSLA he was also secretary of bodies representing British councils in some of the institutions of the European Union. After retirement, he accepted a part-time appointment as a member of the UK delegation to the economic and social committee of the European Commission in Brussels. For four years, he was vice-president of its regional development section.
He also became a member of the Scottish Legal Aid Board, was honorary research fellow in the department of politics at Edinburgh University and held posts in Age Concern Scotland and Bield Housing Association.
Having decided around 1990 to fully retire, he started searching for a property abroad, eventually buying a flat in the resort of Puerto Pollensa in Majorca. He and his wife, Myra, spent many happy holidays there over a period of more than 20 years.
Graham was an elder in Abbey Church in North Berwick for more than 30 years. He was also a member of North Berwick Golf Club for 54 years, both as playing member and later as a social member. The friendships he enjoyed there helped sustain him greatly in the years after the loss of Myra, who died in 2015,
He is survived by his son, Graham, and daughter, Lesley; five grandchildren and one great- grandchild.
David Scott​​​​​​​​​​​​​​