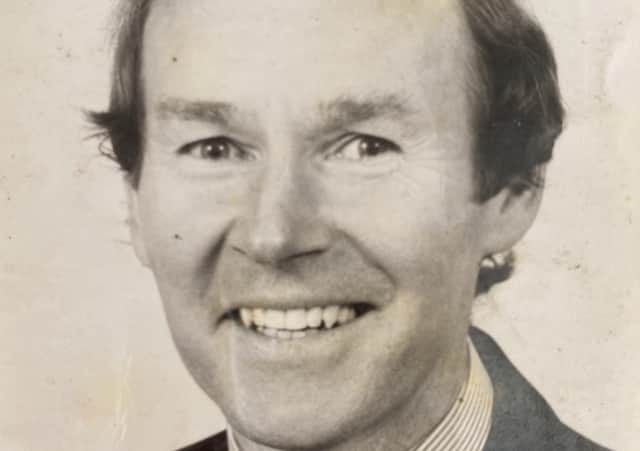 Gilbert James ­Christie was one of ­Australia's most notable organisational ­psychologists. ­Having trained and gathered his qualifications in ­Edinburgh, Gil ­emigrated to Sydney in 1971 and built a life and lasting ­legacy over the next 48 years. He had an expansive and evolving career that took ­psychological ­testing in the workplace to new heights for many of ­Australia's largest companies.
Gil was born in Edinburgh on 13 January 1943, the youngest of three children. At the time, the Second World War was in full swing. The ­German ­Luftwaffe relentlessly bombed the UK along with parts of Scotland, meaning Gil grew up with an air-raid shelter in his back garden and unfathomable food shortages that led to regular rationing as a family.
Gil was the son of a ­working class father, Gilbert Wilson Christie, who was born in Fife. Gilbert senior had left school at 14 to work in the coal mines to support his family before joining the Scottish railways as a shunter. He was an avid reader and curious about art and culture, often found ­reading George Bernard Shaw. On weekends, he encouraged his youngest son's curiosity by taking him to the art galleries and museums of Edinburgh.
His mother, Martha Cook Henderson, was a descendant of Captain James Cook, the great adventurer and explorer. She further nurtured her son by reading to him from a young age.
Despite the hardships of growing up in Leith in a post war era, Gil showed unique academic ability from a young age. As many of his peers and neighbours dropped out of school, he was encouraged to stay on at Leith Academy, becoming Dux boy of the School. He became the first person in his entire neighbourhood to go to university, in 1961, receiving a scholarship to Edinburgh University.
Gil was an avid rugby fan and committed player in the First XV at school, having been trained by his brother, Bill. When Bill emigrated to New Zealand in 1954, he ­regularly sent back photos of the All Blacks. This sparked the beginning of more than 60 years of unrivalled support for one of the greatest rugby union teams in history.
After graduating and working for British Airways for two years in London, Gil was diagnosed with tuberculosis in 1969 and spent the next 14 months in a sanatorium. The treatment he received for this disease ensured he recovered and survived, as so many did not at the time. However, it would also contribute ­significantly to his health issues later in life.
With his brother and sister and their families now residing in Australia, and having been told that the Australian sunshine and steaks, would further aid his recuperation, Gil made the move to the ­other side of the world in 1971, taking up a role at Tubemakers of Australia Limited in their Sydney office. It would be here that he met his wife of more than 38 years, Sharon whom he married in 1981, and with whom he went on to have two children, Jacqueline and Jamie.
After more than 10 years with Tubemakers, Gil made the decision to start his own ­business and independent consultancy, Christie ­Consulting Pty Ltd as an organisational psychologist. For nearly 40 years Gil built the business to notable ­success, consulting to almost every sector in Australian business, including finance, manufacturing, engineering, education and healthcare.
Initially the business focused on recruitment and selection, then with a burgeoning team of psychologists and other professionals it grew to career planning and development. In later years, Gil focused on coaching, counselling and mentoring. He supported ­people who were dealing with a wide spectrum of psychological issues, such as depression, anxiety, PTSD and the impacts of sexual and physical abuse. It was this type of work that would become the most ­fulfilling of his career.
One of the hardest-working, most committed ­professionals in the industry, Gil coached, mentored and trained ­hundreds of Australians over the years. He was a long term member of the ­Australian Psychological Society and the British Psychological ­Society. He was also as a published author, having released a book through Dymocks nationally in 1995 on the benefits of ­psychological testing to both business and individuals.
Despite living in Australia for many years and being an Australian citizen, his sense of place was always in Scotland. He had a passion for walking and hill climbing for kilometres on end and every return visit to Scotland involved a walk in the Pentland Hills, which was a very special place to him.
The community of ­Mosman and his friends and family both near and far across ­Australia and around the world will remember Gil as an inspiration. A devoted friend and family man of wise words who didn't give advice but instead "held up a ­mirror", he was known to many as ­someone who embodied a unique balance of intellectual and compassionate qualities that would always challenge your thinking. He has had a lasting impact on, not only the careers, but the lives of all those he came into ­contact with over the last 77 years.
Gil died on 4 March of ­chronic lung disease. To his family he will always be remembered for his constant love, support, wisdom, ­guidance and modelling, as well as his exaggerated storytelling, passionate curiosity of culture and world events, contagious work ethic and commitment to the cause.
He is survived by his loving and devoted wife Sharon, his two wonderful children, ­Jacqueline and Jamie, their partners, Jon and Laura and his four beautiful grandchildren, Olivia, Liam, Eva and Ivy, who all fondly knew him as 'GG' (Grandpa Gil).