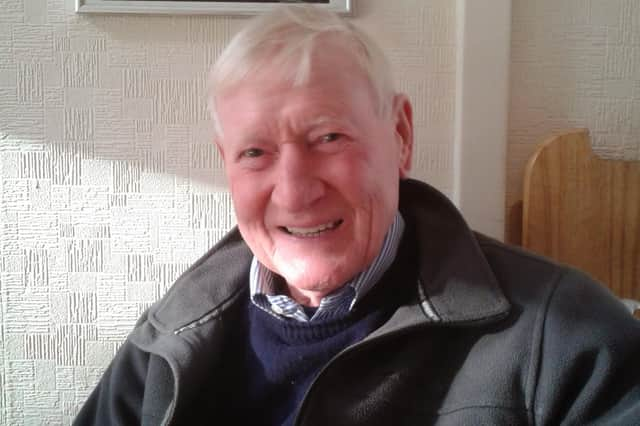 Bob Tollervey, who has died aged 91, was a well known Heriot's FP rugby player for over a decade from the early 1950s onwards who in the words of Bill McLaren was "a rare competitor, desperately unlucky not to win a cap".
A hooker, Bob was selected as travelling reserve for Scotland on 16 occasions at a time prior to substitutes being permitted and there can be little doubt that had he been playing now he would have won a collection of caps. It is ironic that between 1947 and 1953 Scotland chose ten different hookers while between 1954 and '62 when Bob was vying for selection, essentially only two filled the role, 'Bob' MacEwen and Norman Bruce. Although he played in many international trials including one when he reckoned he took three strikes 'against the head' from the incumbent Bruce, he was unfortunate indeed not to make the breakthrough. He toured with Scotland on the pioneering three-match tour to South Africa in 1960 but was not selected for the Test match.
His high standing in the game was reflected in selection for the Barbarians for their 1962 Easter tour but again he was unfortunate in having to withdraw because of illness. Such misfortune did not diminish his appetite for the game whose career highlights included representing a combined Edinburgh/Glasgow team against touring Australians and South Africans and against Paris while at '7-a-sides' he won many honours including two prized Melrose medals.
Robert Muirhead Tollervey was born in Edinburgh, the younger son of William and Jean née Stewart. During the First World War his English father was posted to Rosyth with the Home Fleet, later meeting his future wife in Edinburgh where they settled and William was employed by the Gas Board. Bob with sister Janet and brother Amos were brought up in the Willowbrae area. He attended Parson's Green Primary School before going to George Heriot's at secondary level where his rugby potential came to the fore as a valued member of the 1st XV. Such was his enthusiasm that he would play for the school in the morning and in the afternoon for local club Lismore.
Two years' National Service followed which he spent in the RAF in Bomber Command in England when he also represented the Force at rugby in inter-services matches. Although invited to continue for officer training he opted to return to Edinburgh where he joined Customs and Excise initially in Leith covering the many bonded warehouses there.
He also began playing for Heriot's FP, making his 1st XV debut by 1951 and would go on to render over a decade of first-class loyal service to the Goldenacre club, including a season as captain in 1956/7.
His talent led to selection for Edinburgh and in national trials with his first match against international opposition coming in December 1957 for the Combined Cities against the touring Australians when one report praised him for his 'prominence in attack'. In 1960 he faced South African opposition twice, firstly for a Scotland XV in a win over Griqualand West during the South African tour while later he played for the Combined Cities against the touring Springboks in Glasgow. Although the home forwards were heavily outweighed, the Cities were leading till near the end when injuries to Bob and Heriot's teammate David Edwards swung the match in the tourists' favour.
His all-round ability meant he excelled at 7-a-sides, collecting winners' medals from Melrose, Langholm, Murrayfield, Jedforest, Westerlands and Trinity tournaments among others. In addition to his 1957 and '58 Melrose medals, he also appeared in three other finals there, in 1951,'60 and '61.
After retiring from playing due to his injury against the Springboks, he made a significant contribution off the pitch, as selector for Edinburgh District, Heriot's FPs, as a district advisory coach and as President of Heriot's in 1982/4, when his experience, measured manner and clear thinking were valued assets. Till relatively recently he was a regular spectator at Goldenacre.
In 1954 he married Isabella (Ella) Davidson, an actuary, at Duddingston Kirk and the couple enjoyed a long and happy marriage during which they had three sons, David and twins, Neil and Alan. They initially lived in Duddingston when Ella retrained as a primary school teacher, later becoming deputy head at Balgreen Primary, and in 1967 they moved to Portobello where they remained.
Meantime Bob was promoted several times in the Customs' service and spent four years in the early 1970s based in Coleraine in Northern Ireland, a testing time given the ongoing 'Troubles', despite which he assisted with coaching the local rugby club. In the mid-1980s he spent several years in Leeds as a Collector for Yorkshire before mandatory retirement aged 60 after which he was awarded an OBE. for his service.
In retirement he remained active, an enthusiastic golfer latterly at Duddingston. He also resumed flying with a view to obtaining a private pilot's licence but a previously undetected heart murmur prevented that. A keen scuba diver as a member of Jewel and Esk Diving Club, he was able to continue into his 70s but after suffering the 'bends' which required decompression he stopped diving. A great family man, he will be remembered fondly as a credit to rugby and as a warm hearted, positive, gregarious individual. He is survived by his sons, nine grandchildren and two great grandchildren.