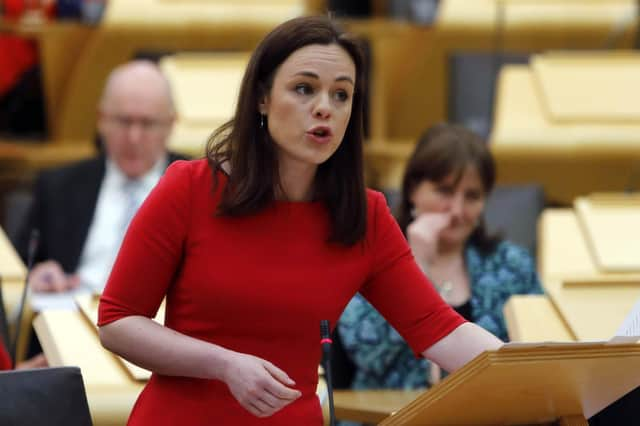 Kate Forbes said: 'Countrywide, when it comes to our politics, a lot of us have lost the ability to care and have compassion'. Picture: Andrew Cowan\Scottish Parliament
The MSP, who was given the ministerial role after the resignation of disgraced Derek Mackay last month, was targeted by trans-rights activists for urging the government not to rush into new gender legislation.
Ms Forbes, a member of the Free Church of Scotland, told a Christianity in Politics seminar at the weekend she had learned to be "absolutely diligent" in not believing what other people say about her.
She described her faith as her "anchor and frame of reference" and God as the "boss of bosses".
She said: "Being involved in politics was the first time that I knew what it felt like to be hated.
"Before, maybe people fall out with you slightly, but in politics people don't see the person, they see the label.
"The last few weeks have been quite challenging. I had to pick up the new job very rapidly and it's been particularly high exposure, which leaves you very vulnerable as a human being.
"That morning, I had been reading in Matthew the story of Peter walking on water.When Peter sees the wind and the waves, he's afraid.
"I'm afraid, but the answer of course is, 'O ye of little faith, why do you doubt?'
"In politics there's lots of wind and lots of waves, and if you look at the environment that you're in, there's much reason to fear.
"There's a lot of vitriol. It's very angry place.
"Countrywide, when it comes to our politics, a lot of us have lost the ability to care and have compassion on individuals, even though we fundamentally disagree with them.
"There used to be a day when I would respect you as a human being, then have fun disagreeing or arguing with you or debating your views.
"Now [it's] 'If I don't like your views, I hate you, and I will let you know that I hate you'.
"That's undermined the quality of our debate, and it's a really unpleasant place to be.
"Very quickly a fan one day can turn into a foe the next."
She appealed to people to see the person behind their "labels".
"Encourage them, pray for them, whether you vote for them or not," she said.
"When making decisions, I recognise that I know the boss of all bosses and he sees everything I do in public and in private.
"When it comes to making decisions in public as well as in private, I know that there is that ultimate scrutiny."
Ms Forbes backed Conservative MSP Murdo Fraser – also on the platform at Perth Baptist Church – who was criticised for tweeting that he wished Mr Mackay well "in what will be a difficult time".