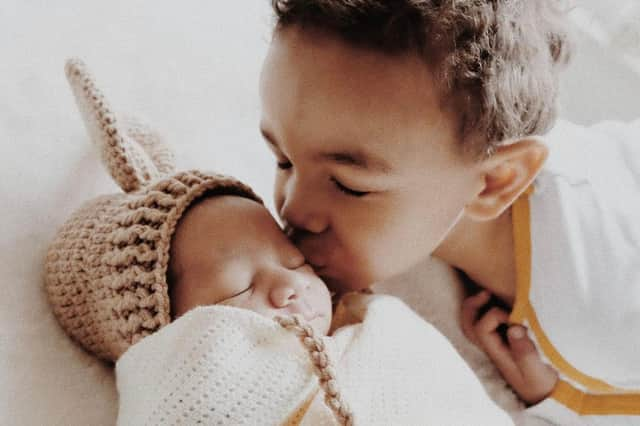 Diana Baker is offering a free baby photography course for new mums
For new mothers across the world the coronavirus crisis has thrown a major spanner in the works of what should be a time of celebration and bonding with their newborn child.
Many mums across Edinburgh and the rest of the world will have had plans to have photos taken of the new addition to their families, only for COVID-19 to put a stop to any photoshoots.
However, one Edinburgh-based businesswoman has set up a do-it-yourself course on how to take professional photographer style pictures and has offered it to new mums completely for free.
Diana Baker is offering a free baby photography course for new mums
Diana Baker, 40, runs Diana Baker Photography in Castlebrae and was as busy as she had ever been prior to the coronavirus outbreak.
The New Zealand born photographer soon had mums breaking down in tears over the phone due to not being able to have the perfect photo of their new child, something which inspired Ms Baker to record some tips for new mums.
Fast forward a week and the course has been taken more than 6,500 times and has led to pictures being taken by parents across Scotland and the United Kingdom but also as far away as Spain, Norway and the United States.
Ms Baker the inspiration was to provide new mums with a project and tips to help de-stress during the COVID-19 lockdown.
Diana Baker is offering a free baby photography course for new mums
She said: "Mums go through a major hormonal change, especially straight after birth and it puts us into a 'mummy bear' mode.
"When you have been nesting and you have an idea or an expectation of what the first couple of weeks with a newborn are going to be like it is very stressful when that expectation isn't matched with reality.
"It is very very hard for a mum not to have 'mummy guilt' especially when she can't have the baby meet the grandparents or have the girlfriends over to help with tips on how to the do this parenting thing.
"I had mums crying down the phone to me that they were not going to have pictures and I just wanted to have a resource there to do what I can to help support brand new mums."
The course teaches mums to take professional style pictures using their iPhone and other items around the house, with no need for specialist kit.
Ms Baker added: "I've had pictures sent to me from Portugal and Australia, and I have had mums saying they now have got something to focus on they can do it. It has gone absolutely crazy amazing"