Coronavirus in Scotland: Here's how our readers reacted after full lockdown announced
'Frustrated, angry, upset and anxious all rolled into one.'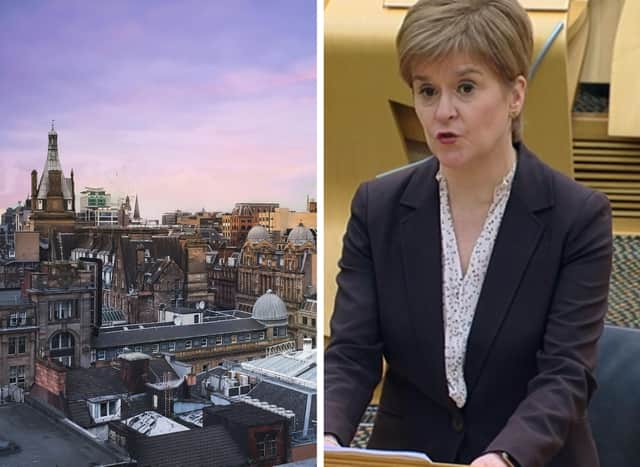 Nicola Sturgeon made the lockdown announcement in Scottish Parliament today. Left: Glasgow (Getty)
A lot of people reluctantly agreed it is the right thing to do, but many were concerned people wouldn't follow the guidelines.
Mary Forsyth said: "If everybody had the sense to do what they're asked to do we wouldn't be in this mess. Sense just doesn't seem to be in some peoples heads!"
"Too little too late," said Derek Mason, "This should have happened well before now and if people had followed the guidelines we might have never got to this point."
Karina Bowlby was among those who seemed to feel this news was inevitable. She said: "Who honestly couldn't see this happening with people allowed to cram into non-essential shops before Christmas and mixing at Christmas?"
And John Murdoch was unsure how effective another lockdown could be: "People will not comply and it will be like all the other lockdowns. We need a better plan we are under lockdown now and it is not working so why is this going to work?"
Carol Reid echoed the need to follow the advice: "I just wished folk would do what they're told so we can save lives ease the NHS get the kids back to normality, get businesses back and get our lives back."
However, Ally Middleton took a completely different view to the lockdown, saying it is "willingly creating economic chaos in the name of compassion...it's a disgrace".
Then there were those with concerns for people's mental health. John Mcinnes said: "What about people that live on their own? It seems to be a survive to eventually die case."
Sharon Rankin said she was: "Frustrated, angry, upset and anxious all rolled into one."
But Tom Flynn said a lockdown "beats being dead and spreading the virus, I would think".
What do you think? Follow our Facebook page to get involved in the discussion.
A message from the Editor:Thank you for reading this article. We're more reliant on your support than ever as the shift in consumer habits brought about by Coronavirus impacts our advertisers.
If you haven't already, please consider supporting our trusted, fact-checked journalism by taking out a digital subscription.