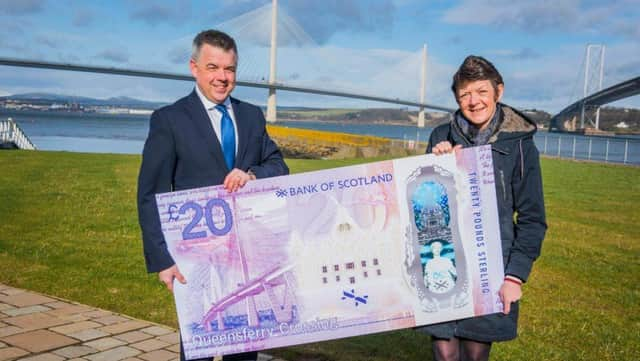 On the back of the polymer note an image of the Forth Bridges can be found with the new crossing visible in the background.
The front features the portrait of Scottish novelist and poet Sir Walter Scott alongside an image of The Mound in Edinburgh.
The Queensferry Crossing is celebrated in its own right in a limited number of special commemorative £20 notes.
Like the £10 polymer note, the £20 note will also introduce the tactile emboss feature to aid the visually impaired.
One of the key security features on the new money is the anti-counterfeit 'window effect' which can be found in the windows of The Mound. The £20 note features a holographic depth stripe, the top of the foil features a Northern Lights effect when tilted, additionally the clouds adjacent to Victory will move left to right when tilted east to west.
Tara Foley, Managing Director, Bank of Scotland, said: "It is important to us that any new bank note we produce proudly represents the values and history of Scotland, and our new Bank of Scotland polymer £20 note is the result of months of careful work. We encourage people to keep an eye out for the new design and take a moment to spot some of the new features."
All existing paper Bank of Scotland £20 notes will be gradually withdrawn following the issue of the new note, but any currently in circulation will continue to be accepted at shops, banks and cash payment machines.