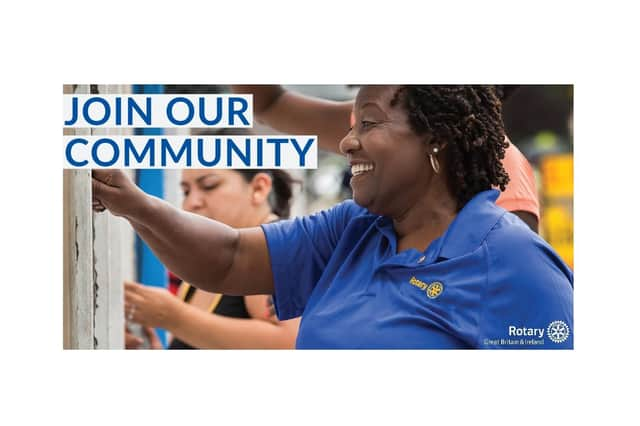 You could make a difference today
The children, who live on the remote Rosneath pensinsula in Argyll, had taken part in a Heartstart training programme, run by former teacher Sheenah Nelson, just months before.
Within weeks they were putting their new knowledge into extraordinary practice.
"In lockdown alone the defibrillators we have funded and installed in West Dunbartonshire, Argyll and surrounding areas have been used eight times, and saved five lives, the most recent just a few days ago at Loch Lomond," said Sheenah.
Rotarians are making changes and helping others
"But our most impressive success story was in 2020, when an elderly lady rushed past some school children to get to her local newsagent before the morning rush. Seconds later, she collapsed, and her heart had stopped.
"One of the boys, aged ten, immediately got down and started CPR, and another asked a stunned nearby adult to dial 999, then took over and made the call himself when they were too shocked to move. He said they need an ambulance and a defibrillator immediately, and was directed to the nearest community support in the rural area.
"The 11-year-old then ran off to pick up the community defibrillator and brought it back to the scene. A community police officer arrived at the same time and helped the two lads, and the lady survived."
Being part of such an important community project is all part of Sheenah's Rotarian principles and ethos, Service Above Self. In fact, she and fellow volunteers have co-ordinated a campaign which has seen 207 defibrillators installed in the area, with thousands of children and adults trained to use them.
You could be part of a worldwide movement
"I joined Rotary in 2007 and became the club's Heartstart co-ordinator in 2008. We deliver Heartstart/Defibrillator training for our local schools, GP and dental practices, police and fire service, local businesses, golf clubs, bowling clubs and many other local organisations," she adds.
"Each year our Rotary club organises training for over 5,000 pupils and members of the community in both Argyll and Bute and West Dunbartonshire. These are our future lifesavers and Rotarians of tomorrow."
Susan Andrews from West of Scotland Rotary says: "I'm sure that the amazing work of Rotary local volunteers inspires many people across the West of Scotland. It's easy to join us in our work, just click this interest form and we will get in touch to tell you how you can help your local community.
She added: "Being part of Rotary offers up amazing opportunities … Sheenah's story is just one example of the kind of projects we do for our communities, and Rotarians get so much out of our volunteering.
"The benefits are widespread, including the remarkable wellbeing and mental health benefits of being involved."
Find out more about the work of Rotary, and being part of an international organisation that has, among other achievements, almost eradicated polio from around the globe, as well as helping thousands of good causes in Scotland, from our Facebook page or email [email protected]