Why R number's rise is a warning to all Scots – leader comment
It is true to say that the coronavirus pandemic has made statisticians of us all.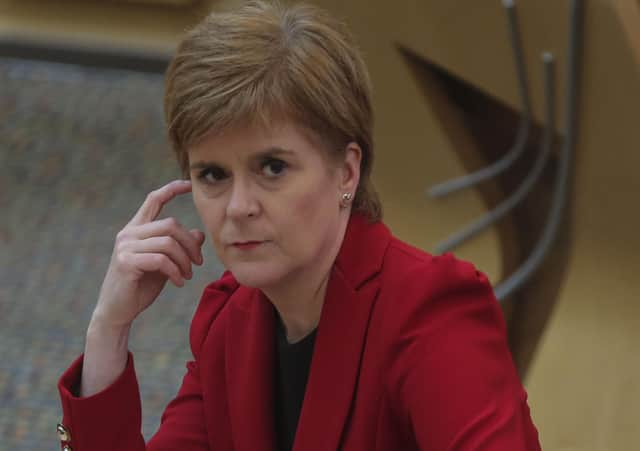 Nicola Sturgeon taking First Minister's Questions at the Scottish Parliament. Picture: Fraser Bremner/Getty Images
A few months ago, few of us would have understood what the First Minister Nicola Sturgeon was saying when she started talking about "the R number".
Yesterday, not only did everyone understand immediately when she warned that the R number may have reached as high as 1.3 in Scotland in recent days, they knew too the significance.
We all know that keeping the reproduction number of the virus below one means that we are winning the battle to contain it and prevent its spread.
Not only is the figure of 1.3 which Sturgeon referenced a sign that the virus may be making a comeback, it is the highest estimate by some distance that we have heard in Scotland for many weeks.
The message and the intent here was clear. The First Minister was underscoring her oft-repeated message of recent days.
Coronavirus has not gone away. If we let down our guard now, we will undo the good work that we have done collectively during the long months of lockdown. Follow the rules, do not take shortcuts. The social distance, face mask and quarantine measures are key, as well as continuing to avoid large gatherings. This is a critical point in the handling of the pandemic as we face up to the possibility of a second wave.
That was always going to be the risk as the country eased out of lockdown. Scotland is far from alone in experiencing a rise in infection levels, with even New Zealand, rightly widely lauded for its early and hard lockdown, seeing a so far minor resurgence.
Now is the time to keep faith and continue to follow the rules.
There are signs for concern, but not for panic. The 1.3 figures, Sturgeon was clear, was the highest estimate of the virus's recent peak in Scotland. That is still far lower than the levels we saw in May.
There is every reason to hope that measure such as local lockdowns and the tightening of regulations forcing all pubs to take contact details of their customers will be enough to bring it back under control.
More such orders may be necessary, but they are the surest route to avoiding a return to full lockdown. That thought, in the week that our children were finally able to return to school, should be enough to keep us all focused.
Want to join the conversation? Please or to comment on this article.