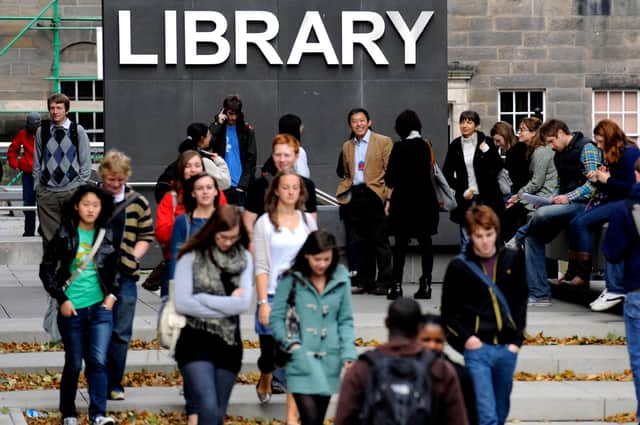 Students at Edinburgh University pre-Covid-19.
Indeed, even during the difficult times over the past year, international students from across the globe have defied critics and continued to apply to Scottish universities, due largely to Scotland's well-deserved global reputation for high quality academia.
Protecting this reputation - and helping the UK's education sector to build back better from the pandemic - is the UK Government's priority. A vital part of this will be the new Turing scheme, announced by the Prime Minister at the end of last year, which will offer students the chance to work and study abroad.
On Saturday we announced that a new Turing scheme website had gone live with funding and eligibility details so that universities, colleges and schools can prepare for bids to open in Spring.
UK Universities Minister Michelle Donelan
We also announced the introduction of an updated International Education Strategy.
This reaffirms the UK Government's commitment to increase the amount generated from education exports, such as fees and income from overseas students and English language teaching abroad, to £35bn a year, and sustainably recruit at least 600,000 international students to the UK by 2030.
A key part of this, the pioneering Turing scheme will support students from across the UK and from all backgrounds to take advantage of the benefits of studying and working abroad from September 2021.
The opportunity to study and do work placements abroad is an incredibly enriching one, not just for the students themselves, but for our communities and our employers who benefit in turn from the development of new skills.
I am a firm believer that travel in itself not only opens minds, but provides an invaluable education which, coupled with a period of study or work abroad, can open many doors for our young people.
Named after the brilliant UK mathematician, Sir Alan Turing, the new scheme is backed by £110 million of UK Government funding and will provide life-changing opportunities for up to 35,000 UK university, schools and college students to study and work overseas, a similar number to that under the EU's programme Erasmus+.
Unlike the previous programme however, this scheme will have a renewed focus on ensuring that these opportunities are available to all students, no matter their background.
While we were in Erasmus+, students from the most privileged backgrounds in the UK were on average 1.7 times more likely to be globally mobile than those from more disadvantaged backgrounds.
As a Government elected on a manifesto to level up, we believe this is simply not good enough, and the new programme will target areas of Scotland which did not previously have many students benefiting from Erasmus+.
To encourage school, colleges and university students from disadvantaged backgrounds to participate, we will offer them additional funding and help with one of costs of the scheme such as visas.
At the same time, we also have a duty to ensure value for money for UK taxpayers.
The next Erasmus+ programme would have had a significantly increased budget of over €26bn and whilst we explored a huge number of different options, at great length, the only way for us to continue with the programme would have meant an annual gross contribution of around £600m.
This would have been one of the highest expected contributions of any member states and yet historically, significantly fewer of UK undergraduates take part in the programme compared to countries like Germany, France, Spain, and Italy.
To put it simply, the UK will have been putting a lot more into the programme than we would have taken out.
Our new scheme will be truly global in its focus and will aim at delivering far greater value for money for British taxpayers. It will fund a similar number of students on average, but for far greater value for money.
Bids will have to have inclusivity at their heart and an opportunity of shorter-placement durations opens up potential opportunities for more students than before.
It is also worth noting that five of the top ten destinations chosen by UK students to learn abroad are outside of the EU, yet only 3 per cent of outgoing Erasmus+ placements are based outside of Europe. 
The UK is currently second only to the USA as a destination for international students to study.
The Turing programme will help to build on our global popularity, targeting places like the Indo-Pacific region, North America and of course Europe too.
While it is true that we will only fund students from the UK going abroad, this was the same as under the Erasmus+ programme, and we expect other nations to continue to fund their own students and waive tuition fees for Scottish students at their institutions.
The post-EU exit dawn offers the UK some exciting opportunities and the development of Turing is certainly one of them.
Together with the British Council, universities, colleges and schools, we can create a global scheme that supports our levelling up agenda, enhances skills and opens up the globe to students throughout the UK.
A scheme that gives all of our UK students, no matter their background, the opportunity they deserve to work and study abroad, and continues to promote Scotland as the internationally renowned place of higher education that it is.
Michelle Donelan in UK Universities Minister