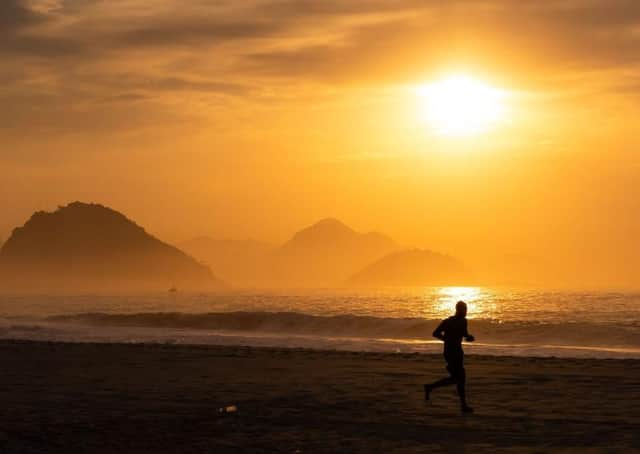 I had a misplaced hope that the change to all our lives might be an opportunity for reflection upon lessons that have been learned, what is important, and how things could be done better in future.
During the more than threescore years and ten of my life there has not been any time when the world's population has been in such jeopardy or lives so disrupted and threatened. Collectively, my generation endured constant fear during the Cold War, particularly during the Cuban crisis. Then, we knew the enemy and politicians were able to prevent an escalation to prevent the nuclear Third World War, which threatened to wipe us out. Today we are faced with a silent, dangerously unpredictable enemy. I would not wish to be in the shoes of any political leader or politician having to take daily decisions on such a scale that they are uniquely responsible for the life and death of the population. They are damned if they do and damned if they don't.
There is no doubt that things might have been done differently, but I am certain no decision was ever made without the very best of intentions and under the guidance of experts in the appropriate field.
Now is not the time for turning this into a political scoring match. There will be time in the future to constructively evaluate whether decisions were taken too early or too late. Whether we were well enough prepared, particularly for our courageous NHS staff at the forefront of this battle, to have been better protected. Hindsight is a wonderful gift.
Personally I am in total despair and I am sure that I will not be alone, at the constant negativity of certain sectors of the media, some who have recently behaved like a pack of wolves, not adhering to the rules that they are castigating others for breaking, and of those who wish to turn these tragic events into a political circus.
Jane Ball, Hendersyde, Kelso
Has it struck anyone else as odd that Boris Johnson sets up a press conference for his adviser Dominic Cummings to explain his actions, but when the press wish to question his other advisers, Sir Patrick Valance and Professor Chris Whitty, he prevents them from speaking? They are the key men in the UK's Covid-19 tragedy, as they hold the answer to why the UK delayed its lockdown, now widely accepted to be the reason for the "60,000 excess deaths" (your report, 29 May), second only to the US with its much larger population. Why was their advice to the UK government so different to that in other countries? If it wasn't, it should be made clear that Boris Johnson took a calculated political risk which has cost untold suffering and thousands of unnecessary deaths.
Kit Fraser, Belhaven High Street, Dunbar
I listened to the press conference in the gardens of 10 Downing Street when Mr Cummings gave his side of the story. If I picked it up correctly, his son was admitted to hospital during his family's trip to Durham. Then Mr Cummings drove to the hospital to collect his wife and son, although he himself was displaying signs of coronavirus. If they went there for childcare, why did he have to collect them? Why didn't his sister or nieces do it?
Has he not heard of social services? They would have helped if he or his wife don't have family or friends in London.
He also said he drove back to London to get back to work. People were being told, "Work from home if you can". Could he not work from home? Or Durham? It strikes me that his job would be suitable for working from home.
Finally I am asthmatic and although not 70 yet, I'm not far off it so I am shielding. If people now ignore lockdown guidance because of Mr Cummings's actions I might be a prisoner for longer. Or if I go out I could be seriously putting my life in jeopardy. What right does Mr Cummings have to endanger my life? And why does the Prime Minister think my life and others like mine are worth so little?
And to not even cross his mind that his actions would have repercussions! It's like someone putting lights on during the blackout in the Second World War. Why is someone so shortsighted drawing up government policies?
Eileen Munro, Bute Drive, Perth
Six years ago an inquiry was initiated into the Edinburgh Trams fiasco. We are still waiting for its report to be published, despite tens of millions being spent.
It is difficult, therefore, to see the proposed inquiry into the reaction of the SNP government to the coronavirus pandemic being much quicker in reaching resolutions. We should also remember that a separate inquiry surely needs to be held into the many care home deaths associated with this outbreak. Any lessons need to be learned quickly.
Inquiries can be used to kick embarrassing and distressing matters into the long grass and by the time a final report is published all the major players involved have moved on to pastures new.
Alexander McKay, New Cut Rigg, Edinburgh
Joyce McMillan's 'scholar', writing in 2050, while observing many developments, seems not to have noticed the effects of global warming (Perspective, 29 May). Nor does he seem concerned about the Covid-19 virus, still raging out of control.
Climate modelling forecasts show that by 2050 civilisation could be devastated and not just by Covid-19. There will be extreme weather such as high temperatures, droughts, increased rainfall and landslides across the world. By 2050, sea-level rise will push average annual coastal floods higher than land now home to 300 million people. High tides could permanently rise above land occupied by over 150 million people, including 30 million in China. Without advanced coastal defence and planning, populations in these areas may face permanent flooding. At least half a million people will have died by 2050 as a result of the impact climate change will have on food production. Most of these additional deaths will be in China, India and other low-income countries in the Pacific and Asia, but the effects on food availability will also have reached into richer countries. Tropical regions will have become increasingly uninhabitable as they turn into deserts. This will increase migration to more temperate regions putting a strain on the receiving countries and perhaps conflict.
The virus and global warming could be the end of us. Ms McMillan needs to find a more informed scholar.
Steuart Campbell, Dovecot Loan, Edinburgh
In his letter supporting a two-year delay to the deadline for Brexit negotiations (29 May), Anthony O'Donnell cites one reason as being the supposed "lower standards for the UK consumer".
I assume he has the famed 'chlorinated chicken' in mind when he refers to lower standards; however it should be noted that food safety and hygiene are not a one-way street.
The sale of authentic Scottish haggis has been banned in the US for almost 50 years as the sheep lungs that make up a sizeable ingredient of 'real' haggis can be contaminated with stomach acid and phlegm during the slaughter process. That's before we even consider Scottish farmed salmon which, at various points over the last few years, has been the subject of much adverse publicity around it being fatty, reared in unsanitary conditions, high in toxins, contaminated and with the use of artificial colourings, antibiotics and thermolicine, to name just a few of the issues that other countries have with it.
The reality is that any producer will cater to the market to which it is selling and, just as Scottish haggis producers have done, the recipes and processes can be altered to suit the consumers' expectations in different countries. Given a choice between eating chlorinated chicken, authentic Scottish haggis or Scottish farmed salmon, I would choose the former every time.
Andrew Hamilton, Forth Street, North Berwick
It is a pity, at a time when we should be drawing together to fight the economic impact of this virus that Kate Forbes, our finance secretary, has been infected by the usual sense of outrage that is her party's go-to position over anything the government in Westminster does (your report, 29 May). I appreciate that economics was not a strong point of our previous financial secretary and perhaps she has been so busy that she has forgotten that the Scottish people have not just received £52.03 billion in funding from the UK Treasury, they have also received from the UK Treasury vast payments through the furlough payments scheme, which has probably protected hundreds of thousands of Scottish jobs. If she truly needs more money then she should be honest with the Scottish people and ask us, on a temporary basis only, to pay a higher basic rate of tax to see the less well off through the economic impact of this terrible virus.
Alan Black, Camus Avenue, Edinburgh
I see that using various places outside schools for classes is being considered (your report, 29 May). At the start of the Second World War primary schools were often requisitioned for military barracks and classes were moved to various places.
One year my (part-time) education took place in the rather ramshackle pavilion of a tennis club. Church halls were widely used, sometimes with more than one class being conducted simultaneously in the same space.
Furnishings consisted, at least initially, of benches for the pupils to sit on, and a blackboard. The spinsters who were our teachers seemed to take it all in their stride, but then, as everyone kept saying, "there's a war on".
Later in the war, in secondary, we actually went on a school trip – to the tattie howking in Angus as the usual labour force to bring in the harvest was lacking. It was hard work for us townies but educative in many ways.
S Beck, Craigleith Drive, Edinburgh
The Scotsman welcomes letters for publication – 300 words maximum – from all sides of public debate. Include date and page when referring to an article, avoid 'Letters to the Editor' in e-mail subject line. No attachments. We reserve the right to edit letters. No correspondence will be entered into. Send submissions, with full address and phone number, to: [email protected]
A message from the Editor:
Thank you for reading this story on our website. While I have your attention, I also have an important request to make of you.
With the coronavirus lockdown having a major impact on many of our advertisers - and consequently the revenue we receive - we are more reliant than ever on you taking out a digital subscription.
Subscribe to scotsman.com and enjoy unlimited access to Scottish news and information online and on our app. With a digital subscription, you can read more than 5 articles, see fewer ads, enjoy faster load times, and get access to exclusive newsletters and content. Visit https://www.scotsman.com/subscriptions now to sign up.
Our journalism costs money and we rely on advertising, print and digital revenues to help to support them. By supporting us, we are able to support you in providing trusted, fact-checked content for this website.
Joy Yates, Editorial Director