UK defence too dependent on US – Letters
Royal Navy would be better off going it alone, says a reader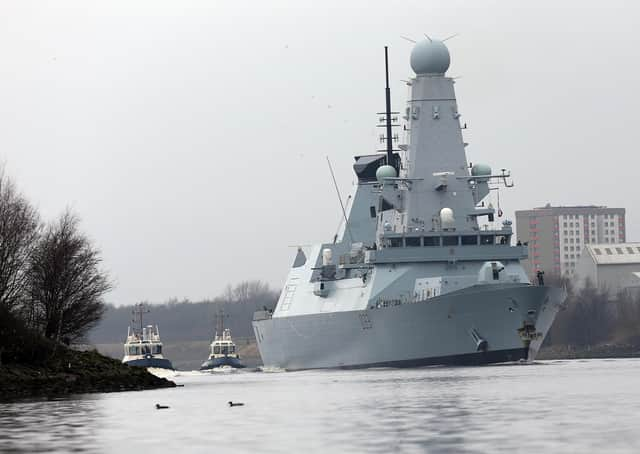 HMS Dauntless sails down the Clyde in March 2014 (Picture: Ian MacNicol)
With ITN reporting that the Royal Navy's "super carriers" will never sail simultaneously, it is becoming increasingly clear that this vanity project is holed below the waterline.
Defence experts pronounce that the aircraft carriers are relics of a bygone age. They are useless against terrorism or cyber warfare and vulnerable to attack by anti-ship missiles, eg the Zircon.
The UK Government talks of our global reach after we leave the European Union, but they are testimony to a national delusion.
There is much talk, after two years of sea trials, of the Carrier Strike Group setting sail.However, look carefully. The ships accompanying HMS Queen Elizabeth are US vessels as our largest warship ever is integrated with the US Navy with precious little public scrutiny or knowledge.
The UK has 18 of the eye-wateringly expensive American F35b £100 million aircraft (we ordered 138!) with their myriad problems. The deck of our aircraft carrier has F35bs but they belong to the US Marine Corps.
A carrier strike group requires a Type 45 Daring Class destroyer. We were meant to have 12 but we could only build six due to the cost of the two white elephants. They break down in hot weather (the Darings combined have spent 649 days at sea in 2019. HMS Dauntless has not moved from Portsmouth Harbour since 2016).
The best-known is HMS Duncan, star of the Channel 5 documentary Warship: Life At Sea, which boosts naval recruitment. The Type-45 is an anti-aircraft and anti-missile platform with a traditional 4.5in naval gun.
The documentary brought home to the viewer the constant threats our ships are under in the Strait Of Hormuz in the Gulf. The threat has been exacerbated as we operate there with the US, not the eight EU navies in the vicinity.
The carrier group requires two anti-submarine Type-26 frigates but the first joins the fleet in 2025. It requires three RFA logistics ships but the order has been put back and the first one will be available in 2029. We simply cannot resource a UK Carrier Strike Group.
The forthcoming Defence Review must put a stop to any further integration by stealth with the US armed forces occurring as we are distracted by the pandemic. Recent international condemnation of the US makes that more pressing.
John V Lloyd, Keith Place, Inverkeithing
JK Rowling has been subjected to a barrage of offensive responses to her expressed views on women's rights.
She's just one in a long line of women who have been attacked for daring to assert their right to be protected from abuse – in all its forms, including vandalising her handprints by daubing them with red paint.
You can self-identify as anything you want, but other people don't have an obligation to agree with you, especially when they feel threatened by your presence in an enclosed space, like a public toilet. When you've grown up as a female, with all the emotional, psychological and physical baggage which goes along with that, you know without a doubt that you are a woman.
How can menstruation not be a "woman thing" when the definition of menstruation is the process in a woman of discharging blood and other material from the lining of the uterus?
A trans man who has not transitioned and still menstruates is a biological woman who may hate the physical evidence which confirms this, but women don't exactly whoop for joy every time their period arrives (unless they've had unprotected sex and fear the consequences).
This issue simply confirms what the author Virginia Woolf observed – women need a room of their own, but not just for writing in.
We need to feel secure wherever we are, and that right does not cancel out the rights of others, irrespective of their gender identity.
Carolyn Taylor, Wellbank, Broughty Ferry, Dundee
Alasdair Seale (Letters, 14 July) is right to highlight the speed with which Edinburgh Council is moving to remove a substantial amount of on-street parking in the city, apparently to address post Covid-19 needs.
One can only regret that they are not showing the same enthusiasm to minimise the delay in implementing the increased statutory entitlement to 1,140 hours of early learning and childcare.
Parents and children affected by the delayed implementation may have to wait until 2021 before the situation is resolved.
Meanwhile, changes to road/pavement layout will have been completed with the consequent, and probably permanent, adverse effects on local businesses and traffic flow.
Derek Stevenson, Bonaly Drive, Edinburgh
It was very encouraging to read about proposals to use the old sugar sheds at Watt Dock in Greenock for a museum about Scotland's connections with slavery.
This would be an excellent venue by the Clyde where the great sugar and tobacco loads were deposited. It would also be a way of bringing much-needed public and private investment into Inverclyde. MSP Stuart McMillan's proposal to seek support from those firms and families who were associated with slavery would be a practical way of making reparations.
The link with Rabbie Burns and his proposed life in plantation administration is another aspect of 18th-century Scottish life that would be worthy of further exploration.
Unlike some, I would not be too critical of Burns's plans to move to Jamaica, given the poverty and brutality of Scottish farming life at that time. His beautiful tribute, A Slave's Lament, shows his empathy for those trapped in the terrible circumstances of slavery. I doubt he would have lasted long in Jamaica.
On frequent trips to Liverpool I have been a visitor to the wonderful Slavery Museum on the Quayside. There has been a very diverse collection of visitors – schoolchildren, tourists and families of all backgrounds. The exhibitions feature commentaries from young people from local schools and visitors. It is clear they have taken the message of tolerance and respect for human rights very seriously.
A Scottish museum about slavery would open up many opportunities for students and researchers to produce original material. There are many stories waiting to be told about those ex-slaves who became part of 19th century life and active in radical politics, welcoming ex-slave and abolitionist Frederick Douglass on his tours from 1846 onwards.
This would be a very worthwhile project to support the Black Lives Matter Campaign.
Maggie Chetty, Woodend Drive, Glasgow
Regardless of what "some might think" about Modern Monetary Theory and low interest rates (Mary Thomas, Letters, 13 July), nobody lends large sums to newly indep­endent nations with annual structural deficits of £8 billion plus, a small tax base and an untested currency without a strong economy behind it.
Still reeling from the pandemic, Scotland's financial service sector would be severely disrupted by separation and much of it would relocate southwards. For some reason, financial institutions get spooked by uncertainty and are wary of operating in countries with zero credit rating and Mickey Mouse currencies, especially if run by left-wing populist governments.
Then there's that unwelcome minor detail of the current $40 per barrel oil price. Promises to use loans for vast expenditure on "NHS, education, massive house-building and green energy" would do little to reassure international money markets, but would instead confirm their suspicions of a very high risk indeed that Indy Scotland would default on its debts.
Martin O'Gorman, Littlejohn Road, Edinburgh
I enjoyed the letters from William Loneskie (11 July) and Colin Hamilton (14 July). However, I did feel a little envious, being a member of the SNP, that I had not been made privy (as they apparently have) to the strategic thinking of the senior people in the SNP.
Messrs Loneskie and Hamilton have stated with certainty that these senior people have decided to take a step back from pressing the case for independence.
This has come as a serious disappointment to us mere foot soldiers who believed they were pursuing a policy of avoiding using the pandemic to make political capital while getting on with the day job of dealing with the the crisis.
All the time we believed this policy of "showing not telling" was working well as polls showed support for independence rising to 54 per cent and the SNP projected to win an outright majority in the next Holyrood. Now we learn we've been duped and we are not happy.
Gill Turner, Derby Street, Edinburgh
Friends of the Earth director Richard Dixon shoots himself in the foot in his article ("Saving the planet from climate change starts at home", 14 July). On the one hand he bemoans the high levels of fuel poverty in Scotland whilst also advocating the replacement of fossil fuels in homes, presumably by electricity, when electricity costs around four times the cost of gas per unit of energy/heat.
GM Lindsay, Whinfield Gardens, Kinross
Wearing a clean mask properly will help stop the spread of disease. Someone who wears the same unwashed mask every day, not so much. Forcing unwilling folk to wear masks may well be counterproductive.
Barry Tighe, Woodford Green, London
The Scotsman welcomes letters for publication – 300 words maximum – from all sides of public debate. Include date and page when referring to an article, avoid 'Letters to the Editor' in e-mail subject line. No attachments. We reserve the right to edit letters. No correspondence will be entered into. Send submissions, with full address and phone number, to: [email protected]
A message from the Editor:
Thank you for reading this story on our website. While I have your attention, I also have an important request to make of you.
The dramatic events of 2020 are having a major impact on many of our advertisers – and consequently the revenue we receive. We are now more reliant than ever on you taking out a digital subscription to support our journalism.
By supporting us, we are able to support you in providing trusted, fact-checked content for this website.
Joy Yates, Editorial Director
Want to join the conversation? Please or to comment on this article.