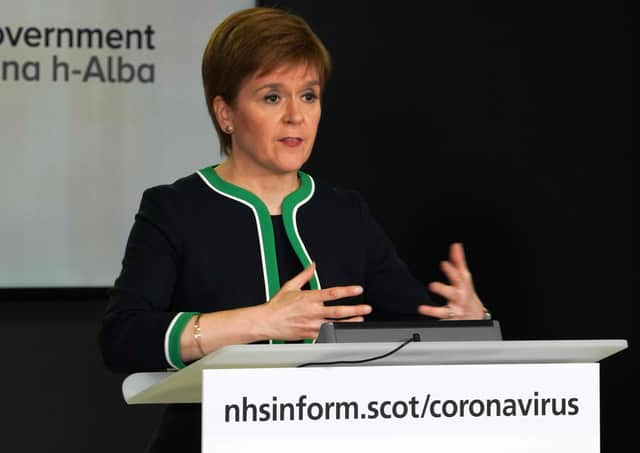 Nicola Sturgeon must stand alongside Boris Johnson, says a reader (Picture: Getty)
As the UK and Scottish governments are receiving the same scientific and medical advice based on best evidence and experience gained, there should be no difficulty, whatsoever, in pursuing a common lockdown exit strategy.
There may be UK geographic and sector variations to take into account, but again, that can be factored into a co-ordinated UK/four-nations plan. Westminster's "surefooted" approach, based on evidence gained from countries who are ahead of us in the pandemic cycle and who are already testing what works, is the way to ensure we don't go through this all again in six months.
For the sake of all, we need to hang tough and do this together. The First Minister knows that, or should do.
Whitehill Farmhouse
Cupar, Fife
Nicola Sturgeon & Co. are displaying a disastrously stubborn, inflexible stance on lockdown. Regarding distancing, for example, in some German lander it's 1.5 metres, and Austria has just announced that from 1 May it'll be only one! All that despite those countries being aware that a second wave is likely. If Holyrood relaxed the rule, businesses could partially reopen or, as with supermarkets, admit more customers. If prolonged, the Scottish Government's over-reliance on "the science" (a nauseating term, reflecting dogmatic belief), will have two results: the SNP will lose power in May 2021, and the long-term effect on public health will be much worse than the virus. Because only a healthy economy can finance a sound NHS.
The Prime Minister's cunning plan of locking-down club golf where participants are never less than six feet apart – and often hundreds of yards distant – reminds me of his hero Winston Churchill's collection of iron railings during the Second World War. These were completely unsuitable for the war effort and dumped at sea, but he could claim we were "all in it together".
The concept of a few pensioners enjoying golf must have kept the usual suspects awake at night so of course it had to be banned.
However I cannot help but wonder, if Mr Johnson had been a golfer rather than a jogger, whether we would now be subjected to sweaty, panting runners crowding us off the pavements and all well within six feet.
In attempting to deflect from Prime Minister Boris Johnson's inexplicable absence from five UK Cobra coronavirus meetings earlier this year by inappropriately equating the absence of the Chairman, and PM of the UK, with the absence of an invited representative of the Scottish Government, Alexander McKay (Letters, 28 April) provides a rather narrow view of an important matter.
He overlooks the First Minister's role chairing the Scottish equivalent of Cobra, the Scottish Government Resilience Committee, which the FM has regularly attended since the start of the Covid-19 pandemic.
Certainly, those who would prefer to have all decisions affecting Scotland made in London rather than Edinburgh might overlook the value of the extensive work carried out by the Scottish Government, but those more in tune with the wishes of the Scottish people, as expressed in repeated elections, are not content to have all major decisions relating to Scotland's health and prosperity made at Westminster.
Apparent invitations to Cobra with little or no advance notice suggest the First Minister of Scotland was probably not expected to attend the early meetings on the looming health crisis for the UK, as has seemingly been the case with important UK government meetings concerning the looming economic crisis of Brexit, unless, of course, the First Minister was not granted the respect one would expect of a UK Prime Minister?
The lack of proper PPE is an ongoing concern. An interim possibility is the use of golf waterproof clothing which is water repellant, breathable, capable of repeated washing and on receipt can be tumble dried to kill any possible viral contamination.
While not a substitute for the PPE required while intubating and ventilating patients, in other areas it would be superior to bin bags and plastic aprons.
As golf clubs are in lockdown they are likely to have significant supplies of such clothing and there will be many clubs close to hospitals so delivery would be simple.
Hopefully adequate supplies of PPE will soon be available but in the meantime anything which can help to protect our front line staff should be considered.
Randolph Terrace, Stirling
In response to the various letters criticising the Scottish Government's discussion paper on the options for loosening lockdown restrictions, Iain WD Forde (Letters 28 April) writes a lucid appraisal of some of the reasons it makes sense for Scotland to adopt an approach tailored to our particular circumstances.
However, I feel he's arguing against an attitude not based on rational logic. Not all the relevant letters are unreasonable, but there is an underlying sense of anger bordering on outrage that our political leaders should have the temerity to consider deviating from the UK strategy as if, to the writers, the UK is the supreme power and arbiter.
This attitude is personified in the letter from Victor Clements (27 April) who says it's "infantile" for Nicola Sturgeon to give a daily briefing to 
say what "the UK Government are going to say a few hours later".
He seems to genuinely believe that the First Minister is giving briefings about the Scottish situation with the express purpose of upstaging the UK.
He also seems to believe that the UK briefings specifically refer to the Scottish, Welsh and Northern Irish situations, when they do not.
And he seems unaware that UK ministers expect the leaders of the devolved nations to give updates particular to their countries.
In his trenchant Inside Environment article (Perspective, 28 April), Dr Richard Dixon virtually criminalises the US President and international oil firms.
He fails to mention the salient fact contrary to his case: blaming climate changes mainly on man-made greenhouse gases, including carbon dioxide (CO2), is likely to be wrong. Since the percentage of man-made CO2 in the atmosphere is estimated to be in single figures, the great bulk is naturally occurring.
Moreover, the marked falls in worldwide CO2 output during the lockdown have not reduced atmospheric CO2 concentrations.
Generating energy from fossil fuels has proved, in almost every way, much more reliable and cheap than from "renewable" sources. Fossil fuel technology is well established for energy and for manufacturing essential derivatives from petroleum. Therefore, Dr Dixon's damning diatribe is very ill-aimed.
The costly policy of decarbonisation must be reconsidered, especially since it competes for resources with the potentially ruinous Covid-19 plague.
Viewlands Road West, Perth
Dr Richard Dixon's dislike of oil is evident, but does he dislike the estimated 6,000 products that are made from oil? Medical items obviously come to mind, but asphalt for roads, and many vital household goods are oil derived.
And to suggest we could replace all that oil does for us by renewables in ten years, is like the Wright brothers saying that their next flight after Kitty Hawk would be to the moon.
Gamekeepers Road, Kinnesswood
The Scottish Environmental Protection Agency (Sepa) has warned that it will be "uncompromising" towards people fly-tipping (your report, 27 April).
No mention that a lot of fly-tipping is because, even before the Covid-19 virus, councils were cutting back on waste collections, charging £25 for garden waste 
collections, charging for home uplifts and reducing the hours of the local refuse facilities.
Perhaps if the very few caught for fly-tipping had been treated as criminals and either heavily fined or jailed the problem would not be there. Will Sepa act where Travellers set up camp illegally and it takes legal action to eventually move them on?
The cost of clearing up the site of the rubbish falls on the council – that is, the taxpayers. The Scottish government told the police some time ago not to get involved.
Why are Travellers treated as a privileged group?
Springfield Road, Linlithgow
As I write, another 111 economic migrants have attempted to come to Britain by crossing the Channel in the last two days.
Yet again, at risk to their own lives, our Border Force collects and gives safe harbour to those who couldn't care less if they're bringing more Covid-19 into the UK, with them queue-jumping existing British residents' access to an already under strain health service.
It's clear the French, by doing nothing to stop them, are glad to let them be our problem. Yet again, the world takes Britain for a mug.
Either we have a standing patrol off Calais within international waters with orders to use force to make these migrants turn back (as the Greeks have done) or suffer the inevitable lethal consequences of our lily-liveredness.
Linn Park Gardens, Johnstone, Renfrewshire
The Scotsman welcomes letters for publication – 300 words maximum – from all sides of public debate. Include date and page when referring to an article, avoid 'Letters to the Editor in e-mail subject line. No attachments. We reserve the right to edit letters. Send submissions, with full address and phone number, to: [email protected]
A message from the Editor:
Thank you for reading this story on our website. While I have your attention, I also have an important request to make of you.
With the coronavirus lockdown having a major impact on many of our advertisers - and consequently the revenue we receive - we are more reliant than ever on you taking out a digital subscription.
Subscribe to scotsman.com and enjoy unlimited access to Scottish news and information online and on our app. With a digital subscription, you can read more than 5 articles, see fewer ads, enjoy faster load times, and get access to exclusive newsletters and content. Visit https://www.scotsman.com/subscriptions now to sign up.
Our journalism costs money and we rely on advertising, print and digital revenues to help to support them. By supporting us, we are able to support you in providing trusted, fact-checked content for this website.